Lisa Simpson
Wikisimpsons - The Simpsons Wiki
"Lisa" redirects here. For other uses of "Lisa", see Lisa (disambiguation).
Lisa Marie Simpson Official artwork of Lisa Simpson
Character Information
Lisa Marie[4] Simpson (born May 9[5]) is a charismatic 8-year-old girl, who exceeds the standard achievement level of children her age. Not to everyone's surprise, she's also the moral center of her family. In her upbringing, Lisa lacks parental involvement of Homer and Marge, which leads to hobbies like playing saxophone and guitar, riding and caring for horses, and interest in advanced studies. In school, Lisa's popularity's affected by those who view her as a geeky overachiever, which leaves her with only a few friends. Lisa Simpson's a smart, witty, independent girl who focuses on her goals and strives to reach her potential, and at age 8 she's already a member of MENSA with an IQ of 159.
Biography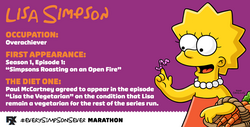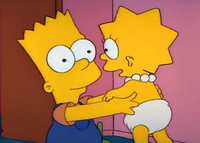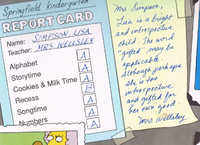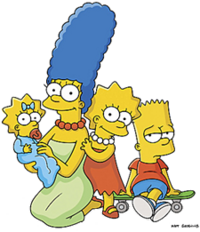 Lisa's quite eclectic in her knowledge and is notably more concerned with world affairs and problems than her cohorts. Lisa shares her intellect and overachieving personality traits with other female members of the Simpson family (revealed Simpson males inherit a gene on the Y chromosome preventing them from channeling their intellect),[7] such traits aren't seen within the Bouvier family. Lisa also deeply values her integrity, as demonstrated when she cheats on a test in The Wind in the Willows to attain her highest grade of A+++, but later admits her dishonesty to an unreceptive Principal Skinner. (She later re-grades the test as an F.[8]) Despite her intellect, Lisa received detention, like her brother Bart, quite a number of times, often because of her rebellious and sometimes bitter attitude and anti-social behavior capable of deeply embarrassing authority figures.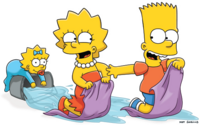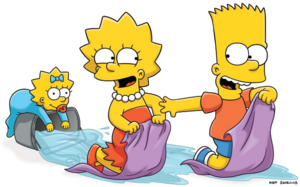 Although her rebellion against social norms is usually constructive, Lisa can be whiny, cruel and self-righteous at times. When she believes herself to be right, she won't admit others may be as well, and will force her beliefs on people. Notably, her increasing sense of moral righteousness regarding her vegetarianism leads her to proselytize, culminating in her spiteful disruption of a "meat-based" barbecue prepared by Homer (an act she comes to rue).[9] At times, Lisa appears to resist certain situations merely for the sake of resisting them, not because of any genuine ideological opposition. She appears to enjoy breaking the norm for its own sake; in one time, she triumphantly declared she, a girl, will like to join the football team. When it's revealed there are already girls on the team, she declares her distaste for a sport that will use a pig's skin to make its ball. When it's revealed the ball's actually synthetic, she's at a loss for words and runs off visibly upset.[10]
Despite her high IQ, Lisa does have typical childhood issues, sometimes requiring adult intervention. She once tricked Homer into allowing her to ride the bus alone, only to become hopelessly lost. After his coworkers Lenny and Carl point out he allowed his 8 year old daughter to ride a bus by herself, Homer comes to her rescue.[11] Lisa has a Jewish imaginary friend named Rachel Cohen who "just got into Brandeis University." Even with a high intellect, Lisa displays more personality traits of an eight-year old, including obsessing over getting a pony, being addicted to TV, and fighting with Bart. Lisa once got addicted to second hand smoke to maintain an impressive level of ballet competence; Homer tries to prevent the addiction unsuccessfully, and in the end, Lisa overcomes the addiction herself through means of "Hello Kitty" nicotine patches.[12] She also displays a surprising amount of skill in driving, especially for her age, sometimes even taking the wheel whenever Homer ends up distracted from driving.[10]
Appearance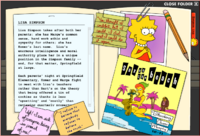 Lisa's an eight year old girl who seems to have a problem with her weight. Sherri and Terri used to make fun of her and her 'big butt'.[13] Most of Lisa's physical appearances comes from her father's side of the family, so does her stubby fingers which blocks her from her dream of becoming a jazz musician.[14] Lisa's always shown wearing an orange strapless dress and a white pearl necklace. She occasionally wears a pink dress with a dress hat or a hair bow for church and formal activities. She has a 'starfish' like hairstyle in the same style as her younger sister, Maggie. Lisa's hairstyle's also a challenge for the animators to draw. Lisa's actually wearing invisible braces from Calvin Klein.[15]
Intelligence
It's mentioned Lisa has an IQ of 159.[16] She's a high-ranking member of Mensa Springfield. Lisa demonstrates an early intelligence by changing her own diaper as an infant. When unable to attend school due to a teachers strike, she suffered a sort of "school withdrawal" because she has an emergency box in case of a teacher strike. She begins to panic when she can only think of two synonyms to the word "stop". She constantly wants people to "grade her" because Marge gave her an "A" just to make her stop whining, and invents a perpetual motion machine Homer describes as it just "keeps going faster and faster". He goes on to chastise her, saying, "In this house, we obey the laws of thermodynamics!" [17]
Beliefs
Lisa's political convictions are generally leftist and rather liberal. She's a vegetarian, and a supporter of the Free Tibet movement. Lisa yells "Free Tibet!" after winning the school spelling bee. She, like her mom, supported Democrat Mary Bailey over Right-Winged Mr. Burns; the twosome revealed Mr. Burns was a liar, and Mary Bailey wins in a landslide, the only known supporters being Smithers, Bart, and Homer.
While still supportive of the Christian church she was raised in, Lisa's now a practicing Buddhist following her decision to follow the Noble Eightfold Path.[18] Though apparently not an adherent, she mentions she considers Wicca "very empowering" [19]
Vegetarianism
Lisa turned vegetarian due to ethical reasons.[9] This was also hinted in a flash forward where we see Lisa as a vegetarian in the future.[4] On Paul McCartney's demand, she stayed vegetarian still.
Music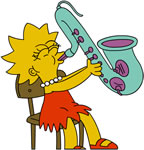 Her musical abilities are extensive: she sings with a powerful voice, and was seen playing the acoustic six-string,[15] electric bass guitar, accordion and piano proficiently. Her greatest love's playing jazz on her baritone saxophone. Her musical inclinations were nurtured by her relationship with the late jazz musician Bleeding Gums Murphy. She most likely inherited her musical ability from Homer, also musically inclined.
Independent learning
She's fluent in Italian (learned from Milhouse Van Houten before going to Italy), as well as some French and German verbs (with the help of a German verbwheel [20]), as well as Spanish.
Romantic Relationships
Lisa met countless boys during the course of her life. Her dream crush is a heartthrob from local teen magazines, Corey. Lisa admitted to Homer she liked a boy from school Langdon Alger but she was only joking. Before Trappuccino, Lisa fell in love with an Irish environmental boy named Colin. Colin can play the piano, guitar, trumpet, drums, and the bass guitar. Lisa tells Marge the best part about him is he's not imaginary.
Nelson Muntz
Lisa's first boyfriend is a less-than-stellar schoolmate, Nelson Muntz. Lisa once had a crush on him after she found herself strangely attracted to his grungy lifestyle enough to ask him out. After Nelson lied to Lisa about something, she decided to break up with him.
Luke Stetson
Luke Stetson,[21] was also an object of Lisa's affection, short-lived after Lisa mislead Luke's sister to a dance.
Ralph Wiggum
Ralph Wiggum once had a crush on Lisa after Lisa sent him a Valentine's Day card, but his heart was broken after Lisa admitted on the Krusty the Klown Show she wasn't in love with him. They're currently just friends.
Milhouse Van Houten
Of all of the boys Lisa encountered, the most desperate and most prominent one was Milhouse Van Houten, who always makes attempts to win Lisa's heart. On one occasion, in order to go on a school trip to Italy, Lisa was forced to learn Italian from Milhouse, who went to Italy countless times. This nearly caused Lisa to develop a crush on him, until she finds out Milhouse is with another girl,[22] prompting her to chase Milhouse angrily with a broom. Lisa once tried to bring Milhouse to a school dance in Springfield Elementary but finds out he was taken.[23] When Milhouse's parents were reported lost at sea, and Milhouse became a loner, Lisa and several other girls became attracted to his new personality. One time, when Milhouse fell in love with a new girl named Taffy, Lisa got them to break up, and Lisa kissed him for the first time, and at the same time, she said she isn't sure if she loves him.[24]
Colin
The relationship between Lisa and Colin, an environmentalist immigrant from Ireland, makes Milhouse jealous.[25]
Nick
Lisa briefly fell in love with a boy, Nick, when meeting him at a lunch she attended with her mom for Valentine's Day. They continued to meet up, but when they met for the last time, Lisa decided she didn't really want to be with him, and he admits he isn't good as he says, commonly lying to girls to gain their affection.[26]
Family
Lisa's relationship with her father's labored. The two occasionally get into arguments,[9][27][28] but they also have moments where they really connect.[6][29][30] Their relationship is usually one where Homer ignores Lisa, and Lisa avoids Homer. Lisa seems to be on good terms with her mother,Marge, and the two have a good relationship with each other. Lisa also gets along pretty well with her baby sister, Maggie. Being siblings, Lisa and her brother Bart constantly get into brawls. Their major brawl was after Bart destroyed Lisa's centerpiece for a Thanksgiving Dinner.[31] The two once competed against each other in hockey and tried to win over Homer's love.[32] However, the two teamed up together many times, and they genuinely love each other. This is shown when the two were placed in third grade in the same class (Lisa was moved up from second grade while Bart was moved down). The two got lost in a field trip in Capital City, forcing them to work together to survive.[33] When Milhouse temporarily left Springfield, Bart spent more time with Lisa, and the two developed a stronger bond.[34] When Milhouse returned, Bart tried to keep their new bond intact by promising to do her chores and giving her a hug. In one episode, Lisa almost told two college girls she thinks Bart's cute, but takes back the statement after remembering she's talking about her brother.
Non-canon
| | |
| --- | --- |
| | The contents of this article or section are considered to be non-canon and therefore may not have actually happened or existed. |
Future
At the age of 12, Lisa's saved from a house fire by Milhouse, which she later discovers was caused by him. At age 16, she's graduating from Springfield High School two years early and is about to go to Yale University on a scholarship provided by Mr. Burns. She's dating Milhouse she dumps after prom. Bart nearly takes her Yale scholarship but he returns it when he realizes she's more deserving. He also prevents her from getting back together with Milhouse because he thinks it'll ruin her life.[35]
A few years later, Lisa rejects Milhouse's offer to marry him saying she doesn't intend to ever get married. At age 23, Lisa's in college and falls in love with a British man named Hugh Parkfield she becomes engaged to. When she introduces Hugh to her family, they embarrass her, and he quickly grows to hate them. Hugh plans to take her back to England where Lisa will lose all of her contact with them; however, she dumps him since she'll rather have her family.[4]
At an unknown point in adulthood, Bart's in need of a digestive tract transplant, somehow related to the mystery of 'Fish Logs'. She asks townspeople who tell her the 'Fish Log' story which took place when she was still 8. She finds out Fish Logs brought Bart into the hospital in the first place when he ate them on a binge.[36]
At age 38, Lisa becomes the first heterosexual female President of the United States. The country's broke and is forced to bring a tax hike, but things get worse when Bart interrupts everything. The leaders of the other countries are about to beat her until Bart saves her. To make it up to him, she legalizes the use of cannabis.[37] Sh'is also married to Milhouse and the two have a teenage daughter, Zia Simpson.[38]
In another future, Lisa and Nelson kept meeting up every five years and almost started dating each other. However, things happened between them that stopped that. Eventually, Lisa ended up in a relationship with Hubert Wong, who ran a tech company. However, they ended up splitting up and Lisa met up with Nelson again. At Buzz Light Roast, Hubert asked Lisa to take him back once more. When Nelson was asked to be Jimbo's best man for his wedding to Sophie, Lisa was a bridesmaid for Sophie. During the wedding, Nelson left and Lisa followed him, with the two deciding to finally get together.[39]
Video Games
The Simpsons Road Rage
In The Simpsons Road Rage, Lisa drives the Elec-Taurus car and is one of the default characters. You may also pick her up off the streets when not playing as her.
The Simpsons Hit & Run
Lisa is playable in the Level 3 of The Simpsons: Hit & Run as she looks for Bart after his disappearance. However, she makes an appearance in the first level in Springfield Elementary School, where Homer has to give her the science project she forgot. By the time the seventh level has come around, Lisa is back in the Simpson house, and tells her father to go out and stock up on supplies. However, by the fourth mission, Lisa is back at the school, where she suggests that Homer goes to Mr Burns to buy nuclear waste, which is the aliens' weakness. When characters use the Malibu Stacy car in levels four, five, six,and seven Lisa appears in the car.
The Simpsons Game
In The Simpsons Game, Lisa's powers are playing her saxophone to stun enemies and use the "Hand of Buddha" to pick up and drop big things. This power is later upgraded, enabling her to attack with lightning as well.
The Simpsons: Tapped Out
Lisa
This section is transcluded from The Simpsons: Tapped Out characters/Simpsons. To edit it, please edit the transcluded page.

Lisa
Image
Cost
Unlock method
Unlocks with
Unlock message
135
Level 1
Simpson House
Technical Information
ID
Groups
Internal Name
4
Regular Characters, Regular Female, Brainiac, Youngster, The Simpsons Family, Sequel Squad, Krustyland Goers, Rommelwood Students, TTT Excavators, Musicians, Nerd Kids, School Girls, Normal Springfielders, Good People
Lisa
Permanent Tasks
Task
Time
Reward
Requires
Quest with the task
Animated?
"Clean Up" Springfield
6s
35, 1
Debris
Springfield Cleaners Pt. 2
Working Hard
Read a book
45s
3, 1
Trees
Getting Benched
Book Worm
Set a High Score at Whack a Real Mole
10m
26, 7
Whack A Real Mole
Overload on Sugar
30m
60, 15
The Candy Shoppe
Meditate
30m
40, 10
Springfield Buddhist Temple
Lisa Miss Mantra
Attend a Convention
30m
40, 10
Convention Center
Sneak an Ice Cream
30m
60, 15
Ice Cream Truck
Be Disappointed by False Advertising
60m
70, 17
Springfield Wrestling Pavilion or
Brown House
Enjoy an Insectivorian Meal
60m
105, 26
Grub Shack
Go on a Field Trip
60m
105, 26
Cypress Creek Elementary
Shop at the Kwik-E-Mart
60m
70, 17
Kwik-E-Mart
Soylent Bean
Thrillhouse Pt. 2
Quicky at the Kwik-E
Stanky Fish Pt. 1
Dye The Town Green Pt. 4
Price Out Some Braces
60m
70, 17
Painless Dentistry
Face the Training Plane
60m
210, 52
Training Plane
Bart
Catch a Movie
2h
110, 27
Big T Theatre
Order a Kale Burri-Tofu
2h
110, 27
Tofu Bell or
Moe's Tavern or
Brown House
Play the Sax on Springfield Memorial Bridge
2h
110, 27
Springfield Memorial Bridge
Ride the Carousel
2h
110, 27
Boardwalk Carousel
Reach True Enlightenment
2h
110, 27
Read to Old People
2h
110, 27
Retirement Castle
Good Samaritan
Examine the Cursed Desk
3h
135, 35
Cursed Desk
Attend Mensa Meeting
3h
135, 35
Gazebo
Catch a Jazz Show
3h
135, 35
Jazzy Goodtime's
Larp as Commoners
4h
260, 70
Serfsons House
Practice Tap Dance
4h
260, 70
Vicki Valentine School of Dance
Put Coins on the Rails
4h
175, 45
Springfield Union Station
Explore the Solar System
4h
175, 45
Springfield Planetarium
Learn by Fun
4h
175, 45
Childrarium
Play With Chimps
4h
260, 70
Chimp Refuge
Walk to Practice
4h
260, 70
Practice Rink
Perform an Exorcism
4h
175, 45
Original Brown House
Eternal Overcast of the Hive Mind Pt. 2
Shame for Cultural Appropriation
4h
260, 70
Bob's Big Buddha
Play With Puppies
4h
175, 45
Shady and the Vamp
Feed the Pigeons
4h
175, 45
Pot Belly Pigeon Feeder
Build Perfect Utopia for Elves
4h
175, 45
Happy Little Elves Farm
Get Fit and Educated
4h
175, 45
Springfield Gymdandee
Split a Fancy Mac and Cheese
4h
175, 45
Le Petite Appétit
Play With Interactive Exhibits
4h
175, 45
KidZone Elite
Pledge Allegiance to a College
4h
175, 45
Seven Sisters
Learn Another Instrument
4h
175, 45
Underground Piano
Protest Baby Stores
4h
260, 70
Babies "B" This
Admire Broke Thespians
4h
260, 70
Old Theatre District
Admire Progress
4h
175, 45
Public Restroom with Confusing Signage
Establish Squatter's Rights
4h
175, 45
Parasite House
Be Disappointed in Healthy Fast Food
4h
175, 45
Low-Fat Lad
Write In Her Diary
4h
260, 70
Old Tree Spirit
Worship Ba'al
4h
175, 45
Pagan Bonfire
Dance Around the Bonfire
4h
175, 45
Pagan Bonfire
Practice Hungry Games
4h
260, 70
Battle Dome
Drink From the Wrong Glass
4h
175, 45
Requiem in D-Ception Pt. 4
Keep Bookaccino's from Going Under
4h
260, 70
Bookaccino's
Perform "The Great Simpsina" Act
4h
260, 70
Magic Palace
Visit the Colosseum
4h
260, 70
Colosseum
Admire Paintings but Scoff Religion
4h
260, 70
St. Paul's Basilica
Ride Old School
4h
175, 45
Lisa's Kiddie Car
Play the Sax
4h
175, 45
We Don't Sell myPods Pt. 1
Tour Museum of Super Fine Arts
4h
175, 45
Museum of Super Fine Arts
Give Feedback
4h
175, 45
Audience Research Table
Poorly Working Title Pt. 2
Sabotage Allison
4h
260, 70
Taylor House
Ride Soarin' Over Springfield
4h
520, 140
Soarin' Over Springfield
Marge
Soak in the History
4h
175, 45
Parthenon
Browse Latest in Gifts for Overachievers
5h
200, 50
Prodigy Barn
Browse the Mapple Store
5h
200, 50
Mapple Store
Mapple In Motion
Go to School
6h
225, 55
Springfield Elementary
Schoolhouse Crock Pt. 2
Bart Crusoe Pt. 1
School Daze
Chocolate Pain Pt. 5
Ride Princess
6h
225, 55
Princess
Protest Eating Meat
6h
225, 55
Springfield Meatball Factory
Try to Make Fetch Happen
6h
225, 55
Abercrombie & Fetch
Practice Saxophone Harder Than Ever
6h
225, 55
Springfield Academy of Music
Host a Radio Show No One Listens To
6h
225, 55
KJAZZ
Babysit Rod and Todd
8h
825, 210
Flanders House
Rod
Todd
Rod And Todd Pt. 2
Feed the Birds
8h
275, 70
Nana Sophie Mussolini's Vineyard
Get Brainfreeze
8h
275, 70
Pinkbeardy Yogurt
Get Caught in Webs
8h
420, 105
Big Bug House
Ride the Carousel
8h
275, 70
Christmas Carousel
'Twas the Pageant Before Christmas Pt. 3
Dance On Stage
8h
275, 70
Pageant Stage
Attend Wizarding School
8h
275, 70
Magic Academy
Sleep in the Bad Dream House
8h
420, 105
Bad Dream House
Verify Internet Studies
8h
275, 70
Springfield Library
Fine Tune Virtual Springfield
8h
275, 70
Ultranet
Ride in an Exploration Pod
12h
1,020, 250
Grampasaurus
Act in an Ensemble
12h
1,260, 300
Pageant Stage
Ralph
Milhouse
'Twas the Pageant Before Christmas Pt. 6
Go to Sunday School
12h
420, 100
First Church of Springfield
Passion of the Flanders Pt. 3
Anxious Parents
Let's Learn About Hell!
Enjoy a Night at the Theater
12h
420, 100
Springfield Playhouse
Be an Angel
16h
500, 125
Nativity Scene
Soak in the Ambience
16h
500, 125
The House of Usher
Do Next Week's Homework
24h
600, 150
Simpson House
We Do Need Yes Education Pt. 1
School's Out Forever!
Valentine's Day Pt. 3
Whacking Day Pt. 1
Springfield Confidential Pt. 7
Krustyland Tasks
Task
Time
Reward
Requires
Quest with the task
Animated?
Clean up Krustyland
6s
12, 10
KL Debris
Ride the Death Drop
30m
12, 10
Death Drop
The Krusty-est Place On Earth Pt. 8
Visit the Gift Shop
60m
21, 17
Gift Shop
Ride Krusty's Giant Wheel
2h
33, 27
Krusty's Giant Wheel
Ride the Viking Boat
4h
52, 45
Viking Boat Ride
Ride the Unoriginal Log Ride
5h
90, 75
Unoriginal Log Ride
Tour the Haunted Condo
8h
82, 70
Krusty's Haunted Condo
The Krusty-est Place On Earth Pt. 30
Ride the Eyeballs of Death
8h
126, 105
Eyeballs of Death
Watch the Stunt Show
12h
126, 100
Wet & Smokey Stunt Show
The Krusty-est Place On Earth Pt. 27
The Krusty-est Place On Earth Pt. 32
Ride the Tooth Chipper
24h
180, 150
The Tooth Chipper
Costumes
Standalone
Trivia
According to Milhouse, Lisa's eyes are gray, but according to Spud Cooder in "Bart Carny", Lisa's eyes are blue. This may indicated Milhouse is color-blind, though this may just be an inconsistency.
Although she's always desperate for a boy (saying she'll never have a love life), she never seems to remember she was in a relationship with Colin and several others.
Her romantic relationship with Nelson Muntz is mentioned or referred to throughout the series, evident in "Lisa's Date with Density", "Love, Springfieldian Style", "Dial "N" for Nerder", "Simpsons Tall Tales", "Sleeping with the Enemy", "Wild Barts Can't Be Broken" and "Elementary School Musical".
In Chief Wiggum's records on the Springfield Mafia, Lisa's listed as a "possible romantic link" to Fat Tony's son Michael, whom she was friends with in "The Mook, the Chef, the Wife and Her Homer".[40]
She speaks Italian, due to the help of Milhouse Van Houten.[22]
She has an IQ of 159.[16]
In "To Surveil with Love", she dyed her hair brown to prove the judges were biased against blondes.
Her email's revealed in "The President Wore Pearls" as smartgirl63@yahoo.com.
Not many realized Lisa's still wearing her braces, it can't be seen since it was created almost invisible by Calvin Klein.
She, along with her sister Maggie, are obsessed with The Happy Little Elves television show, much to Bart's dismay and disapproval. She usually responds to his thoughts by saying he's just like Gloomy and Chilly.
Lisa was not seen nor mentioned in the episode "Carl Carlson Rides Again". Lisa, along with Bart in "Four Great Women and a Manicure" are the only of the main characters to not be seen nor mentioned in an episode.
Lisa has not recorded lines in the episodes "Chief of Hearts" and "Moho House".
Behind the Laughter
Creation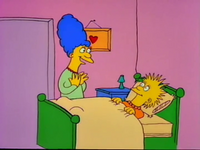 Matt Groening first conceived the Simpson family in the lobby of James L. Brooks' office. He had been called in to pitch a series of animated shorts, and had intended to present his Life in Hell series. When he realized that animating Life in Hell would require him to rescind publication rights for his life's work, Groening decided to go in another direction.[43] He hurriedly sketched out his version of a dysfunctional family, and named the characters after various members of his own family, and Lisa is the name of one of his sisters.[43] Lisa then made her debut with the rest of the Simpsons clan on 19 April 1987 in the Tracey Ullman short "Good Night".[44] Nancy Cartwright, originally auditioned for the role of Lisa, but was soon told that her voice would be better suited voicing Bart.[45] Yeardley Smith had initially been asked to audition for the role of Bart but casting director Bonita Pietila believed her voice was too high, so Smith was given the role of Lisa instead. In order to perform the voice, Smith lifts her voice up a little.[46]
Development
In the Tracey Ullman Show shorts, Lisa was more of a "female Bart" and was as equally mischievous as her brother.[47] As the series progressed, Lisa began to develop into a more intelligent and more emotional character with "Krusty Gets Busted" being one of the first episodes where her true intelligence is fully shown.[48] Many episodes focusing on Lisa have an emotional nature, the first one being "Moaning Lisa". The idea for the episode was pitched by James L. Brooks, who had wanted to do an emotional episode where Lisa is sad because the show had done a lot of "jokey episodes".[49]
For a long time, Lisa's saxophone solos were provided by jazz baritone saxophonist Terry Harrington.
Cultural influence
In 2001 Lisa received a special "Board of Directors Ongoing Commitment Award" at the Environmental Media Awards.[50] "Lisa the Vegetarian", an episode from the seventh season, won both an Environmental Media Award for "Best Television Episodic Comedy"[51] and a Genesis Award for "Best Television Comedy Series, Ongoing Commitment".[52] Lisa was also listed at number 11 in TV Guide's "Top 50 Greatest Cartoon Characters of All Time."[53] In Japan, the broadcasters of the series found they were able to turn the apparent viewer dislike of the series around by focusing marketing attention on Lisa. Lisa's well-intended but ill-fated struggles to be a voice of reason and a force of good in her family and city struck a chord with the Japanese.
Foreign dubs
Appearances