The Good, the Sad, and the Drugly
Wikisimpsons - The Simpsons Wiki
437
"The Good, the Sad, and the Drugly"
"The Good, the Sad, and the Drugly"
Episode Information

The Good, the Sad, and the Drugly is the seventeenth episode of season 20 of The Simpsons and the four-hundred and thirty-seventh episode overall. It originally aired on April 19, 2009. The episode was written by Marc Wilmore and directed by Rob Oliver. It guest stars Anne Hathaway as Jenny.
Synopsis
[
edit
]
"Bart volunteers at the Springfield Retirement Castle in order to impress Jenny, a girl who likes helping the world, but this leaves Milhouse (who took the rap for a school prank he and Bart pulled) less than impressed; Lisa becomes depressed when she writes a report on what Springfield will be like 50 years from now, but her medication makes her see everything happy - bright yellow happy faces, that is."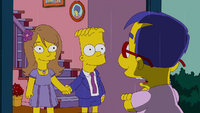 When Bart and Milhouse pull off a prank at Springfield Elementary, they unscrew everything in the building and watch as almost everything falls apart. Milhouse takes the fall by Principal Skinner when he bumps into him and gets suspended from school. Homer forces Bart to sign in under Homer's name and visit Grampa at his retirement home. Bart stay is boring, until he sees a delightful 11-year-old volunteer named Jenny. He becomes smitten with her and, hoping to impress Jenny, Bart offers to volunteer at the home and fakes being a good kid.
Meanwhile, Lisa does a report on what Springfield will look like in 50 years and becomes very depressed at the dreary outlook: people drinking soap after water runs out, the last drop of oil leading to a world war, the last available parking space filled forever and the last polar bear alive being hanged in prison. A concerned Marge takes Lisa to a psychiatrist who diagnoses Lisa with Environment-Related Despair and puts her on an antidepressant, named Ignorital, to cure her eco-blues. However, the drugs make Lisa see almost everything as a smiley face, including homeless people, drunken people on the street, and Chief Wiggum being shot.
At school, Bart tells Nelson he wants to ask Jenny for a date. Nelson gives Bart some chewing gum to help him do so. Bart and Jenny go to the park for a picnic, where he tells her he helps a man with mental problems to impress her, who turns out to be Homer. They get on a boat and see Jimbo, Dolph and Kearney kicking a duck. Bart jumps to the lake and swims to the bullies in order to save the duck. Jenny is impressed with how Bart saved the duck. He ultimately invites her for a dinner at his home. Everything goes well until Milhouse appears to ask Bart why he didn't visit him, and soon discovers Bart is in love. Looking for revenge, Milhouse follows Bart and Jenny everywhere to make Bart confess he is faking. At the Springfield Squidport, Milhouse shows Jenny a dolphin who is scared of Bart because he once made it swim in 7-Up. Bart can't stand it anymore and confesses to Jenny he was lying. She eventually breaks up with him, which makes Bart very sad. Meanwhile, Marge sees Lisa trying to kiss a fan (which looks like a smiley face for her), so she throws away Lisa's medicine (though Santa's Little Helper eats it).
At the Kwik-E-Mart, Lisa tells Bart that she realized you can't hide your problems and must face them head on. Bart agrees, and buys flowers to apologize (however, those flowers were for Lenny to put on his grandma's grave, so Apu suggests he put a cardboard cutout of Duffman on it instead). He apologizes to Milhouse. As a make-up prank, they ice the floors in Springfield Elementary, creating a massive ice rink.