Stampy
Wikisimpsons - The Simpsons Wiki
Stampy
Animal Information

Stampy is a rogue African elephant that Bart owned for a time.
History
[
edit
]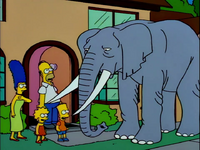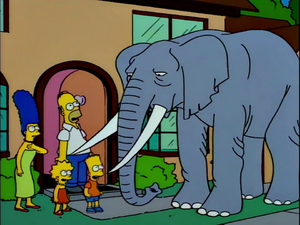 Bart won the elephant in a radio contest called "KBBL Wants to Give You Something Stupid." The listener was supposed to take $10,000 cash instead of the elephant (which was offered as a gag prize), but Bart caused a major uproar when he insisted on taking the elephant and was denied by the DJs Bill and Marty. KBBL management forced Bill and Marty to give Bart an elephant by threatening to fire them and replace them with a machine. Under the threat, the DJs got an elephant to give to Bart, and Stampy came to live with the Simpsons.[1]
Stampy quickly proved to be too much for the family to handle, however, as they didn't have enough room for him and couldn't afford the enormous quantities of food he needed. A poacher and ivory dealer, Mr. Blackheart, offered to buy him, but the Simpsons decided to donate him to a wildlife preserve after Stampy rescued Homer and Barney from drowning in a tar pit.[1]
At Apu's wedding, Bart saw him riding an elephant. Bart commented, "I wish I had an elephant", to which Lisa replied, "You did. His name was Stampy. You loved him." His memory thus jogged, Bart simply replied, "Oh, yeah."[2]
Stampy also was involved in a plan by Bart to help Krusty the Clown restore his public image.[3]
During Trappuccino, Stampy helped the townspeople to break the dome. He was the first to make a crack in it.[4]
Stampy competed against Homer in an Krusty-Veg Burger eating contest in the TV show Man vs. Beast vs. Food. When Stampy and Homer started to eat the burger they split the burgers and they became enraged and began to run amok in Springfield. After some time Homer and Stampy calmed down.[5]
Personality
[
edit
]
Stampy is especially fond of peanuts[1] and also enjoys putting people in his mouth.[3]
Stampy is aggressive toward other elephants, as seen when he was first brought to the wildlife preserve.[1] He also once attacked a bear as well.[6]
In spite of his aggressive nature, Stampy has been trained to have a safety word, "magumbo". When someone says the word, Stampy goes limp and lies down, letting go of anything (or anyone) he's holding in his mouth.[3]
Non-canon
[
edit
]
| | |
| --- | --- |
| | The contents of this article or section are considered to be non-canon and therefore may not have actually happened or existed. |
The Simpsons: Tapped Out
[
edit
]
This section is transcluded from The Simpsons: Tapped Out characters/Exotic Animals and Pets. To edit it, please edit the transcluded page.

Stampy
Image
Cost
Unlock method
Unlock message
5,000
Friend Points
Friendship Level 5
Stampy Balloon
[
edit
]
This section is transcluded from The Simpsons: Tapped Out decorations/Balloons. To edit it, please edit the transcluded page.

Stampy Balloon
Image
Cost
Reward
Sell price
Bonus
Conformity increase
Availability
Unique?
Dimensions -

D

x

W

Yearbook
40
40
2%
Vanity +400
Thanksgiving 2013, 2014 and Gobble, Gobble, Toil and Trouble
Premium
2 x 2

30
80
The Most Dangerous Game, This Thanksgiving's Gone to the Birds!, Thanksgiving 2018, All American Auction and Blargsgiving
Premium (Thanksgiving Balloon Bundle)
Appearances
[
edit
]
References
[
edit
]
Simpson family
Main family

Homer Simpson
•

Marge Simpson
•

Bart Simpson
•

Lisa Simpson
•

Maggie Simpson

Santa's Little Helper
•

Snowball II
Factfiles from Simpsons World the Ultimate Episode Guide: Seasons 1-20
Season 14
Rock Stars • Audrey McConnell, Third Grade Teacher • Dr. Velimirovic, Plastic Surgeon • Mitch Hartwell, the Reality Channel Producer • Junior (AKA Frank Grimes, Jr.) • Teacher of the Year Award Nominating Committee • Dexter Colt, Private Eye • The Mugger • Larry H. Lawyer, Jr. • Baby Stink-Breath • Booberella • Sara Sloane, Hollywood Movie Star • Cookie Kwan, Red Coat Realtor • Stark Richdale • Declan Desmond • Julio and Grady • Luke Stetson, Junior Wrangler • Suds McDuff, Spokesdog/Mascot for Duff Beer • Marriage Counselor • Jim Proudfoot • Don Castellaneta