Homer and Apu
Wikisimpsons - The Simpsons Wiki
"Uh... Apu friend me good."
"Homer and Apu"
Episode Information

"Homer and Apu" is the thirteenth episode of season 5 of The Simpsons and the ninety-fourth episode overall. It originally aired on February 10, 1994. The episode was written by Greg Daniels and directed by Mark Kirkland. It guest stars James Woods as himself.
Synopsis
[
edit
]
"Apu loses his job at the Kwik-E-Mart after he sells Homer tainted meat. Homer feels bad and lets Apu live at the Simpson's home while he is unemployed. In an attempt to get his job back, Apu and Homer travel to India to talk with the head of the Kwik-E-Mart corporation. Meanwhile, James Woods fills in Apu's position."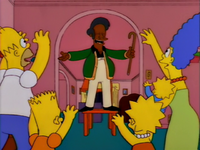 Homer visits the Kwik-E-Mart where he buys some cheap, expired meat and eats it. After getting ill from it, Homer goes to hospital where he is told he has food poisoning. Homer then goes back to the Kwik-E-Mart to confront Apu, but is bribed by two buckets of shrimp, which give Homer food poisoning again. At home watching TV, Homer watches Bite Back where Kent Brockman gives a phone number to call if you have a consumer complaint. Homer calls the number and gets on the show.
Homer is sent into the Kwik-E-Mart with an oversized hat with a camera in. When Apu points out that Homer's hat is buzzing, and suggests that it might be a bee, Homer throws the hat on the floor, stomps on it then runs out. Apu then goes to restock the hot dogs, dropping one on the floor, but he then puts it back with the others. This was the evidence Brockman was looking for, resulting in Apu getting fired by the manager. After being fired, Apu attempts to take his own life by eating a hot dog but was stopped by the manager.
Apu wonders through Springfield, coming to the Simpson house. He rings the bell and holds his hands out threateningly to Homer, only to reveal that it was his village's way of apologizing. Apu tells Homer that he wants to make it up to Homer as he wronged him. At first, the Simpsons are skeptical and don't like Apu hanging around but they start to warm to him. Meanwhile, the Kwik-E-Mart starts looking for a replacement for Apu, settling on actor James Woods, who wanted to get experience in the role for a film he was working on.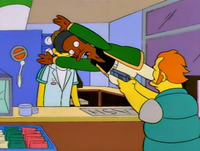 Apu and Marge go shopping at Monstromart because Apu can't bear to go back to the Kwik-E-Mart. Meanwhile, James Woods starts working at the Kwik-E-Mart, asking customers how he was doing. At the Simpsons house again, everyone starts praising Apu and then they all break out in song and dance, which convinces everyone that Apu is over the Kwik-E-Mart. However, after the song, Apu is heard sobbing because he still needs his store. Apu then decides to go to the Kwik-E-Mart Central Office in India to get his job back, with Homer going with him since he blames himself for Apu losing his job. They then fly out to India. Meanwhile at the Kwik-E-Mart, James Woods is called by his agent who reveals to Woods that the film has changed and instead of a convenience store clerk, Woods role is now an Eskimo fire fighter.
Homer and Apu arrive at the Kwik-E-Mart Central Office, which is located on a mountain. After climbing up it, they meet the Kwik-E-Mart president who offers them three questions. Homer wastes all three questions asking if he is really the president of the Kwik-E-Mart. After this, they are told to leave and "come again". Outside, Apu is mad at Homer and holds his hands out towards Homer threateningly. Thinking Apu was apologizing again, Homer brushes him off but then Apu attacks him and they tumble down the mountain.
Back in Springfield, Apu decides to go back to the Kwik-E-Mart to face his demons. Here he meets James Woods, who was a fan of Apu, whom he considered a legend around the store, having studied the security tapes. At that moment, a robber comes into the store and holds is up. He fires a shot at James Woods but Apu jumps in the way, stopping the bullet. In the hospital, Dr. Hibbert reveals that the bullet ricocheted off another bullet lodged in Apu, which saved his life. Woods tells Apu that he got him his job back as a way of saying thanks for saving his life, then leaves to go battle aliens on a faraway planet.
Production
[
edit
]
Al Jean and Mike Reiss came up with the idea for the episode and handed it over to David Mirkin. Mirkin then handed it over to Greg Daniels to write. When Mirkin took over the show as showrunner, he listed James Woods as one of the actors he would most like to guest star on the show. Originally, Michael Caine was to have Woods' role in the episode but when he rejected it, Woods was approached. Mirkin said about Woods that he was "so funny, right at the top of his head". He also said that Woods was so excited to provide his voice as he was a fan of the show.[1] David Silverman said that Woods would ad-lib his parts and he would also hesitate whilst speaking, which was good for animation.[2]
Reception
[
edit
]
The song "Who Needs the Kwik-E-Mart?" was nominated for a Primetime Emmy Award for Outstanding Original Music and Lyrics in the 46th Primetime Emmy Awards. However, it lost to "The Song Remembers When".[3]
As of April 2018, the episode has an 8.3 rating on IMDb[4] and a 9.0 rating on TV.com.[5]
References
[
edit
]
| | |
| --- | --- |
| | Wikisimpsons has a collection of images related to "Homer and Apu". |