Mr. Pinchy
Wikisimpsons - The Simpsons Wiki
Mr. Pinchy
Animal Information

Mr. Pinchy, or just Pinchy, was a lobster that was Homer's pet. Homer found him at a grocery store and decided to take him home to fatten up to eat.
History
[
edit
]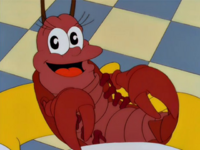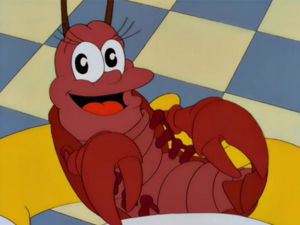 Homer gradually grew emotionally attached to the lobster and decided to keep him as a pet, even naming him "Mr. Pinchy". He kept him in the fish tank, then an indoor wading pool. Marge wanted Homer to get rid of him by cooking him up, but Homer kept seeing Pinchy as a helpless, "little guy" whereas through Marge's eyes, Pinchy looked like a normal vicious lobster.
At the end of the episode Homer told Marge that he placed Pinchy in a hot bath after he got dirty from chasing birds. Bart then commented on the smell of something cooking that entered the room. Homer then put two and two together and realized that it's coming from the bath. The episode then concludes with Homer distraught at the dinner table, sobbing while eating Pinchy, who had been unfortunately boiled alive in the tub.
Non-canon
[
edit
]
| | |
| --- | --- |
| | The contents of this article or section are considered to be non-canon and therefore may not have actually happened or existed. |
The Simpsons: Tapped Out
[
edit
]
He is the boss of the Superheroes 2 event, cloned by the evil Dr. Crab to be his weapon against the heroes. He is fought by the heroes, till Homer deals the final blow, killing him, once again, and eating him at the Dead Lobster.
Appearances
[
edit
]
Simpson family
Main family

Homer Simpson
•

Marge Simpson
•

Bart Simpson
•

Lisa Simpson
•

Maggie Simpson

Santa's Little Helper
•

Snowball II
Factfiles from Simpsons World the Ultimate Episode Guide: Seasons 1-20
Season 14
Rock Stars • Audrey McConnell, Third Grade Teacher • Dr. Velimirovic, Plastic Surgeon • Mitch Hartwell, the Reality Channel Producer • Junior (AKA Frank Grimes, Jr.) • Teacher of the Year Award Nominating Committee • Dexter Colt, Private Eye • The Mugger • Larry H. Lawyer, Jr. • Baby Stink-Breath • Booberella • Sara Sloane, Hollywood Movie Star • Cookie Kwan, Red Coat Realtor • Stark Richdale • Declan Desmond • Julio and Grady • Luke Stetson, Junior Wrangler • Suds McDuff, Spokesdog/Mascot for Duff Beer • Marriage Counselor • Jim Proudfoot • Don Castellaneta