Milhouse Van Houten
Wikisimpsons - The Simpsons Wiki
"I'm not a nerd, Bart. Nerds are smart."
―Milhouse
Milhouse Van Houten
Character Information
Milhouse Mussolini[4] Van Houten (born July 4th[5]) is Bart Simpson's best friend. As the only child of Kirk and Luann Van Houten, Milhouse's most distinctive physical traits are his extreme nearsightedness (depicted by very small eyes), requiring thick glasses to correct, and a huge nose about the size of a softball.
Despite being considered a nerd, Milhouse is of average intelligence but has poor social skills. He is also very gullible, thus he is constantly led into trouble by the mischievous Bart, who is not shy about taking advantage of his naive, trusting and loyal friend.
Biography
[
edit
]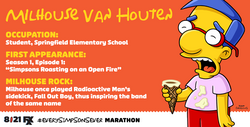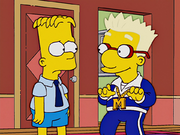 Milhouse is constantly victimized in some form or another such as being the target of the bullies Jimbo, Dolph and Kearney. They often inflict extreme acts of physical violence upon him. One instance had the bullies wrapping Milhouse in bumper stickers and placing him in a shopping cart, the bullies then pushed the cart with Milhouse inside down a very steep hill.[6] He frequently visited a female psychiatrist called Dr. Waxler until she got fed up by his frequent callings. Milhouse is also the subject of Nelson's cruelty: "stop (hitting, zapping, etc.) yourself." He still uses a child-size car seat and is a bed-wetter.
On one occasion, Bart got Milhouse placed on the America's Most Wanted list, even though they are friends, and he once tried to lure Milhouse into a cactus. This kind of torture is often used by Bart, who tries either to get Milhouse in trouble or to hurt him for no reason, making Milhouse's and Bart's relationship even more questionable. Bart once introduced Milhouse and attempted to explain why they are friends. He cannot come up with a real answer and admits that it is due to geographical reasons, though Bart has admitted that he really loves Milhouse.[7] Homer also seems to like joining in on his son's torment of Milhouse although to a much lesser extent (constantly referring to him as "that little wiener Milhouse.") However, Bart does genuinely care for Milhouse, despite victimizing him on many occasions. Despite being a good boy, Milhouse often does bad things because of Bart's influence, like dropping mustard on cars from the top of a bridge[8] and destroying the school by loosening all the screws.[9] This is the reason his mother once didn't want Milhouse to see Bart anymore, but she later changed opinion after Marge talked to her.[10]
Milhouse has been seen as a cool boy on some occasions. When his parents got lost in the sea during their honeymoon, Milhouse realized he is not a baby, so started acting cool because of his sadness. The kids at the school were impressed by Milhouse, even Lisa. Bart brought his uncle Norbert (who is Danish, thus looking different from his Dutch relatives) to Springfield to console Milhouse.[7] When his mother moved with him to Capital City, he dyed his hair blond, wore fashionable clothes and acted rude to impress his new friends, who acted similar. He even gave Bart a wedgie and laughed at him with his friends. After his father got custody of Milhouse and brought him back to Springfield, the kids stopped thinking Milhouse was a cool boy so everything went back to normal.[11]
Perhaps due to his name (he is named after Richard Nixon), people frequently make Milhouse the butt of a variety of jokes, ranging from being beat up by Nelson for delivering a love note from Lisa (that Nelson thought was from Milhouse himself), having the door slammed in his face while playing Pin the Tail on the Donkey, making him a wanted fugitive and inadvertently inheriting Bart's dismal permanent record at school through a side deal arranged between Bart and Edna Krabappel and Principal Skinner, which will disqualify Milhouse from "all but the hottest and noisiest jobs".
Milhouse may be of part Italian ancestry, due to the fact that his grandmother lives in Italy. Milhouse is part Dutch and Danish.
Romance and sexuality
[
edit
]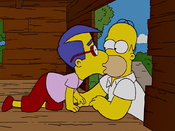 Milhouse harbors a hopeless crush on Bart's younger sister, Lisa, and he is usually clumsy around females. However, in a flashback, when Bart and Milhouse were in kindergarten, a school counsellor accidentally revealed that he had assessed Milhouse to be gay,[12] and indeed, it is often implied Milhouse most likely is bisexual. On occasion he has been shown to enjoy cross-dressing (in one episode, he convinces Bart to dress up with him too) and has noticed a boy, named Deven Woosterfield, to be beautiful.[13]
Milhouse has exhibited a tendency to begin acting rather ridiculously feminine, complete with clichéd catchphrases and mannerisms. This case of social anxiety has lost him Lisa's heart three times, as well as a relationship with Rainier Wolfcastle's daughter Greta. Examples of such behavior are referring to himself as a "big sister" and being caught with a scrunchie in his hair.[14]
Milhouse may have a crush on Marge, implied when Bart asked him if he's in love with her. Additionally, upon being asked whether he thinks that Marge is cool, he immediately, without thinking, responds, "No, I think she's HOT!"[15]
Lisa once showed concern for Milhouse when he was beaten by Nelson and left in a heap, and tended to him. This rare moment of affection however was brief, as she became distracted by the arrival of Irish environmentalist Colin, who became her love interest. When the Trappuccino finished, Milhouse lied to Lisa about Colin's death and claimed that he begged Milhouse to look after her. Colin returned in the midst of Milhouse's story, and he quickly took his leave.[16]
Milhouse's first girlfriend was
Samantha Stankey
, a new student who had moved to
Springfield
from Phoenix, Arizona.
After her father caught her and Milhouse kissing, he sent her to all-girls
Saint Sebastian's School for Wicked Girls
.
[17]
While Milhouse's official first kiss was with Samantha, it was contradicted when Milhouse claims his first kiss was with Homer during a game of spin the bottle that Homer interrupted by going up the treehouse and accidentally kissing Milhouse (much to Homer's disgust, but to Milhouse' glad for being his first kiss).
[18]
Milhouse was seen making out with Paris Texan, who is nearly 20. This may be due to Milhouse wearing cool clothes at the moment.[19] Milhouse have also date Taffy, and Lisa began to follow the. After a while, realized Taffy to Milhouse will always be in love with Lisa and broke up the relationship. Lisa then decided to kiss him for the first time but explained that she does not yet know if she loves him.[20] Although Lisa pointed out in a previous episode that she kissed Milhouse.[21]
Skills and talents
[
edit
]
Milhouse is fluent in Italian due to visiting his Anglophobic grandmother Nana Sophie in Tuscany for two weeks every year. Because of his grandmother's beatings when he spoke English, Milhouse learned Italian and started to wet his bed.
Milhouse is allergic to honey, wheat, dairy, non-dairy and even his own tears. He also says that real milk can kill him, though he often drinks it.
He has also demonstrated that he is a skilled Vespa rider, although he is obviously not legally entitled to operate a scooter on public roads. Milhouse had come closest to wooing Lisa when he taught Italian to her, as she even kept a picture of Milhouse in her room while practising Italian. It is implied that she was captivated by his impressive command of the language during a rather romantic outing to the local Italian immigrant establishment. However, he once again reached a roadblock due to his ongoing fatal flaw when it came to girls.[4]
Non-canon
[
edit
]
| | |
| --- | --- |
| | The contents of this article or section are considered to be non-canon and therefore may not have actually happened or existed. |
According to a future-telling machine invented by Professor Frink, at age 14 Milhouse burns down a house but rescues Lisa from it. By the time he is 18, Milhouse is strong and buff but emotionally unstable. He dates Lisa but she breaks up with him, sending him on a violent rampage similar to The Hulk. When the two nearly get back together, Bart rescues Lisa, fearing it will ruin her life.[22]
A few years later Milhouse no longer has all his buff muscle and asks Lisa to marry him. She declines because she believes she never wants to marry. At age 25, Milhouse is balding and works as Homer's supervisor at the Springfield Nuclear Power Plant. In this position he is strict especially when he hears that Lisa is engaged to another person.[23]
When he is 40 he is married to Lisa and the two have a teenage daughter, Zia Simpson.[24]
Bart finds out from Professor Frink's machine that in old age, Milhouse will be married to Lisa and the couple will live in poverty. Bart decides to intervene to prevent this.
The Simpsons arcade game
[
edit
]
Milhouse appears in stage 2 carrying a hammer for the Simpsons to use to fight Mr. Burns' goons.
The Simpsons Game
[
edit
]
Milhouse appears as the villain Mr. Dirt who taunts Homer and Lisa as they seek to defeat all three Sparklemons. After they capture all three Sparklemon balls and place them in the coin slots of the giant toilet shrine, Mr. Sparkle cleans up the village, and Milhouse shrinks to normal, handing over the keycard and being attacked by the three Sparklemons.[25]
The Simpsons: Tapped Out
[
edit
]
Default
[
edit
]
This section is transcluded from The Simpsons: Tapped Out characters/Kids. To edit it, please edit the transcluded page.

Permanent Tasks
Task
Time
Reward
Requires
Quest with the task
Visible?
Hide Wet Bedsheets
45s
3, 1
Van Houten House
Mom, I Spilt My Drink In Bed
Chasing Shauna Pt. 4
Find Puppy Goo-Goo
10m
15, 5
Van Houten House
Like Father, Like Son
Loiter at Android's Dungeon
30m
40, 10
Android's Dungeon
Shop at Kwik E Mart
60m
70, 17
Kwik-E-Mart
Thrillhouse Pt. 2
Death by Squishee
Candy Day
Paintball in the Brown House
2h
110, 27
Brown House
The Mysterious Brown House Pt. 3
Fly Scale Model Perfectly Level
4h
175, 45
A Real Maverick
Go to School
6h
225, 55
Springfield Elementary
Schoolhouse Crock Pt. 2
Bart Crusoe Pt. 1
Teamwork!
Any Given Weekday
Fly a Kite
8h
275, 70
Everyone Always Tells Me To Go Do This
Valentine's Day Pt. 3
Go To Sunday School
12h
420, 100
First Church of Springfield
Passion of the Flanders Pt. 3
Let's Learn About Hell!
Celebrate the 'WOD FIR'
16h
500, 110
The Sun Sphere, Nelson, Bart, Martin
Have a Sleepover
24h
600, 150
Bart's Treehouse
Let's Stay Up All Night Watching TV
The Olive Branch Pt. 1
Temporary Tasks
Task
Time
Reward
Requires
Quest with the task
Visible?
Pull the Fire Alarm
10m
15, 5
Springfield Elementary
The Olive Branch Pt. 3
Shoplift from the Kwik-E-Mart
30m
40, 10
Kwik-E-Mart
A Victimless Crime
Eat at Krusty Burger
30m
90, 15
Krusty Burger
Weekend Dad Pt. 1
Weekend Dad Pt. 16
Play Kickball
60m
70, 17
Springfield Elementary
The Trouble With Twins Pt. 7
Hide From Girls
60m
70, 17
Shrub
The Trouble With Twins Pt. 4
Browse the Itchy and Scratchy Store
4h
175, 45
The Itchy and Scratchy Store
They Fight and Buy-It
Attend Reform School
4h
175, 45
Springfield Elementary School
Crackdown Pt. 5
Browse for Tattoos
4h
175, 45
My First Tattoo
My First Tattoo
Go to the Crypto Barn
4h
175, 45
Crypto Barn
Loads of Codes
Go to his Room
4h
175, 45
Van Houten House
Money vs. Milhouse Pt. 2
Attend Homer's Football Bash
4h
175, 45
Simpson House
Super Bowl
Stupor Bowl Sunday
Serve Detention
6h
225, 55
Springfield Elementary
Mad with Funded Power
Browse Herman's Military Antiques
8h
275, 70
Herman's Military Antiques
Customers Pt. 3
Eat At The Frying Dutchman
8h
275, 70
The Frying Dutchman
The Frying Dutchman Pt. 1
Go to Stu's Disco
8h
275, 70
Stu's Disco
Saturday Night Fever Pt. 4
Eat at Phineas Q. Butterfat's
8h
275, 70
Phineas Q. Butterfat's
Valentine's 2013
Valentine's Day Pt. 12
Eat at Luigi's
8h
275, 70
Luigi's
Running With The Bullies Pt. 16
Sneak into the Control Building
8h
275, 70
Control Building
Easter 2014
Four-Day Weekend For Our Sins Pt. 13
Clean School
12h
420, 100
Springfield Elementary
Caught Red Handed
Eat at Fleet-A-Pita
12h
420, 100
Fleet-A-Pita
The Investorettes Pt. 3
The Investorettes Pt. 4
Get bullied by a snake
12h
5
Whacking Day
Whacking Day Pt. 8
Climb The Sunsphere
12h
420, 100
The Sun Sphere, Nelson, Bart, Martin
Here Comes The Sunsphere
Go to "Euro-Krustyland"
12h
420, 100
Channel 6
Kamp Bart Pt. 7
Build a House of Gift Cards
12h
42, 100
Van Houten House
Christmas 2013
Too Much of a Good Thing Pt. 9
Storm Police Station
12h
420, 100
Police Station
Two Extra Eyes On Springfield Pt. 5
Attend Court Hearing
12h
420, 100
Court House
Two Extra Eyes On Springfield Pt. 7
Trick-Or-Treating
16h
1, 200
Halloween 2012
The Black Hole Pt. 4
Follow and Stare at Lisa
16h
500, 110
Valentine's 2014
Return to Sender
Go to the Library
24h
600, 150
Springfield Library
The Olive Branch Pt. 2
Spend the Night at Kamp Krusty
24h
1,000, 225
Kamp Krusty
Kamp Bart Pt. 1
Go Minigolfing
24h
600, 150
Sir Putt-A-Lot's
Bread And Putter Pt. 4
Serve Time
24h
600, 150
Springfield Penitentiary
Crackdown Pt. 3
Protest
24h
600, 150
Channel 6
Two Extra Eyes On Springfield Pt. 4
Temporary Krustyland Tasks
| Task | Time | Reward | Requires | Quest with the task | Visible? |
| --- | --- | --- | --- | --- | --- |
| Ride the Death Drop | 30m | 12, 10 | Death Drop | The Krusty-est Place On Earth Pt. 8 | |
Note: Milhouse is unvoiced.
Fit™ Milhouse
[
edit
]
This section is transcluded from The Simpsons: Tapped Out characters/More Costumes. To edit it, please edit the transcluded page.

Permanent Tasks
| Task | Time | Reward | Requires | Quest with the task | Visible? |
| --- | --- | --- | --- | --- | --- |
| Post Selfies to SpringFace | 60m | 420, 100 | Van Houten House | | |
| Order Unnecessary Fitness Gadgets | 4h | 175, 45 | Van Houten House | | |
| Write a Fitness Blog Post | 8h | 275, 70 | The Java Server | | |
| Guzzle Sports Drink | 12h | 420, 100 | | Milhouse FTW! Pt. 3 | |
| Work it! | 24h | 600, 150 | | Milhouse FTW! Pt. 4 | |
Sidekick Milhouse
[
edit
]
This section is transcluded from The Simpsons: Tapped Out characters/Vigilantes. To edit it, please edit the transcluded page.

Behind the Laughter
[
edit
]
Creation
[
edit
]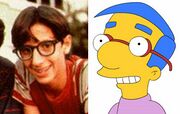 Milhouse was named after US President Richard Nixon, whose middle name was Milhous. The name was the most "unfortunate name Matt Groening could think of for a child". Milhouse is a favorite among the staff as Al Jean noted "most of the writers are more like Milhouse than Bart".
Milhouse's appearance is based on the character Paul from The Wonder Years.
Foreign dubs
[
edit
]
Appearances
[
edit
]
This article or section is incomplete.


Please improve the article, or discuss the issue on the talk page.

References
[
edit
]
External links
[
edit
]
This article is covered by multiple navigation templates. Click "show" to view.
Factfiles from Simpsons World the Ultimate Episode Guide: Seasons 1-20
Season 14
Rock Stars • Audrey McConnell, Third Grade Teacher • Dr. Velimirovic, Plastic Surgeon • Mitch Hartwell, the Reality Channel Producer • Junior (AKA Frank Grimes, Jr.) • Teacher of the Year Award Nominating Committee • Dexter Colt, Private Eye • The Mugger • Larry H. Lawyer, Jr. • Baby Stink-Breath • Booberella • Sara Sloane, Hollywood Movie Star • Cookie Kwan, Red Coat Realtor • Stark Richdale • Declan Desmond • Julio and Grady • Luke Stetson, Junior Wrangler • Suds McDuff, Spokesdog/Mascot for Duff Beer • Marriage Counselor • Jim Proudfoot • Don Castellaneta