Nelson Muntz
Wikisimpsons - The Simpsons Wiki
"Ha Ha!"
―Nelson's catchphrase
Nelson Mandela Muntz
Character Information
Nelson Mandela[3] Muntz is a bully at Springfield Elementary School.
Biography
[
edit
]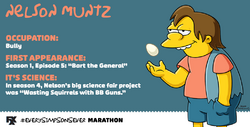 Nelson was first shown a bully and arch-nemesis of Bart.[4] Over the years, Nelson has terrorized virtually everyone in Springfield, and regularly points and laughs at people's misfortune. Nelson shows the occasional glimpse of humanity however, and people have occasionally warmed to him; Lisa briefly had a crush on him but broke up after he lied to her,[5] and befriends Bart.[6]
Nelson represents Japan in the school's Model U.N. Club club.[7] In various occasions, he gives off the impression that he is a lot smarter than he may first appear. Nelson often points out painfully obvious things to adults and kids alike that take them longer to grasp. Often, Nelson does a class assignment which is implied to be of high quality; Sadly he is always brushed off by the teachers before he gets to show them his work. Nelson is also a natural athlete. As the team quarterback for the Pee-Wee football team, Nelson also on one occasion catches his own pass and plows through the opposing team with extreme ease. He almost single-handedly carried the entire Springfield Pee-Wee football team.[8] He also seemed to have a surprising amount of expertise on planning, as he tells Marge when she says she wants to take down Mixed Fighting that she'll need parents, sympathetic school officials and clergymen, a place to meet, snacks, staplers and a phonetree; (which he considers to be invaluable in regards to organizing a protest) to even have a chance at taking down an entire sport.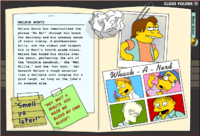 Nelson is also a fan of many unexpected things, such as Andy Williams and Snow White. He is also an expert in the proper preparation of Huckleberries (Although he often quickly changes the subject to beating a kid up when one of the teachers or even Principal Skinner walks by, for unknown reasons.). Nelson is apparently a master of disguise, fooling even Bart and Ned Flanders.[9] He eats tadpoles for brunch and lunch.[10]
Nelson has been known to beat people up (usually Bart) for arguably noble reasons. Bart (truthfully) claimed to have been Krusty the Clown's assistant; Nelson punched him in the stomach, saying "That's for taking credit for other people's work!".[11] Nelson also hurt him after Bart wrecked Hitler's vehicle at a carnival ("You wrecked Hitler's car! What did he ever do to you?!"). Bart also got beaten for "Wasting teacher's valuable time!", after constantly raised his hand with the wrong answer to answer a question Mrs. Krabappel asked, and received pain for "Besmirching an innocent girl's name!" after trying to flaunt his relationship with Jessica Lovejoy to the other kids.
In contrast to the above noble attacks, when Milhouse claims to care about the environment in order to impress Lisa, Nelson stands over him with a fist raised and demands he "Say global warming is a myth!" Milhouse does so, and Nelson punches him telling him "That's for selling out your beliefs!" [12]
It is revealed that Nelson is of German descent.[13] However, in another time, Nelson picks on Üter Zörker for being German, during a time when the town was in an anti-illegal immigrant hysteria, although he also may have done this to avoid being picked on for being German.[14]
At times Nelson is depicted as having master answer sheets to various tests and assignments at school. He has an "office" located in a toilet stall where he has the answer sheets hidden in the toilet cistern.[15] He also has a framed picture of himself mounted on the cubicle wall with "Employee Of The Month" stenciled below it. Ironically, he once mentioned to have a desire to get into event planning when he grows up.
Nelson's parents are Mr. Muntz and Mrs. Muntz. His grandfather is a Judge.[16]
Nelson lives in a dilapidated house with his mother, who he learned his trademark laugh from. The negligent Mrs. Muntz works on the fringes of the sex industry, either as a waitress at Hooters or in a topless bar.
It is shown many times that Nelson's father abandoned him and his mother at an early age when he "went to pick up some cigarettes". Nelson's father appears as the children's soccer coach and awards Nelson with a free trip to Pele's Soccer and Acting School.[17]
At one time, Nelson is adopted by Marge Simpson. To get rid of him, Bart finds Nelson's father and brings him to meet Nelson. It turned out that he did not leave Nelson deliberately; he bit into a chocolate bar, not knowing it had peanuts and had an allergic reaction. Looking like the Elephant Man, he ran out of the store and encountered a circus that made him a part of its freak show. At performances, circus attendees threw peanuts at him, which perpetuated his reaction, never allowing him to return to normal. When the circus came through Springfield, Bart recognized him and brought him home to rid himself of Nelson (who had been taken into the Simpson home by Marge).[18]
Relationships with others
[
edit
]
Fellow bullies
[
edit
]
At first having two cronies he called The Weasels, Nelson teamed up with Jimbo, Dolph and Kearney. Nelson is not seen with the bully trio very often, hinting that his friendship with them is superficial. Nelson himself was subjected to a beating at the hands of Kearney and Jimbo at the racetrack when he used the word "guff" instead of "shit".[19] However, Nelson has shown to be a lot stronger than the other bullies, when protecting Bart.[20]
Victims
[
edit
]
Although in the first season, Nelson seemed to be Bart's antagonist, he gradually moves through grudging respect to become Bart's friend, having become his "other best friend" besides Milhouse.[21] Nelson once described Bart as having "spikey hair, soft kidneys, and always hitting himself". Although still prone to violence, he occasionally hangs out with Bart and his outcast friends such as Milhouse Van Houten and even common bullying target Martin Prince, more often than the bullies. Bart is shown to be capable enough of beating Nelson up.[22][23]
Lisa Simpson
[
edit
]
Nelson has many other moments where he displays his hidden good nature, such as his brief amorous relationship with Lisa. Although he cannot control his delinquent tendencies, he treats her with respect and even tries to change for her, although both of them realize that he is not being true to himself by doing so. Nelson kisses Lisa, only to be berated by Jimbo, Kearney, and Dolph, who believe that kissing girls is gay (despite the fact that Jimbo kissed Laura Powers).[24] He also helps Lisa punish Sherri and Terri for tormenting Lisa about her butt. Their romantic relationship has been referred to several times, most notably when Lisa invests in Nelson's business venture. Which ends with Nelson taking Lisa rollerblading and the pair holding hands, hinting at a possible future romance.[25]
Martin Prince
[
edit
]
Another curious example of his "good side" is with Martin, a boy whom Nelson picks on perhaps more so than any other kid in town. Despite the utter cruelty, there are occasional hints that Nelson does not harbor any hate towards Martin, and only bullies him to maintain his 'tough guy' reputation. Both Nelson and Martin attend Space Camp and it is implied that Martin had helped Nelson quite a bit and the two may have been very friendly.[26] When it is believed that Martin has died after accidentally falling over a cliff, Nelson seeks out to learn the truth and find Martin's killers. When it is revealed that Martin is alive, Nelson mocks and punches him, but also states that he is glad Martin is not dead.[27] When Lisa tries to bribe him to not rat her out by offering to get back together with him, he denies it. While helping rescue the Springfield Lemon Tree, which is in the hands of some kids from Shelbyville, Nelson saves Martin from getting beaten up by a Shelbyville kid, even though he is clearly embarrassed by doing it.[28]
Physical appearance
[
edit
]
Nelson has light brown hair and wears a short-sleeved light pink shirt with a light blue dirty, torn vest. Nelson's front teeth are false, and on a removable plate.[29]
Catchphrases
[
edit
]
Nelson's catch phrases are "Ha-ha!" (also spelled as "Haw-haw!"), "Aw, crud!", "Smell ya later!", and "Stop hitting yourself!". The last phrase can be modified to suit the current situation/method of beating, resulting in phrases such as "Stop butlering yourself!", "Stop zapping yourself!" and "Stop endangering yourself!".
Non-canon
[
edit
]
| | |
| --- | --- |
| | The contents of this article or section are considered to be non-canon and therefore may not have actually happened or existed. |
When Nelson is 18, he has dated and impregnated identical twin sisters Sherri and Terri, becoming the father to two sets of twins. He then claims to be going out to the store for a pack of cigarettes, and then abandons the children in a similar manner to his own father.[30]
When Nelson is 25, he is seen with a young son, Nelson Muntz, Jr., who may be one of the four twins. Nelson Jr. has learned to laugh and behave exactly like his father, shown when the two mock the cancellation of Hugh Parkfield and Lisa's wedding.[31]
At age 40, Nelson was shown to be a rich, powerful businessman (or mob boss) who owns a bar.[32]
An elderly Nelson was seen laughing at Homer Simpson's grave.[33]
In another future, Nelson and Lisa kept meeting up every 5 years and almost started dating each other. However, things happened between them that stopped that. Eventually, Nelson got a girlfriend, Rott, who was a bounty hunter. However, they eventually split up. When Nelson was asked to be Jimbo's best man for his wedding to Sophie, Lisa was a bridesmaid for Sophie. During the wedding, Nelson left and Lisa followed him, with the two deciding to finally get together.[34]
The Simpsons arcade
[
edit
]
Nelson appears in stage 5 carrying a slingshot for the Simpsons to use to fight Mr.Burns' goons.
The Simpsons Game
[
edit
]
Nelson mostly appears whenever both playable characters are killed off to taunt the player.
The Simpsons: Tapped Out
[
edit
]
This section is transcluded from The Simpsons: Tapped Out characters/Toughies. To edit it, please edit the transcluded page.

Nelson
Image
Cost
Unlock method
Unlock message
36,750
Level 21, Muntz House
Nelson
Permanent Tasks
Task
Time
Reward
Requires
Quest with the task
Animated?
Go Skating
10m
17, 5
Simpsons' Skating Rink
Dump Spoiled Slaw in Van Houten House
10m
17, 5
Van Houten House
Smell Ya Later!
Set a High Score at Whack a Real Mole
10m
26, 7
Whack A Real Mole
Overload on Sugar
30m
60, 15
The Candy Shoppe
Shoot Car with BBs
30m
60, 15
Piece-of-crap Car
Sneak an Ice Cream
30m
60, 15
Ice Cream Truck
Go on a Field Trip
60m
105, 26
Cypress Creek Elementary
Shop at the Kwik-E-Mart
60m
70, 17
Kwik-E-Mart
Running With The Bullies Pt. 2
Ride the Carousel
2h
110, 27
Boardwalk Carousel
Catch a Movie
2h
110, 27
Big T Theatre
Shop When Nobody's Looking
4h
260, 70
Never 21
Shake Down Kids For Lunch Money
4h
175, 45
Springfield Elementary
Darwin's Bulldog
Bullies On Parade
Attend Parenting Seminars
4h
260, 70
Universal Panacea
Play With Interactive Exhibits
4h
175, 45
KidZone Elite
Split a Fancy Mac and Cheese
4h
175, 45
Le Petite Appétit
Get Fit and Educated
4h
175, 45
Springfield Gymdandee
Put Coins on the Rails
4h
175, 45
Springfield Union Station
Learn by Fun
4h
175, 45
Childrarium
Give Feedback
4h
175, 45
Audience Research Table
Poorly Working Title Pt. 2
Take Broom Driver's Ed
4h
260, 70
Department of Magical Vehicles
Look For Stuff to Shoplift
5h
200, 50
Rats Court Mall
Serve Detention
6h
225, 55
Springfield Elementary
Zero Tolerance
Mad with Funded Power
Throw Eggs at House
6h
225, 55
Spook House
Go to School
6h
225, 55
Springfield Elementary
Attend Wizarding School
8h
275, 70
Magic Academy
Get Brainfreeze
8h
275, 70
Pinkbeardy Yogurt
Get Caught in Webs
8h
420, 105
Big Bug House
Play the Guitar
8h
275, 70
Muntz House
I'm A Rockstar!
Running With The Bullies Pt. 5
Do Janitorial Work
12h
420, 100
Springfield Elementary
Nelson's Educational Experience Pt. 1
Nelson's Educational Experience Pt. 2
Nelson's Educational Experience Pt. 3
Enjoy a Night at the Theater
12h
420, 100
Springfield Playhouse
Celebrate the 'WOD FIR'
16h
500, 110
The Sun Sphere
Laugh at Others' Misfortune
24h
600, 150
Dark Humor
Running with the Bullies Pt. 17
Costumes
[
edit
]
Standalone
[
edit
]
Behind the Laughter
[
edit
]
According to the DVD commentary on the season five The Simpsons episode "Lady Bouvier's Lover", Nelson's first name comes from the wrestling hold, the full nelson. However, others stated that it was named after actor Judd Nelson, who portrayed John Bender. Both Bender and Nelson have a similar appearance, personality and delinquencies.
Appearances
[
edit
]
References
[
edit
]
| | |
| --- | --- |
| | Wikisimpsons has a collection of images related to Nelson Muntz. |
Factfiles from Simpsons World the Ultimate Episode Guide: Seasons 1-20
Season 14
Rock Stars • Audrey McConnell, Third Grade Teacher • Dr. Velimirovic, Plastic Surgeon • Mitch Hartwell, the Reality Channel Producer • Junior (AKA Frank Grimes, Jr.) • Teacher of the Year Award Nominating Committee • Dexter Colt, Private Eye • The Mugger • Larry H. Lawyer, Jr. • Baby Stink-Breath • Booberella • Sara Sloane, Hollywood Movie Star • Cookie Kwan, Red Coat Realtor • Stark Richdale • Declan Desmond • Julio and Grady • Luke Stetson, Junior Wrangler • Suds McDuff, Spokesdog/Mascot for Duff Beer • Marriage Counselor • Jim Proudfoot • Don Castellaneta