Treehouse of Horror XX
Wikisimpsons - The Simpsons Wiki
445
"Treehouse of Horror XX"
XX
"Treehouse of Horror XX"
"Treehouse of Horror XX"
Episode Information

"'Treehouse of Horror XX" is the fourth episode of season 21 of The Simpsons and the four-hundred and forty-fifth episode overall. It is also the twentieth installment in the Treehouse of Horror series and consists of three parts. It originally aired on October 18, 2009. The episode was written by Daniel Chun and directed by Mike B. Anderson and Matthew Schofield.
Synopsis
[
edit
]
"In "Dial 'M' for Murder or Press # to Return to Main Menu," Lisa is forced into a Hitchcockian murder scheme by Bart, in "Don't Have a Cow, Mankind," Springfield is once again overrun by zombies thanks to Krusty Burger's latest sandwich, and in "There's No Business Like Moe Business," Moe the bartender bleeds Homer dry to create the perfect microbrewed beer."
Opening sequence
[
edit
]
Count Dracula, Frankenstein's Monster, the Werewolf and Amenhotep all come to life on Halloween. As they are walking through Springfield, they are mocked by Jimbo, Dolph and Kearney for their costumes. The monsters then go to a costume shop and put on character costumes. They then attend the Halloween party at the Simpsons house where they all make out with women at the party. Their wives then turn up and attack their husbands. As Homer says that it's not cheating if it's in costume, the wives attack Homer, decapitating him. The "Treehouse of Horror XX" logo then appears over Homer's head.
Dial "M" for Murder or Press # To Return To Main Menu
[
edit
]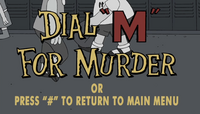 After getting mad at Miss Hoover for not choosing her to represent the class at a reading roundup, Lisa gets detention. In detention, Lisa speaks to Bart who wants to get revenge on Mrs. Krabappel. The two of them decide to "criss-cross", each taking care of the other's teacher since they have no motive. Lisa follows Mrs. Krabappel and "ding-dong-ditches" her. When Lisa tells Bart about it, Bart shows Lisa Miss Hoover's decapitated head, saying that he meant that Lisa needed to kill Krabappel, not just prank her. Bart then tells Lisa that she has to go through with her promise.
Lisa gets an opportunity to kill Krabappel but can't go through with it. This leads to Lisa deciding to kill Bart instead. Lisa chases Bart all over before getting him on the merry-go-round in the school playground. Lisa then decides that she can't kill Bart as she's not like him and throws the knife in the air, which lands in Bart's head, killing him. Mrs. Krabappel then praises Lisa for killing Bart and the two of them walk off together.
Don't Have a Cow, Mankind
[
edit
]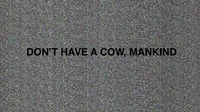 Kent Brockman reports on Krusty Burger's new Burger², a burger created from cows that had eaten beef from other cows. Upon trying the burger, Kent Brockman turns into a Muncher zombie and bites Krusty, turning him too. Twenty-eight days later, the town is chaos with zombies running around everywhere. However, the Simpson family are safe indoors, with the exception of Grampa who is left outside. Bart gets hungry for food that's not fruit and decides to sneak off to a nearby Krusty Burger to get a burger. This turned out to be one of the new Burger²s, but Bart wasn't turned into a zombie from it, with the family realizing that Bart has an immunity.
The family calls Dr. Hibbert who tells them to get to the safe zone outside of town with Bart so that can be used to make a cure. They escape from the house with Apu, who didn't eat the burgers as he's a vegetarian and has weaponry due to being a convenience store owner. Apu drives the family out of town in his car until it gets stuck. Apu gets out to push the car as the Simpsons drive away, leaving Apu behind to die. Eventually, the car runs out of gas and the family starts to walk. Homer then finds the bodies of Mr. Burns and Smithers and mocks Burns, only for Burns to bite Homer, turning him into a Muncher. Marge stops Bart from killing Homer and they all go to the safe zone to make the cure. The people there suggest killing Bart to make the cure, but Bart ends up bathing in their food instead. Eventually, society gets restored to normalcy.
There's No Business Like Moe Business
[
edit
]
In a stage musical based on Moe, one of the taps in Moe's Tavern doesn't work. As Moe goes into the basement to fix it, Homer jumps over the bar to grab a free drink. He then falls into the trap door and gets impaled on one of the machines. Moe is at first concerned for his friend but then realizes that he can use this as an opportunity to win Marge over. He tells Marge that Homer ran away saying that he didn't love her any more. Moe then gives Marge a drink, which Homer's blood gets mixed into. Marge then begins to develop feelings for Moe.
A week later, Moe asks Marge again if she would go out with him. Marge still has hope that Homer would return, so Moe reads Marge a letter that he wrote, saying it was from Homer. The letter said that Homer had realized that he was gay so didn't want to be with Marge any more. Moe then goes to pour another drink for Marge but realizes that there's none of Homer's blood in it. Moe then goes to the basement to squeeze more blood out of Homer.
As Moe comes up again, he again asks Marge if she will be his. As they start singing, Homer appears, with the machine still through him. Homer tells Marge what had happened and beats Moe up. Homer then asks Marge if she can love a man who's half beer and Marge tells Homer that she always has. The whole cast then comes out and sings "Number XX".
Production
[
edit
]
Reception
[
edit
]
In its original airing, the episode was watched by 8.59 million viewers and was the most watched of "Animation Domination".[1]
IGN praised the episode by saying "it was a fine addition to the series' Halloween specials". The Sweeney Todd segment was "a nice treat".[2]
"Treehouse of Horror XX" won a 2009 Annie Award for Writing in a Television Production.[3]
Gallery
[
edit
]
References
[
edit
]