Home Away from Homer
Wikisimpsons - The Simpsons Wiki
355
"Home Away from Homer"
"Home Away from Homer" Ned's tenants filming porn in their bedroom.
Episode Information

"Home Away from Homer" is the twentieth episode of season 16 of The Simpsons and the three-hundred and fifty-fifth episode overall. It originally aired on May 15, 2005. The episode was written by Joel H. Cohen and directed by Bob Anderson. It guest stars Jason Bateman as himself.
Synopsis
[
edit
]
"After Homer humiliates Ned Flanders, the Flanders family move to Humbleton, Pennsylvania – where Ned's favorite figurines are made. Meanwhile, a sports coach moves into Flanders' house and causes havoc."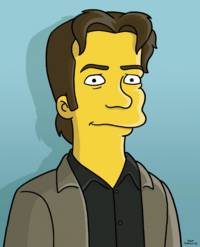 Financial trouble inspires Ned to rent his rumpus room to a pair of college aged women. While searching the internet, Bart and Milhouse discover the women are running a soft-core web cam from their room without Ned knowing a bit about the web cam. Homer quickly learns of the activities and spreads word of hot women and his ignorant neighbor. When Marge forces Homer to inform Ned of the charade, Ned becomes the laughing stock of Springfield.
Homer later feels guilty and arrives at Ned's front door equipped with a gift basket only to find the Flanders' have moved to their dream town, "Humbleton, PA – Home of the Humble Figurines" a place were every other citizen is quite literally chubby and apple cheeked, originally finding the place to be great Ned soon tires of it when the town starts persecuting him for little things like having a mustache and leaving his mail box flag up halfway. When an unruly neighbor moves in, Homer begs Ned to leave the not-so-ideal town and return to Springfield.
In other languages
[
edit
]
| Language | Name | Translation |
| --- | --- | --- |
| Français | "Diablesses chez Ned.com" | Devils at Ned.com |
Production
[
edit
]
| | |
| --- | --- |
| | This article about a Simpsons episode is a stub. You can help Wikisimpsons by embiggening it. |