The Mighty Smiter
Wikisimpsons - The Simpsons Wiki
The Mighty Smiter
Character Information
The Mighty Smiter was the superhero alter-ego of Waylon Smithers, Jr., created when an explosion at the Springfield Nuclear Power Plant gave super powers to everyone in Springfield.
Description
[
edit
]
The Mighty Smiter's costume resembles a Viking's helmet and armor. He has a giant executive washroom key, called Kjohler, which he uses as a fighting weapon. He can also use Kjohler to fly by means of hurling it into the air and then not letting go. The Mighty Smiter has long blond hair which is later shown to be a wig attached to his helmet.[1]
History
[
edit
]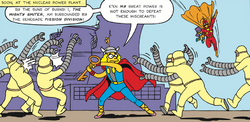 After everyone in Springfield gained super powers from the power plant explosion, The Mighty Smiter fought with several long-armed, radiation-suit clad power plant workers whom he called the "Fission Division". When he was unable to defeat them, he tried to fly away. However, he was quickly subdued by
Radioactive Man
, who gave him a mid-air punch to the jaw for "Violating the laws of physics!" The punch knocked off The Mighty Smiter's helmet, revealing that his true hair color was gray and that the blond hair was actually a wig.
Bartman and Radioactive Man were later able to reverse the effects of the power plant explosion, thus taking away the Springfieldians' super powers and returning them all to normal, including Smithers and the power plant workers.[1]
The Mighty Smiter later regained his superpowers, along with the rest of the Springfieldians, to defeat Sinister Van Dalus.[2]
Behind the Laughter
[
edit
]
The Mighty Smiter is a parody of Thor, as depicted in Marvel Comics.
The Mighty Smiter's giant key, Kjohler, is a reference to Thor's hammer Mjolnir.
The Fission Division, with their long extensible arms and mechanical grasping claws, resemble Marvel villain Doctor Octopus.
Appearances
[
edit
]
References
[
edit
]