Jay G
Wikisimpsons - The Simpsons Wiki
Jeremy "Jay G" Gilroy, is a rapper and owner of the Golden Goose brand and a former member of the soulful R&B group, The Five Boyfriends.
History
[
edit
]
When Mr. Burns and Homer try to crash a party, they discover that the host, Jay G, likes Mr. Burns as he is his role model after reading his book, The Rungs of Ruthlessness, which he found on a bus that he hijacked once, and thanks Burns for making him become who he is. After this, Jay G and Mr. Burns bond and become friends.
Jay G brings Homer and Burns on his private plane and gives Burns a special credit card for him to use. He invites Burns, with Homer tagging along, to buy a lot of stuff for really high prices, and slowly emptied out his bank account.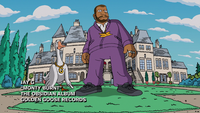 Burns soon finds out his trouble are worse, as his card is declined, as he is broke. Jay G's repo men come to his mansion to retrieve all his high expensive belongings. Homer then shows Burns a music video Jay G made, called "Monty Burnt", and he is reduced to crying after finding it out, as he had hit rock bottom.[1]
Golden Goose Repo Co., Jay G's company, continues with the removal of Burns' possessions, while Homer stands by his side. Burns and Homer start to plan revenge on Jay G, with the help of Bart, who told them that they should see Milhouse because he knows a lot of rap history. Milhouse revealed to them that Jay G used to be a part of a rap group called The Five Boyfriends, along with Jazzy James. However, Jay G and Jazzy James fell out after Jay G forced James to sign over the rights to all the songs he wrote.
Jazzy James, along with RZA, Snoop Dogg, Common and Praline, Jay G's ex-wife, came together to write a song to "destroy" Jay G. However, when Jay G found out about the song, he paid them all a lot of money to get the copy of it. At the concert for the song, Mr. Burns tried to play the song, only for holograms of Jay G, Goosius and everyone who helped make the song to appear on stage to explain that Jay G bought them all out.
Burns kidnapped Goosius from Jay G's mansion so he could kill him and hurt Jay G, getting revenge. When Jay G found out, he stormed over to Burns' manor to confront him about it and Mr. Burns revealed that he had killed and cooked Goosius to eat. However, the plan failed when Homer came out of the mansion with the real goose chasing him. Mr. Burns tried to kill Goosius himself and Jay G tried to stop him, ending with both of them hanging from a chandelier where Jay G reveals he hatched his plan due to the words Burns wrote in his book and the desire to become ruthless like him. The chandelier then broke, but they're saved by Smithers and the Canadian bikers who helped him bring the ice, which had turned to slush, back to the mansion. Mr. Burns then realized his ruthlessness would stay around forever in another person.[2]
Jay G attended the launch event for The Drederick[3] and was part of the trivia team A Triv Called Questions at Moe's Tavern.[4]
Personality
[
edit
]
Jay G is a rich person who likes to throw around his wealth on expensive things for the sake of it. He owns expensive vehicles, multiple private planes and limos and other fancy cars. He learned everything from a book that Mr. Burns wrote and took on his personality to be similar to Burns'.
However, Jay G also has another side to him. He can be ruthless when he wants money, making sure that his former friend Jazzy James signed away any rights to the songs he wrote for the rap group he was part of. He was also ruthless towards Mr. Burns, befriending him before crushing him, as that's what Burns' book told him to do.
Jay G has a soft spot for Goosius, his "golden goose" and the mascot for his company. When he found his goose was kidnapped, he went straight over to Burns' manor and was horrified to find Goosius was killed and cooked. He was then relieved to find Goosius was still alive and got angry at Burns when Burns tried to kill Goosius himself.
Non-canon
[
edit
]
| | |
| --- | --- |
| | The contents of this article or section are considered to be non-canon and therefore may not have actually happened or existed. |
The Simpsons: Tapped Out
[
edit
]
This section is transcluded from The Simpsons: Tapped Out characters/The Great Phatsby. To edit it, please edit the transcluded page.

Permanent Tasks
| Task | Time | Reward | Requires | Quest with the task | Animated? |
| --- | --- | --- | --- | --- | --- |
| Go Skating | 10m | 26, 7 | Simpsons' Skating Rink | | |
| Visit His Horticulturalist | 60m | 105, 26 | Jay G's Mansion | | |
| Bribe Old Rivals | 4h | 260, 70 | Jay G's Mansion | | |
| Overpay for Sex on the Beach | 4h | 260, 70 | Smooches on the Beach | | |
| Stay at the Swelldorado | 4h | 260, 70 | Swelldorado | | |
| Try to Win at Blackjack | 4h | 260, 70 | $ Casino | | |
| Drink and Babysit | 4h | 260, 70 | The Boiled Potato | | |
| Attend Parenting Seminars | 4h | 260, 70 | Universal Panacea | | |
| Buy Local Businesses | 8h | 420, 105 | Jay G's Mansion | | |
| Dance the Señor Burns | 8h | 420, 105 | Chez Guevara | | |
| Make it Rain | 12h | 600, 150 | | | |
| Feed Goosius | 24h | 1,000, 225 | Goosius | | |
Appearances
[
edit
]
References
[
edit
]
| | |
| --- | --- |
| | Wikisimpsons has a collection of images related to Jay G. |