The President Wore Pearls
Wikisimpsons - The Simpsons Wiki
316
"The President Wore Pearls"
"The President Wore Pearls"
Episode Information

"The President Wore Pearls" is the third episode of season 15 of The Simpsons and the three-hundred and sixteenth episode overall. It originally aired on November 16, 2003. The episode was written by Dana Gould and directed by Mike B. Anderson. It guest stars Michael Moore as himself.
Synopsis
[
edit
]
"Lisa is elected student-body president at Springfield Elementary and immediately falls foul of Principal Skinner, who fools her into taking popular classes off the curriculum. Angry at his deception, she retaliates by calling her classmates out on strike."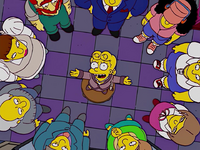 The Simpson family attend a casino night at the Springfield Elementary School. Whilst Marge goes crazy with her gambling, Homer places a big bet and wins. When he goes to cash in his chips, he finds out that no real money is being exchanged. When everyone finds this out, they go wild and destroy the casino hall. After this disaster, Principal Skinner tells Martin, whose idea it was, that he has to step down as class president due to this failure. The school then gets ready to elect a new class president.
Upon seeing the sign-up sheet, Lisa decided to run for president. However, Nelson also does so. Nelson proves to be a very popular candidate, winning over the other students. On stage during a debate, Nelson wins over the students whilst Lisa's ideas fail to gain any traction. Upon realizing that there was no hope left, Lisa started to sing "A Vote for a Winner". This song moved the audience and won over the students. Nelson then came up with a song too, "I Am Iron Man", which was ignored.
The day of the vote, Lisa ended up winning, to Nelson's surprise. Lisa was then invited to the teachers' lounge and given a makeover because the school president had to look the part too. Lisa took to her role quickly, posing for photo ops and proving to be popular. She then went to the teachers' lounge to give a list of things she wanted changed with the school, which all proved unpopular with the teachers. Skinner then gave Lisa a key to the school to get her to stop suggesting changes. Lisa went home and excitedly told her family all about her role. However, Bart told Lisa that Skinner was just using her.
At school the next day, Skinner put his evil plan in motion. He got Lisa to sign off on allowing him to take away gym, art and music subjects and activities from the school. When these got taken away, everyone was shocked to find that Lisa signed off on it. At home, Lisa was upset with what happened and blamed herself. Homer told Lisa that she has to stand up to the teachers for what they did. Lisa went back to school the next day and confronted Skinner over it. She then asked to make an announcement to the school and called a student strike. This strike drew the attention of the police, the local news and Michael Moore, with the police joining in with the strike. Eventually, the teachers came up with an idea and transferred Lisa to the Springfield Magnet School. Upon arriving at the school, Lisa decided that she liked it and wanted to stay until Homer pulled up in his car and took her away, saying he wasn't going to drive forty-five minutes a day to take Lisa to school.
Before the end credits, subtitles on the screen said that Springfield Elementary found the money to restore music, gym and art by canceling flu shots and selling loose cigarettes. The subtitles then said that on the advice of their lawyers, they have never heard of a musical based on the life of Eva Perón.
Production
[
edit
]
Michael Moore recorded his lines at a studio in Michigan, which is also the same studio that Julie Kavner uses often.[1] The episode was made as a parody of Evita because Al Jean liked Yeardley Smith's singing voice and thought that using her in a political musical would be a good idea. At the table read, Yeardley sang to the original melodies of the songs they parodied but they changed the tunes later for legal reasons.[2] Mike B. Anderson said that Lisa's makeover hair was really hard to draw and that the animators drew it looking a lot wackier.[3] It was Al Jean's idea to get Michael Moore into the episode in the news broadcast.[2]
Reception
[
edit
]
In 2007, Vanity Fair called "The President Wore Pearls" the tenth best episode of The Simpsons, the most recent episode on the list. John Orvted said, "It may seem ludicrous to include anything later than season 8 in this list, but this one is brilliant. The musical numbers are astoundingly good, and Lisa's comeuppance is so well constructed it harkens back to the golden years of the show."[4]
The song "A Vote for a Winner" was nominated for a Primetime Emmy Award for Outstanding Original Music and Lyrics in the 56th Primetime Emmy Awards. However, it lost to "Because You Are Beautiful" from V-Day: Until the Violence Stops.[5]
As of October 2019, the episode has a 6.9 rating on IMDb[6] and a 8.1 rating on TV.com.[7]
References
[
edit
]