She Used to Be My Girl
Wikisimpsons - The Simpsons Wiki
339
"She Used to Be My Girl"
"She Used to Be My Girl"
Episode Information

"She Used to Be My Girl" is the fourth episode of season 16. It originally aired on December 5, 2004. The episode was written by Tim Long and directed by Matthew Nastuk. It guest stars Kim Cattrall as Chloe Talbot.
Synopsis
[
edit
]
"Marge runs into her former high school pal Chloe Talbot, who is now a famous newscaster. Chloe is cultured, sharp-dressed and has a successful career on television. While Lisa has become enamored with Chloe's worldliness, Marge becomes jealous and wonders if she made the right decision by choosing family over a career."
A media circus arrives in Springfield as there's a sex scandal involving Mayor Quimby cheating on his wife with multiple women. Quimby makes the news reporters of Springfield happy, but is then approached by Chloe Talbot, a woman who grew up in Springfield. Chloe shows Mayor Quimby a video tape of him and Miss Springfield in bed together and calls the local newsmen idiots. At home, Marge gets sad that Chloe is successful and she isn't.
At the Town Hall, Chloe asks Mayor Quimby a question again, but is then distracted by Marge, who was out shopping. Marge invites Chloe to their house for dinner. Everyone loves Chloe's food, with Homer saying it's the best thing he's ever eaten at the table, annoying Marge even more. Chloe gets bored of Marge's dull stories then suggests they watch her show instead.
Marge becomes increasingly annoyed at how much everyone loves Chloe then reminisces about their time in high school together. They were both journalists working for the school paper and uncovered a big story about Moe spitting in the food he was serving. She and Chloe both had to make a decision on whether to go to journalism school or stay in Springfield with their sweethearts. Marge decided to stay whilst Chloe left Springfield as soon as Barney proposed to her. Marge would have followed Chloe but she got pregnant with Bart.
Marge begins to feel even more sad about how her life is going and was thinking about how amazing Chloe's life is. Homer made her feel a bit better, before bringing Chloe up again, annoying her. Chloe beings Lisa home late and asks Lisa if she wanted to go to Capital City with her. They then arrive home to find Marge waiting for them outside, and Marge gets into a fight with Chloe, getting a black eye in the process.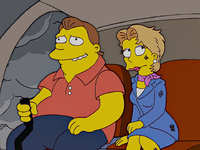 Marge tells Lisa that she can't go to the women's conference with Chloe, so Lisa decides to sneak out and stowed away in the trunk of Chloe's car. In the morning, the family realizes that Lisa is gone and go to Capital City to find her. However, Chloe gets a phone call saying that Mt. Springfield was erupting and went to report on that instead, taking Lisa with her unknowingly.
The volcano erupts and Lisa serves as the camera operator for the report. Homer and Marge then head to Mt. Springfield to save Lisa and Marge jumps across the lava to save her. Chloe was hanging on a tree, about to die in the lava, when Barney saves her by flying a helicopter to her. Barney and Chloe then have pity sex in the helicopter.
On the news, Kent Brockman reports on Marge saving Lisa. Marge then imagines what would have happened if she had gone to journalism school and screams. In a credits scene, Lisa is back in the trunk of Chloe's car and tells Chloe that she's praying to Buddha, Jesus or SpongeBob SquarePants, whoever will help. Buddha suggests that they should help, but SpongeBob says "screw her" then starts to laugh maniacally.
Production
[
edit
]
Reception
[
edit
]
In its original US airing, the episode was viewed by 10.3 million people.[1] As of October 11, 2017, the episode has a 6.6 rating on IMDb[2] and a 7.4 rating on TV.com.[3]
References
[
edit
]