Simpsons Christmas Stories
Wikisimpsons - The Simpsons Wiki
365
"Simpsons Christmas Stories"
This episode is considered non-canon and the events featured do not relate to the series and therefore may not have actually happened/existed.

The reason behind this decision is: Grampa has a brother who is never mentioned again.

If you dispute this, please bring it up on the episode's talk page.
"Okay, Christmas, Christmas... you know how your paper boy always sends you a Christmas card with his home address on it? What's up with that?"
"Simpsons Christmas Stories"
Episode Information

"Simpsons Christmas Stories" is the ninth episode of season 17 of The Simpsons and the three-hundred and sixty-fifth episode overall. It originally aired on December 18, 2005. The episode was written by Don Payne and directed by Steven Dean Moore.
Synopsis
[
edit
]
Opening
[
edit
]
Everyone is at church for the Christmas service, but Reverend Lovejoy is unable to make it because there was a train wreck on his model train set. Ned Flanders decides to do the Christmas service but gets a paper cut and faints. Homer then takes over the service, telling the story of the first Christmas.
The First D'oh-El
[
edit
]
Mary (Marge) tells Joseph (Homer) that she is pregnant, even though she's a virgin. The angel Gabriel (Lisa) appears to them and explains that Mary is going to give birth to the Son of God. The three wise men (Dr. Hibbert, Principal Skinner, and Professor Frink) tell King Herod that they are going to give gold, frankincense, and myrrh to the King of the Jews. When Herod thinks that the gifts are for him, the men explain to him that they're for the baby Jesus. Herod becomes angry and claims that he will kill the baby.
At the Bethlehem Inn, the innkeeper (Moe) tells Mary and Joseph that he has plenty of rooms available with brand new carpeting. However, when Mary's water breaks, he forces them to stay in the barn. Mary successfully gives birth to the baby Jesus (Bart), and the three wise men, along with the two shepherds (Lenny and Carl) come to see Jesus. Joseph is upset because he isn't Jesus' father and goes to get drunk. However, baby Jesus turns the wine into water, performing his first miracle.
When Jesus keeps crying, Mary gives him to Joseph. Joseph entertains him by hurting himself and one of the wise men (Principal Skinner). When Jesus finally falls asleep, Herod and his troops find the barn that they're staying in. They escape and trick the soldiers by putting Jesus' halo on a duck. On top of the hill, Joseph cuts down a pine tree, and as it rolls down, the soldier gets caught in it. The soldiers, along with Herod, are arranged like ornaments on the tree, and the duck, still wearing the halo, stands on top of the tree. Mary calls it a Christmas tree, as the soldiers in the tree die.
Wraparound
[
edit
]
The church service ends and everyone goes back home. At the Simpson house, Bart and Lisa watch the Energizer Bunny Christmas Special. They then hear rustling coming from the chimney and assume it's Santa.
I Saw Grampa Cussing Santa Claus
[
edit
]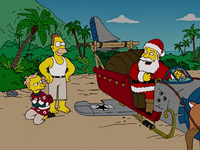 Bart and Lisa instead find Grampa in the chimney, who is trying to lay a trap for Santa. Grampa tells them that he's trying to get his revenge on Santa Claus. Bart asks why, and to their dismay, Grampa tells them one of his many stories.
Back in World War II, Grampa and his brother Cyrus were Navy pilots together. Cyrus showed Grampa his good luck charm, a pocket watch he stole off an enemy soldier. The pocket watch gets shot, but he reveals that he stole two. The enemy attacks so Grampa and Cyrus get in their planes and fly after them. Cyrus gets shot down after Mr. Burns refuses to use the radio to tell Cyrus to watch his back. Grampa and Burns then also crash into an island, but they both survive. Grampa attacks Burns to show him who's boss and then they live on the island together.
After a few months, they see a plane in the sky, and Mr. Burns shoots it down, wanting to shoot something down on Christmas. However, when they go over to investigate, they see that it is actually Santa Claus. They build him a new sleigh and gather up all the presents. When Santa is about to leave, Mr. Burns knocks him unconscious with a coconut and flies away in the sleigh and says that he is going to keep all the presents for himself. Grampa catches up to him on a reindeer that got left behind and jumps aboard the sleigh. After he beats Mr. Burns with a tricycle, he gives the sleigh back to Santa. As Santa leaves, he tells Grampa that he'll be back in a few days to rescue them. However, he never comes back, and Grampa has to get off the island using a jet ski he made out of coconuts.
Bart and Lisa believe that it's just another one of Grampa's far-fetched tales, but when they hear a thump in the den, they find that Santa is there. He tells them that Cyrus didn't die, but instead crashed into Tahiti. Santa takes Grampa there, and they meet up with Cyrus and his fifteen wives. Cyrus tells Grampa that he didn't want to leave Tahiti after landing there. Santa then explains to Grampa that he didn't come back for him on the island due to putting it off and eventually feeling embarrassed about it.
The Nutcracker...Sweeeeet
[
edit
]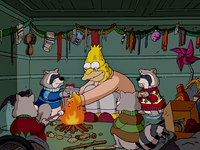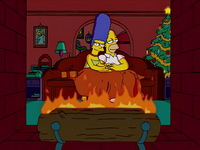 The children of Springfield Elementary School are performing The Nutcracker, which bores the audience. When they finish, Homer declares that it's time to leave, but Mr. Largo says that it's only intermission. Everyone leaves anyway, leaving the children to play to an empty audience. After the play, Homer says that he doesn't want to hear the music again, and Lisa tells him that it's around all the time because it's free to use. The people of Springfield then sing "The Simpson's Public Domain Christmas Song", set to the tune of "Marche". At the end of the song, the family pretends that they're away from home so Grampa goes to spend Christmas with the raccoons.
On The Krusty the Clown Show, Krusty shows off a clip from a 1964 Christmas episode where he gets pelted by snowballs from the audience. Moe was watching the episode and then goes to do his Christmas tradition, trying to kill himself. However, Moe is unsuccessful in all his attempts. Moe then cooks dinner for him and Barney and asks Barney to kill him as a special gift for him. Barney then tells Moe that he got him a wool hat, and Moe decides that maybe he'll try again next year.
At the Simpsons house, Marge goes to give Homer her gift to him. Homer tells Marge that his gift to her is outside, then panics, trying to get Marge a last minute gift. However, everywhere is closed or sold out. Homer then returns home, feeling sad. Marge gives her gift to Homer and he opens it, revealing another gift inside. Homer reads the tag and finds that it's a gift from Homer to Marge. Marge explains that she knew Homer would forget, so her gift to Homer was a gift for Homer to give to her. Marge opens the present to reveal a picture of Homer dressed as Santa with Marge in his lap, which she loves. Moe then sleds by towards an 18-wheel truck, and all the wheels miss him.
Production
[
edit
]
Episode writer Don Payne came up with the idea to use the Simpsons in the roles of the Bible characters for "The First D'oh-El".[1] Kevin Curran pitched the joke where Joseph (Homer) was watching the Orange Bowl.[2] The scene with the fir tree rolling down the hill at the soldiers had to be given to an experienced animator to do because it required so many different talents to get right.[3]
The plane fight scene was animated as two separate shots which were then composited together. It's easier to do them as two separate shots, with the background and foreground (Abe and Burns' plane) shots done separately, and then later composited together. The reindeer and sleigh chase scene was also challenging to animate as there were a lot of different moving objects in the scene.[3] Al Jean regrets that they had Grampa meet Santa and Cyrus again in the present, feeling that the segment should have ended after Grampa found the watch. Jean and the other writers have said that the episode is non-canonical.[1]
Reception
[
edit
]
It was watched by 9.8 million viewers on its premiere in the US.[4]
"Simpsons Christmas Stories" was nominated for a 2007 Writers Guild of America award in Animation, but it lost to "The Italian Bob".[5]
As of November 2020, the episode has a 6.8 rating on IMDb[6] and a 8.0 rating on TV.com.[7]
References
[
edit
]