Labor Pains
Wikisimpsons - The Simpsons Wiki
For the comic story of the same name, see Labor Pains (comic story).
"Wow, so now there's two things named after me... a baby, and a law banning air horns after 3:00 a.m."
"Labor Pains"
Episode Information

"Labor Pains" is the fifth episode of season 25 of The Simpsons and the five-hundred and thirty-fifth episode overall. It originally aired on November 17, 2013. The episode was written by Don Payne and Mitchell H. Glazer and directed by Matthew Faughnan. It guest stars Elisabeth Moss as Gretchen.
Synopsis
[
edit
]
"Homer remembers his Lamaze skills when he's forced to deliver a baby in an elevator. When the mother names the child Homer Jr., he quickly develops a deep emotional bond with the kid. Meanwhile, Lisa is recruited by the cheerleaders of the local pro football team, the Springfield Atoms."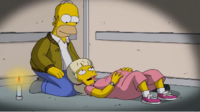 It's the usual morning rush before work and school at the Simpsons house. Before journeying off to work, Homer tells Marge that he is doing overtime at the plant that night and will be home late. However, this is just a decoy as in actuality, Homer is taking part in a poker-game night at Carl's apartment. Homer wins big but ultimately feels bad about lying to Marge and avoiding his family so decides to head home.
As he leaves, Homer is joined in the apartment complex elevator by Gretchen, a heavily pregnant woman who is about to go into labor. While timing her contractions, the elevator malfunctions and the pair are plunged into darkness. Despite having quick access to a candle hidden in his pocket, Homer fails to produce a cellphone to call for help. Gretchen collapses on the elevator floor and Homer is forced to assist her deliver her baby. The baby is eventually born, to which Homer exclaims, "It's a dude! And he's uncut...very Euro." Gretchen thanks Homer for sharing this moment with her and being so caring as, conveniently, the elevator is reactivated and travels down to the ground level.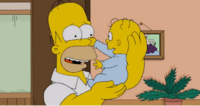 Homer arrives home at 1:30am and quietly sneaks into bed besides Marge. Marge awakes and Homer begins to discuss how awesome mothers are, which Marge appreciates and moves in for a cuddle.
The next day, Lisa and Milhouse attend an American Football game between the Springfield Atoms and the Shelbyville Sharks at the Buzz Cola Dome. During half-time, Lisa is selected by the cheerleader team, The Atomettes, to join their performance, much to her reluctance. After the game's conclusion, Lisa approaches the cheerleaders and learns how little they are paid by their boss. She attempts to remedy their situation.
After another poker-night at Carl's, Homer bumps into Gretchen again. The two catch up and Homer holds the baby who has since been named Homer, Jr in his honor.
The following night, Homer stops by Gretchen's apartment to drop off some diapers that Maggie has outgrown, educational toys meant for Bart, and other assortments of baby products. Initially having plans to have another poker-night, Homer decides to help out Gretchen, who has been looking after Homer, Jr alone for days, by babysitting.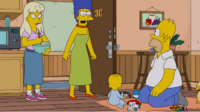 Over the following few days, Homer begins to spend more and more time with lil' Homer and starts to become emotionally attached to the point of even thinking of him when he is with Maggie. While shopping at Swapper Jack's for supplies for Homer, Jr, Homer runs into Marge who is doing the same for Maggie. Deciding against carelessly spilling all the details, Homer tells Marge he is shopping ahead for Maggie also. Marge becomes suspicious and rightly so.
Meanwhile, Lisa returns to the Buzz Cola Dome and raises her concerns about the cheerleaders' exploitation by their boss, especially in regards to the fact that they get more money for all the merchandising that is done without them being compensated. Lisa eventually manages to rally up the cheerleaders' support but their boss refuses to give in. Lisa decides to take the team home to Bart's treehouse to create signs and develop chants for a protest. Not long after, the entire town's male citizens appear and stand below trying to "woo" them. Marge assumes Homer would be out there with all the guys too, but Bart points out he is "working late" again. Marge suspects he is really at Carl's and heads out in search for him.
Marge drives to Carl's apartment, but soon learns that Homer is not there. Troubled, Marge then hears questionable utterances coming from Carl's neighboring apartment and bursts in to find Homer playing with Homer, Jr. "You have a baby together," Marge gasps, "So I'm a Schwarzenegger wife!" Although extremely upset, Marge manages to calm down after finding out Homer hasn't had a drink in a week.
Homer and Gretchen explain the situation to Marge who, although initially uncertain, allows Homer to continue seeing Homer, Jr. and helping Gretchen out.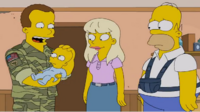 Across town, Lisa's plan is put into action as the cheerleaders begin picketing and protesting at the Buzz Cola Dome and their boss is forced to hire a new team consisting of Patty, Selma, Mrs. Muntz and the Crazy Cat Lady. Eventually, their boss visits the Simpsons house, admits defeat and agrees to give the cheerleading team a raise.
Meanwhile, Marge begins to regret her decision when Homer starts including Homer, Jr. in their traditional family's activities. Against her wishes, Homer takes Bart, Lisa, Maggie and lil Homer to the zoo on a day out. Maggie takes an instant dislike to Homer, Jr. and vice versa. While Homer is distracted by a monkey exhibit, Homer, Jr. jumps out of his push-chair he is sharing with Maggie and pushes it down a hill. Maggie manages to skillfully grab a dinosaur toy to jam the push-chair's wheel to come to a complete stop just before being hurled into the prairie dog village. Marge appears and forbids Homer from ever seeing Homer, Jr. ever again. "You'll occupy an idealized place in my heart that no one can ever quite fill," Homer sobs, as he walks Homer, Jr. back home to Gretchen. Homer drops the baby off and before he can leave is notified by Gretchen that Homer, Jr.'s father, Chase, has returned home from military service. Homer says one last goodbye and drives home. To his surprise, Homer is greeted by a forgiving Maggie and the two share a loving embrace.
Production
[
edit
]
The episode was aired on November 17, 2013,[1] the show's timeslot later postponed an hour[2] in order for FOX to broadcast the premiere of "Almost Human".[3]
A deleted scene featuring Homer and Homer Jr. bungee jumping and then Homer crashing into a ceiling was included in a promotional video but was not included in the episode.[4]1
Reception
[
edit
]
9.18 million viewers saw the pilot episode of "Almost Human", the show that lead into The Simpsons, the ratings result for The Simpsons being quite surprising considering the strong lead-in - this episode gathered 4.08 million viewers, with a 1.8 18-49 rating/share.[4]
The episode received mixed reviews. The A.V Club awarded the episode a C rating and summarized, "In the end, there's no payoff to this storyline at all, except that Maggie seems to forgive Homer for neglecting her in favor of his new elevator family. It's the sort of sweet emotional payoff a good Simpsons episode pulls off after building the story on a solid character foundation along the way. Maybe next week it'll be better." The B-story, with Lisa attempting to rally the local football team's cheerleaders to unionize, was described as "nondescript as it gets" and criticized as sexist because of its use "for little more than "dumb broad" jokes (the cheerleaders) and "ugly broad" jokes (the replacement cheerleaders)."[5] TV Fanatic described the episode as "sweet" with "genuine laughs" but were disappointed with Lisa's story adding, "[the] story just couldn't seem to capture my attention much." They gave the episode a 3.5/5 star rating.[6]
"Labor Pains" garnered positive opinion from fans. On No Homers, the episode holds a majority rating of 4/5 on a fan poll. In a similar reaction to that of critics, fans panned the episode's subplot but the main plot was deemed "excellent" by many and was praised for its "decent emotion, some pretty strong laughs and good pacing."[7]
International premieres
[
edit
]
| Country | Date | Channel | Note |
| --- | --- | --- | --- |
| Latin America | May 18, 2014; 8:30PM (Argentina Time) | Fox Latin America | |
In other languages
[
edit
]
| Language | Name | Translation |
| --- | --- | --- |
| Italiano | "I Dolori del Travaglio" | The Pains of Labor |
Gallery
[
edit
]
References
[
edit
]
1 link To access promotional video, click on the "play" icon next to the episode name.
| | |
| --- | --- |
| | Wikisimpsons has a collection of images related to "Labor Pains". |