Virtual Bart
Wikisimpsons - The Simpsons Wiki
| | |
| --- | --- |
| | The contents of this article or section are considered to be non-canon and therefore may not have actually happened or existed. |
Virtual Bart
Game Information
Released:
Super Nintendo
September 26, 1994
Japan: September 30, 1994
Sega Mega Drive/Genesis
1994
PAL: 1994
Japan: December 31, 1995
Developer(s):
Sculptured Software
Publisher(s):
Acclaim
Platforms:
Super Nintendo
Sega Mega Drive/Genesis
Ratings:
VRC: GA
Virtual Bart is a video game released in 1994 and 1995 for the Super Nintendo and Sega Mega Drive/Genesis.
During a science fair at Springfield Elementary School, Bart wanders into a Virtual Reality machine and is forced to complete six simulations. Once he has completed them, he exits back into the real world. Shortly afterwards, Homer decides to try out the machine.
According to the game's manual, the machine was created by Martin Prince and the six programs were designed to be educational, until Bart's interference made the system unstable with the possibility of trapping the user inside. However, this is contradicted by in-game elements, including a sign for the machine specifically asking for a "victim", Bart screaming in terror before entering the system, and a cutscene showing Bart being released from the machine if the player loses the game.
Gameplay
[
edit
]
The game has six levels which span different gameplay genres, including platforming and racing. Corndogs play a large role in the game, as they are used to restore health. Some levels also have collectable Bart icons which restore lives. The game has a hub stage where Bart spins around icons of all the levels. The player has a limited ability on which stage to choose, as they can only select when Bart slows down and not the precise icon where he will land.
If Bart runs out of lives in one of the levels, he gets thrown back into the hub world but can resume the level from where he lost. However, the hub also has a limited amount of lives, which reduces each time Bart gets thrown back after losing a level. Once the hub lives are all lost then the player gets a Game Over. In the hub, a seventh icon can be landed on which alternates between a corndog and a skull. If Bart lands on a corndog, he will gain an extra hub life, if he lands on a skull, he will lose one.
Dino Bart
[
edit
]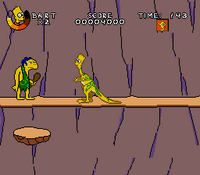 Plot:
Bart is a dinosaur resembling a coelophysis on Mt. Springfield in the primeval era. He traverses the mountain, battling neanderthalic versions of various Simpsons characters and other dinosaurs, eventually defeating cavemen versions of Homer and Moe on an icy lake. In the present day, J. Loren Pryor sees a frozen caveman Homer in a museum, who looks jealously at Pryor's burger and fries.
Gameplay:
Bart can jump, duck, attack with his tail and also use a roar attack when he collects certain pickups. The level primarily consists of using platforming to jump onto ledges while defeating enemies, with additional hazards such as lava and boulders in the later stages. In the final stage, Bart has to knock down ice piles that Moe and Homer use as a platform, causing them to both fall into the lake.
If the player gets a game over, J. Loren Pryor will find the skeletal remains of Dino-Bart
Baby Bart
[
edit
]
Plot:
Bart goes back to his babyhood and escapes from his bedroom at the Simpsons' house to find an ice cream truck. After travelling through trees, residential areas, roads and a circus, Bart is shot out of a cannon into the truck. Homer chases after the truck when he sees Bart is inside.
Gameplay:
The level is a sidescrolling platformer. Bart can use his pacifier as a projectile weapon and his diaper as a parachute. There are six stages:
Bart must swing and balance on tree branches while avoiding animals.
Bart must balance on a washing line while avoiding animals, flying objects and clothes on the line.
Bart floats in the air with balloons while avoiding animals and flying objects.
Bart jumps on balls on seals' noses without falling when the seals dip below a fence.
Bart enters a circus where he swings on poles and trapezes and jumps on trampolines and through hoops while avoiding the performers. Eventually, he reaches a cannon.
Pig Bart
[
edit
]
Plot:
Bart is a pig that has been captured and taken to Krusty's Pork Factory, but has escaped into the building. He rescues the other captured pigs throughout the factory while fending off human workers. After being rescued, the pigs move to the countryside with Bart as their hero.
Gameplay:
Bart can only walk and jump but can jump higher when the Up key is held down. Platforming is heavily utilized and most stages have multiple rooms which are entered via doors. The jumping mechanic is also used to defeat enemies. There are four main stages:
Cannery - pigs are freed from cells by pulling levers. Some levers can only be used after finding the right key. Bart must also fend off clowns.
Freezer - Bart rescues frozen pigs by preventing them from entering the wiener room and instead sending them into the furnace room. The level has a single enemy clown who cannot be defeated.
Furnace - Bart avoids various hazards including flames and hydraulic presses, with only one pig needing rescuing.
Office - Bart defeats corporate thugs and releases all the pigs from their holding area.
If the player gets a game over, Bart will be turned into a corndog, which will later be eaten by Homer.
Class Picture
[
edit
]
Plot:
On the day of his class photo, Bart decides to ruin the event by throwing tomatoes at his classmates. After he succeeds, the school reschedules another photo, so Bart throws eggs at his classmates, once again ruining the shoot.
Gameplay:
The level takes place in two stages, the first where Bart throws tomatoes and the second where he throws eggs. Bart throws his projectiles at the other students who are walking outside the school. Bart first has to aim his distance, before throwing the projectile, which also has the option to be thrown left or right. The second stage is more difficult due to characters moving up and down as well as left and right. There is a limited number of projectiles and a time limit. Bart has to hit all his classmates to win the stage. There will also be adults walking outside who Bart has to avoid, with the exception of when Principal Skinner bends over, which will grant extra time and more projectiles if he is hit.
Mt. Splashmore
[
edit
]
Plot:
Bart arrives at Mt. Splashmore but has to wait behind a huge queue before going on a water slide. After a long journey in the slide, he emerges, splashing Sherri and Terri in the process.
Gameplay:
Bart has to reach the end of a water slide, while avoiding obstacles and not going through the wrong tube when the slide forks. He also must not run out of time. Health lost from hitting objects can be replenished by corndogs and extra time can be gained by picking up clocks. There are also surfboards which grant temporary invulnerability. If Bart goes down the wrong tube, he will either reach Homer who is stuck, and get sent back up, or he will exit the tube and be killed. The level has a meter which shows how close Bart is to the end of the slide.
Possible deaths from going down the wrong tube are: falling into the Springfield Gorge, being eaten by a lion, crashing into a wall with Krusty's face on it or shooting through the same wall.
Doomsday Bart
[
edit
]
Plot:
Following an explosion at the Nuclear Power Plant, Springfield and the surrounding area becomes a post-apocalyptic wasteland. After riding on a motorcycle and going against Jimbo and Kearney, Bart reaches Springfield and returns home to watch Krusty on TV, moving the skeletal remains of his family out of the way.
Gameplay:
The level is a driving stage, where Bart has to fend off Jimbo and Kearney, avoid getting run over by Otto in the school bus, dodge obstacles and not run out of time. Bart can shoot at the bullies and kick them, and replenishes time by driving past checkpoints. Bart also has the option to drive faster.
If Bart loses the stage then Jimbo and Kearney will stretch out his arms with their vehicles.
Differences between consoles
[
edit
]
As well as a large number of graphical and audio differences resulting mainly from the consoles' varying capabilities, there are also notable gameplay changes:
Some copies of the SNES version include a slow motion control which isn't present in the Genesis version.
In the SNES version, some of the rock platforms in the "Dino Bart" stage break once they are landed on, while in the Genesis version they remain intact.
In the Genesis version, there is a collectable pacifier in the "Baby Bart" stage that temporarily upgrades the pacifier weapon.
In the Genesis version of the "Mt. Splashmore" stage, it is possible to dive underwater and also grab beachballs to throw at obstacles.
In the Genesis version of the "Doomsday Bart" segment, a message will appear when Bart passes a checkpoint telling the player that the time has been extended and how many miles there are remaining. These events occur without the message in the SNES version.
The "Doomsday Bart" stage plays very differently between the two versions. In the Genesis version, the drive is much longer (with longer time limits to match); Jimbo and Kearney cannot be permanently defeated but are each stunned by a single attack. In the SNES version, many duplicates of Jimbo and Kearney appear, and take more hits to defeat.
| | |
| --- | --- |
| | Wikisimpsons has a collection of images related to Virtual Bart. |