Four Great Women and a Manicure
Wikisimpsons - The Simpsons Wiki
440
"Four Great Women and a Manicure"
"Four Great Women and a Manicure" Maggie gives her fellow classmates a speech on creativity.
Episode Information

"Four Great Women and a Manicure" is the twentieth episode of season 20 of The Simpsons and the four-hundred and fortieth episode overall. It originally aired on May 10, 2009. The episode was written by Valentina L. Garza and directed by Raymond S. Persi. It guest stars Jodie Foster as Maggie Roark.
Synopsis
[
edit
]
"A "quad-rilogy" episode featuring Simpsonized versions of history and popular cinema and literature. Selma stars as Queen Elizabeth I, Lisa stars as Snow White in a parody of Snow White and the Seven Dwarfs, Marge stars as Lady Macbeth in a Macbeth parody, and Maggie stars as Maggie Roark in a spoof of The Fountainhead."
Opening
[
edit
]
Marge takes Lisa and Maggie to the Finger-Looking Good Nail Salon for Lisa's first mani-pedi. Lisa questions this as she feels that a woman should be smart and powerful, rather than beautiful. Marge then tells Lisa that a woman can be beautiful as well as smart and powerful, like Queen Elizabeth I, who had everything, except a husband.
Queen Elizabeth I
[
edit
]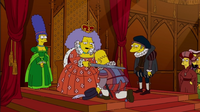 In 1588, Queen Elizabeth I is introduced to her suitors, looking for her hand in marriage. Her assistant, Walsingham, tells the Queen that she needs to get a husband so she can have a son to take the throne after she dies. After Prince Ralph of Austria is quickly dismissed, King Julio of Spain arrives, but is more interested in the court jester than the Queen. Queen Elizabeth I tells King Julio that he can't have the jester and King Julio leaves, annoyed. Queen Elizabeth I is then introduced to Walter Raleigh, who had just returned from the new world with a gift for the Queen, tobacco. The Queen accepts the gift and Raleigh begins to court her.
In Spain, King Julio is annoyed at Queen Elizabeth I and decides to launch an armada of ships against England in revenge. Back in England, Walter Raleigh meets Queen Elizabeth I's lady in waiting, Lady Marjorie, and the two of them kiss. Queen Elizabeth I catches the two kissing and demands that they be punished. However, Walshingham enters the room and reveals that the Spanish are attacking with a huge fleet of ships. Walter Raleigh is made to help the much smaller English fleet attack the Spanish. However, he accidentally sets fire to his own ships. As everyone jumps overboard, the English fleet sails into the Spanish fleet and sets their ships on fire, winning the war. As a reward, Queen Elizabeth I knights Sir Walter Raleigh and gives him her consent to be with Lady Marjorie. She then says that she doesn't need a man, because she has England.
After Marge finishes her story, Lisa begins to tell the story of Snow White. However, the blue-haired lawyer enters the salon and tells Lisa that the story she's about to tell is property of Disney. Lisa then adapts her story and begins to tell it.
Snow White
[
edit
]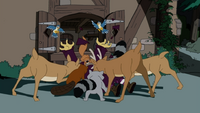 The Seven Dwarfs, who consist of Crabby, Drunky, Greedy, Hungry, Lenny, Kearney, and Doctor Hibbert, go to their diamond mine to work one day. Meanwhile, the Evil Queen asked her magic HDTV who the fairest one of all was. The TV told the Evil Queen that it was Snow White. The Evil Queen then told Huntsman Willie to go kill Snow White and put her heart in a box, and the rest of her body in another box. Huntsman Willie then goes off to Snow White's house to do that. However, when he gets there, he can't bring himself to kill Snow White. He then tells Snow White to escape and go find the dwarfs to live with.
Snow White gets to the dwarfs house and finds it empty. She goes to sleep in one of the beds, after getting tired from the walk. When the dwarfs return, they find Snow White asleep in one of the beds. Crabby goes to awaken her with a kiss, but Snow White wakes up before he can. Snow White then begins to live with the dwarfs, helping them around the house whilst they go to work. One day, the Evil Queen goes to the house, disguised as an old woman, and tries to get Snow White to eat a poison apple. After Snow White tries to take a different apple, the Queen shoves the poison apple into her mouth and forces her to bite it. Snow White then falls into a sleep coma as the Queen tries to escape, but is killed by the woodland creatures. Snow White is then placed in a box on top of a hill whilst the dwarfs watch over her, waiting for a prince to come. Back in Springfield, Lisa finishes her story by saying that a prince never came, but a female doctor did, who then brought Snow White back to life.
Shortly after, Chief Wiggum enters the salon with Homer, who needs bribe money for the Chief. Marge manages to bribe Chief Wiggum with some dry-cleaning coupons before she moves into her next story, Macbeth.
Macbeth
[
edit
]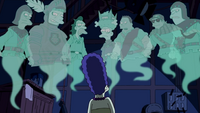 The people of Springfield were starring in a play of Macbeth, directed by Chazz Busby. Marge was cleaning the costumes of the cast as Homer was only playing a tree. Marge told Homer that she wanted him to get a better role, the role of Lord Macbeth, which was played by Sideshow Mel. Marge told Homer that he had to kill Mel, and Homer reluctantly accepted. Homer sneaked into Mel's changing room at night and tried to stab him with what turned out to be a prop knife. He then took the bone out of Mel's hair and beat Mel to death with it. The next day, Homer was given the part of Macbeth. However, Homer wasn't great in the role and kept forgetting his lines. This led to him getting terrible reviews from the newspapers. The first review praised Dr. Hibbert's role as Banquo. So, Marge told Homer to kill him next. Homer sneaks into the hospital and gasses his office, killing Hibbert.
The next day, the reviews praise everybody except Homer. Marge then makes Homer kill the rest of the cast. Later that night, as Marge was in the theater cleaning clothes, the ghosts of everybody Homer had killed appeared to Marge and blamed her for their deaths. The ghosts then gave Marge a heart attack, killing her. When Homer discovered Marge's body, he was relieved that Marge was no longer around to make him do the play. Marge's ghost then appeared and made Homer go on stage anyway. Homer played to an empty audience and gave a really good performance, which made Marge happy. As Marge starts to go through all the other Shakespeare plays Homer could star in, Homer kills himself so he doesn't have to.
After Marge finishes her story, Marge wraps up, saying that they always do three stories. Maggie then asks for a story about herself. Marge notices Agnes Skinner reading The Fountainhead and decides to tell a story based on the book.
The Fountainhead
[
edit
]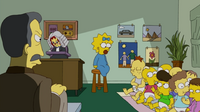 At the Mediocri-Tots Daycare Center, Ellsworth Toohey had the babies play with blocks whilst he did traffic school on the computer. Mr. Toohey wanted every child to conform and be ordinary, which annoyed Maggie Roark. Maggie Roark was a gifted baby and would build great structures out of blocks, playing cards, and other craft toys. Each time, Mr. Toohey would knock them down and try and make her conform. One day, the Daycare Center held a parent-teacher day. When Mr. Toohey found that Maggie had made a huge skyscraper out of blocks, he put Maggie on trial.
During the trial, Mr. Toohey said that Maggie should get nine consecutive time-outs as punishment. Maggie Roark then took out her pacifier and gave a passionate speech about how great artists throughout history never conformed, and how the world was better off for that. Maggie then went to have her nap time. Years later, Maggie Roark became a famous architect. She opened up her skyscraper, which had a daycare center on the top floor. Every baby in the daycare center was free to follow their dreams.
Marge gets distracted from finishing the story as she notices Maggie painting on the walls with nail polish. She takes Maggie away and tells her off, despite it being the van Gogh painting The Starry Night that Maggie was painting. Over the end credits, the Seven Dwarfs sing "Time to Say Goodbye".
Production
[
edit
]
Reception
[
edit
]
The episode was watched by a total of 5.16 million viewers in its initial airing. This made it the least watched episode of all time at the time it aired.[1]
Steve Heisler of The A.V. Club gave the episode a C- grade. Heisler said that the Queen Elizabeth I story was "far too short a time to do anything lasting... or funny" and that the Macbeth segment was "a boring retelling of the tale".[2]
Robert Canning of IGN gave the episode a 6.2 rating. He called the Snow White segment "the best of the episode by a very large margin." He then went on to say that there "was really only one [segment] worth watching."[3]
"Four Great Women and a Manicure" was nominated for a 2009 Annie Award for Writing in a Television Production, but it lost to "Treehouse of Horror XX".[4]
As of February 2021, the episode has a 6.3 rating on IMDb.[5]
References
[
edit
]