Ned Flanders
Wikisimpsons - The Simpsons Wiki
This article is about the character. For the location, see Flanders (location).
"Okilly-dokilly!"
―Ned Flanders' catchphrase
"Stupid Flanders!"
―Homer's heavily-used nickname of him.
Nedward Flanders, Jr.
Character Information
Nedward "Ned" Flanders, Jr.[3] is the Simpson family's extremely religious next door neighbor and landlord. He is a genuinely well-meaning good-natured person and is one of the few in Springfield to whom that description applies. Though firmly religious, he can be timid and something of a pushover. He thoroughly worships God and strictly follows the Bible as literally as possible and is easily shocked when challenged on any point of dogma. He also previously owned the Leftorium and a home business, FlanCrest Enterprises, which makes religious hook rugs.[4] He also works as a member of the Springfield Volunteer Fire Department.[5] Homer often dislikes Flanders for his ways of doing things and his success.
Biography
[
edit
]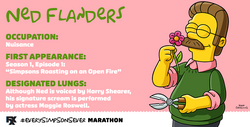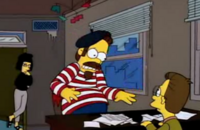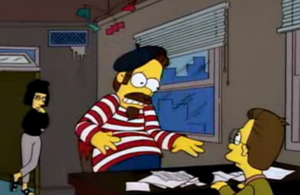 Flanders grew up in New York and was the son of "freaky beatniks" who did not discipline Ned and let him run wild. Eventually they took him to Dr. Foster, a psychiatrist, who put the young Ned through the University of Minnesota Spankalogical Protocol, which involved eight months of continuous spanking. The treatment worked so well that it rendered Flanders unable to express any anger at all and resulted in his trademark nonsensical jabbering at moments when he was particularly close to losing his temper, causing Ned to unknowingly repress his anger.[6] Flanders got his diploma from Bob Jones University, where he majored in teaching and casting out demons.[7] Flanders worked as a salesman in the pharmaceuticals industry for the bulk of his adult life. Having saved much of his earnings, Flanders decided to quit his job and invested his family's life savings into a store in the Springfield mall called "The Leftorium" specializing in products for left-handed people.[8] He is 60 years old and attributes his youthful appearance to his conformity to the "clean living, chewing thoroughly, and a daily dose of vitamin church."[1] He lives at 744 Evergreen Terrace.
Personality
[
edit
]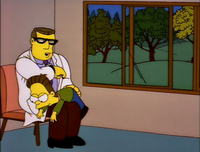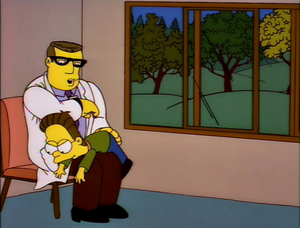 Ned is very honest and sincere in carrying out the Christian doctrines of charity, kindness and compassion to an extent unseen within the rest of the Springfield community. He is frequently shown doing volunteer work, and is rigorously honest and upright, even going so far as to spend an entire day tracking down a Leftorium customer in order to give him the extra change that he had forgotten to hand over. He once donated a kidney and a lung out of the goodness of his heart to whoever needs them first.[9] He is also a good neighbor to the Simpsons, regularly offering his assistance. Ned's dogged friendship inspires the loyalty of others; when his Leftorium appeared on the verge of bankruptcy shortly after it opened, Homer arranged a George Bailey-esque bailout with the help of many people in Springfield.[8] However, he also embodies many of the intolerant aspects of the American religious right. Upon discovering that Bart and Lisa Simpson were not baptized, he immediately took it upon himself to (unsuccessfully) conduct the ceremony without their consent.[10]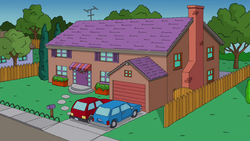 Homer generally loathes Ned, because his family, job, health and self-discipline are of higher quality than he could ever hope to attain himself. Homer has since come to have a love-hate relationship with Flanders, sometimes being his best friend, partly due to Ned's selfless tolerance of him, and other times treating Flanders with complete disregard. Homer seems to genuinely care for Ned, despite still expressing and often acting on feelings of loathing. Nowadays Homer seems to regard Ned as more of a nuisance. Sometimes, Marge considers Flanders to be a perfect neighbor and usually sides with him instead of her husband, which always enrages Homer.
Flanders has been shown to call Reverend Lovejoy for advice often, even over minuscule things, to the point that Lovejoy has stopped caring and has even suggested that Flanders try a different religion. Reverend Lovejoy used to care for Flanders' problems, but over the years Lovejoy became increasingly uninterested in Flanders' problems.[11] Flanders is shown to have a room in his house filled with memorabilia of the Beatles. He claims that this is because they were "bigger than Jesus".[12]
Ned is a genuinely well-meaning and good-natured person. He is often insecure and is obsessed with following the Bible as literally as possible and is easily shocked when challenged on any point of dogma. This has led to his frequent calls to Reverend Lovejoy ("I... I think I'm coveting my own wife!"),[11] who has become increasingly frustrated with Flanders and passive-aggressively avenges himself by encouraging his Olde English Sheepdog to defecate on Ned's lawn.[13] Ned is also against drugs. When Ned, Homer and Apu go on road trip to Canada for cheap prescription drugs, they meet someone who looks and acts just like Ned, but then this guy offers Ned marijuana ("Hey, would you like to puff on a reeferino? It's legal here.") but he promptly turns down ("They warned me Satan would be attractive. Let's go").[14] He did, however, briefly smoke a cigarette when playing the role of Mad Dog during his fire safety skit with some disgust.[5] He also once suffered hallucinogenic experiences of the Dancing Bears and Skeletons of the Grateful Dead crossing the road, as well as witnessing an entity resembling a fusion between the hammers from Pink Floyd's The Wall and the Rolling Stones' lips & tongue attempting to kiss him after drinking groovy grove juice that, unbeknownst to him, was spiked with Peyote thanks to Homer Simpson.[15]
His sons Rod and Todd are very sheltered and raised in an extremely strict climate of Christian morality, causing them to be unable to behave like all the other children in Springfield ("They're going to be eaten alive, in Middle School" Lisa once observed). Also, all of the family's board games contain no dice, as Ned believes that dice are "wicked". Rod says that they just move one space at a time, as it is "less fun that way".[16] His pet peeve is Maude underlining passages in his Bible.[17]
Appearance
[
edit
]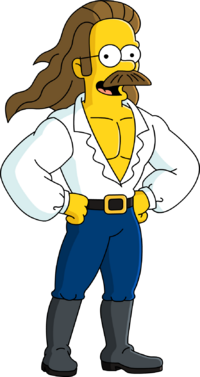 Despite a meek outward appearance, Ned hides an exceptionally well-built physique under his pink shirt and green sweater combination. When he is revealed to be in his early 60s, Ned claims his deceptively youthful appearance is due to his conformity to the "three Cs" - "clean living, chewing thoroughly, and a daily dose of vitamin Church".[1]
Both Ned and his family rarely refer to his moustache as such, preferring nicknames such as "Nose Neighbour," "Mr. Tickles," "The Soup Strainer," "The Cookie Duster," "The Pushbroom," and "Dr. Fuzzenstein." He once shaved it off, after Homer implied that people were mocking Ned's facial hair behind his back.[citation needed] He also once had it pulled off with a vacuum cleaner by Maude after Homer, who was thought to have leprosy, kissed Ned in gratitude for sending them to be treated.[18] Ned's moustache would also affect his decision to move to the town of Humbleton, PA. After being hired at the town's Humble figurine manufacturing factory, Ned was ordered to shave his moustache, due to an unofficial ban on facial hair. Ned defiantly refused to shave his moustache for which he was labelled a troublemaker.[19]
Religion
[
edit
]
Flanders is a devout Christian. Ned's sons have been raised in a strict climate of Christian morality, to which they willingly conform. It is revealed that they "don't believe in inoculations",[20] much as their father considers insurance to be a "form of gambling"[6] and dice games to be "wicked".[16] Rod and Todd go to bed several hours before sunset and are not allowed to consume sugar.
Most of the entertainment enjoyed by the family involves religion in some way. The family uses at least five different versions of the Bible to play "Bombardment... of Bible Questions!" ("The bridal feast of Beth Chadruharazzeb!?"),[10] and are part of a competitive bowling team called the Holy Rollers[21] (their uniform consisting of a Franciscan Friar's robes). Ned seems to sense that he cannot completely shield his family from the vagaries of popular culture, but does his best to mitigate the effects; one of his children's stories concludes "...and Harry Potter and all his wizard friends went straight to Hell for practicing witchcraft."[22] Though they have satellite TV, nearly all of the 230 channels are blocked out[23] — likely for the best, as one episode of The Itchy & Scratchy Show was enough to more or less permanently scar Rod and Todd.[10] Rod used to watch "Davy and Goliath", but finding the idea of talking dogs to be blasphemous, he has since stopped.[24]
Ned is willing to fight for what he believes in. For example, he once attempted to forcibly baptise the Simpson children, using his portable baptism' kit, after finding out that they had never undergone the ritual.[10] Ned once reminded himself to get his hand "re-blessed" after shaking a Catholic priest's hand (odd, considering he keeps a Latin Vulgate Bible in his home).[25]
Despite occasional antipathy toward Catholicism, Judaism and Hinduism (he once compared worshipping Shiva to asking for help from Hawkman,[14] and he fears that his children will grow up to become Jewish Hollywood producers),[26] Ned is honest and sincere in carrying out the Christian doctrines of charity, kindness and compassion. He even admits (after a hurricane destroyed his home) that he has kept kosher just in case.[6] He is frequently shown doing volunteer work, and is rigorously honest and upright, even going so far as to spend an entire day tracking down a Leftorium customer in order to give him the extra change that he had forgotten to hand over.[24] Similarly, after winning football tickets by answering a radio trivia question, he immediately asked for the cash value so he could report it on his income taxes.[23] He also is a good neighbor to the Simpsons, regularly offering his assistance — and then suffering the consequences often paid to those with good intentions.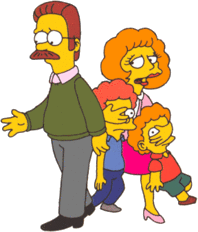 Ned Flander's bigoted radicalism sometimes goes beyond biblical descriptions (he has prepared an ark with pairs of only male animals ..).
[27]
The Flanders Clan has members around the globe, who convened at the Flanders Family Reunion bible bashing BBQ. Relatives included Mexican Jose Flanders ("Buenos ding-dong-diddliy días, señor") and English Lord Thistlewick Flanders ("Charmed... [he is prompted by Ned] ...a-googily-doogily").[28]
Flanders is believed to have 3 younger sisters.[4][29] Ned and family planned on moving in with one of them who lived in Capital City after the loss of their home and business in Springfield.[8] He might also have a possible Gay brother or stepbrother.
Speech patterns
[
edit
]
Ned has the odd habit of attaching "diddily," "doodily" and other nonsensical phrases to his sentences. "Hi-diddily-ho, neighborino," is a common example.[30] This is the result of sublimated anger caused by his upbringing, anger which has no other outlet. This trait is, strangely, demonstrated by his relatives from around the world. However, one of his relatives; Lord Thistlewick Flanders, does not have this trait other than when pressured by Ned Flanders, which may imply that his relatives might just attach the trait when with Flanders. He also has the habit of saying "Okally-Dokally", when replying to someone - meaning OK. He might also occasionally add a "doo" on the end, for example... "Okilly dokilly-doo". This is more often than not repeated, when Homer tells him to "Shut up" or "Get lost and we don't need your help".
His extreme prudishness makes him averse to saying "sex" aloud, even when there are no children in sight — he either spells it out or sheepishly calls it "doodily". Ned also uses the word "doodle", "Flander-doodle" or "shrinky-dink" when referring to his penis (ironically, he actually shouts "penis" while praying with his kids before eating at Krusty Burger after Bart lands on a window naked in front of him[31]). He wears a bathing suit in the shower or when he takes a bath. He also uses annotated words, when referring to words that could slightly have a bad, injury related, or slightly offensive meaning. An example is when Bart and Homer are on the roof, and Bart is dangling from the guttering. He says the word "parapleig-orino" referring to parapleigic. (A person paralysed from the waist down). Nevertheless Bart and Homer both reply "Shutup Flanders..." His speech pattern once got him into trouble with Rex Banner because the latter thought he was drunk during a time when prohibition was revived.[32]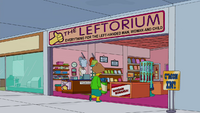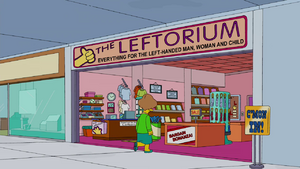 The Leftorium
[
edit
]
Ned worked as a salesperson in the pharmaceuticals industry for the bulk of his adult life. Having saved much of his earnings, Flanders announced during a barbecue he was throwing for his family and friends that he had quit his job and planned to invest the family's life savings into a new business. After burning his necktie, he proclaimed his intent to open a store in the Springfield Mall called The Leftorium specializing in products for left-handed people: everything from left-handed can openers to an entirely left-handed car, of which only three were ever made. Many of the Leftorium's products are merely labeled as "left-handed," such as pens and nunchucks. He does not sell, however, left-handed eyelash curlers.[8]
The Leftorium faces stiff competition from Leftopolis and Left-Mart. However an unusually large proportion of Springfield's citizens are left-handed, including Bart Simpson, Marge Simpson, Principal Skinner, Mr. Burns, and Moe Szyslak.
Eventually, the Leftorium was downsized to a stall before being shut down completely.[7]
After losing his job as a teacher at Springfield Elementary, Ned ended up at Our Lady of Dwindling Attendance where he met Fat Tony. He entered a business partnership with the mafia boss, who funded the return of The Leftorium as its own standalone store.[33]
Other jobs
[
edit
]
Ned began an internet company called Flancrest Enterprises (which deals in religious hook-rugs)[4] and founded a Bible-themed amusement park called Praiseland, in honor of his late wife[3] (that he would go to such lengths to fulfill her last wish is unsurprising, as Ned had previously exerted himself a great deal in order to avoid disappointing Maude — after accidentally killing Maude's prized ficus plant, he attempted to bury and secretly replace it rather than explain the situation).[34] Ned also spent a stint as principal of Springfield Elementary School, replacing Seymour Skinner.[35]
He, along with his late wife, also worked as a member of the Springfield Volunteer Fire Department, once saving Homer from his burning house.[36] Because of his membership status, he also participates in Fire Safety Day at Springfield Elementary School, once doing an act trying to display the dangers of not taking care of Fire Safety where he acted completely different from himself for the role. He portrayed a pot-smoking, chain smoking, hog-riding hippie partygoer named MadDog whom, after arriving back home with his girlfriend (played by Maude Flanders), who is also a pot-smoking hippie partygoer, they smoked a cigarette to "make the night complete." His girlfriend suggests that they get another smoke alarm in case their current one "tricks out on them" but Mad Dog refused as one was good enough for him before telling her that they should "hit the sack." While sleeping, Mad Dog accidentally drops his cigarette on his pants thus burning them. His girlfriend tries to warn him to stop drop and roll, but he ignores it as he felt it was for clydes and that "a little fire won't hurt him." The performance turned out awry because Ned Flanders was forced to break character due to the fire spreading fast, and the usual method of stop drop and roll was not successful at all in putting out the fire, and had it not been for Bart Simpson's latest hijyx involving a hose and the gymnasium, he would have been burned alive.[5]
Ned has also worked as a bounty hunter, alongside Homer Simpson, for a short time.[37]
After The Leftorium closed down, Ned temporarily worked as the head of human resources at the Springfield Nuclear Power Plant. After getting fired from that job for suggesting the Power Plant gives money to charity, Ned went to work for Springfield Harbor Cruises and Rolling Stone Magazine, being fired from both jobs. Eventually he started working as the fourth grade teacher at Springfield Elementary School.[7] Ned was only a teacher for a short period of time before he got fired for praying for Superintendent Chalmers' soul.[33]
Relationships
[
edit
]
Ned's dogged friendship inspires the loyalty of others; when his Leftorium appeared on the verge of bankruptcy shortly after it opened, Homer arranged a Frank Capra-esque scene akin to George Bailey by advertising the Leftorium to many left-handed people in Springfield.
Romantic relationships
[
edit
]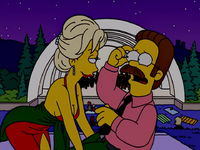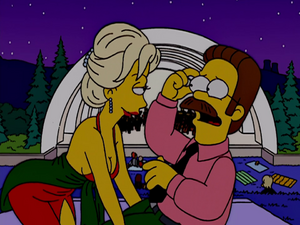 At some point before or after college, Ned met and married the equally meek and religious Maude. They had two children together; the sheltered and naïve Rod and Todd. Maude died an untimely death in a freak accident involving t-shirt cannons,[38] leaving Ned alone and grieving. He is technically still married to a woman named Ginger Flanders, whom he married on a drunken bender in Las Vegas.[1] Ginger came to live with Ned and his sons for a brief period following Maude's death, but she quickly grew tired of the Flanders' sickly-sweet personalities and fled.[39] Also since Maude's death, Ned has been connected romantically with a beautiful Christian-rock singer, Rachel Jordan,[3][38] and a movie star, Sara Sloane with whom he had a sexual relationship,[26] despite his own "no sex before marriage" beliefs. Ned and Marge had once almost kiss twice, since Homer spent too much time as Carl's assistant and Ned felt alone. Marge had hit Ned with a hammer, so she invited him to dinner. While helping Marge with the food they were going to kiss, but the oven rang, later, while eating cream strawberries, they almost kiss again, but Marge remembers Homer so they just hug before Homer arrives.[40] He then entered a relationship with Edna Krabappel.[41] They had a small difference in opinion, but soon eventually sorted it out,[42] ending with Edna moving in with Ned. Edna was then married to Ned.[43] up until her death.[44]
Friendship/One-sided conflict with Homer Simpson
[
edit
]
Flanders personality makes him think of Homer as good and friendly, but Homer actually hates Flanders. Homer tells Ned to "shut his stupid face" on a regular basis, and has even prayed for his ruin and death — "I've learned that life is one crushing defeat after another, until you just wish Flanders was dead." Ironically, at one time, Homer becomes Flanders' best friend, but becomes so annoying that Flanders starts to hate him, but eventually things go back to the way they were.[23] Homer and Ned's relationship has been good on occasions, in which Homer seems to genuinely care for Ned, despite still expressing (and often acting on) feelings of loathing. Examples of this include Homer comforting Ned following Maude's death (seconds after preparing to bash Ned's head in with a rock) largely due to Marge's insistence that the Simpson family must now be supportive of the Flanders family in wake of the tragic loss of Maude,[38] and helping Ned build Praiseland Amusement Park.[3] Despite their friendship, Homer wrote the song "Everybody Hates Ned Flanders", and even sang and produced it with David Byrne.[45] When Ned was embarrassed in front of the entire community after two young women who rented his house were found to be using it to film a racy website (for which Homer helped spread), Ned moves away in shame. Homer genuinely misses Ned's absence, especially when a gruff, unneighborly man buys the house, and is overjoyed when Ned returns to Springfield.[19] Homer and Ned became friends when they got a job as bounty hunters.[37]
Friendship with Bart Simpson
[
edit
]
When Bart becomes a camper, he would seem to have taken a liking to his head camper Ned Flanders. This is shown by Bart talking in Flanders normal diddly-doodily fashion.[46] However, Ned reassures Bart that Homer is his true father, and that Bart must be a receptive son in order to help Homer be a concerned father during Springfield's darkest hour.[31]
Non-canon
[
edit
]
| | |
| --- | --- |
| | The contents of this article or section are considered to be non-canon and therefore may not have actually happened or existed. |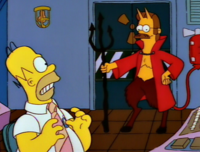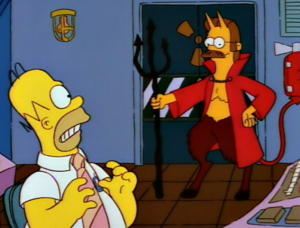 Treehouse of Horror
[
edit
]
In the "Treehouse of Horror IV" segment "The Devil and Homer Simpson", Flanders appeared as the devil in front of Homer Simpson (quoted by Flanders, "It's always the one you least expect!") and when he comes to claim Homer's soul, he and Bart exchange casual greetings. He acts as the "unquestioned Lord and Master of the world" (in a parallel universe) in a segment in "Treehouse of Horror V", in which he instituted Orwellian "Re-Neducation" facilities for those with impure thoughts culminating in frontal lobotomies. In other Halloween episodes he proclaimed his preference for "wanton carnality" as an early Pilgrim immigrant to the New World, only to be vetoed by Maude; been transformed into a werewolf; been murdered by Homer Simpson (who used the rise of a zombie horde as an excuse for killing him) (Homer Simpson: "He was a zombie?"— Homer didn't care if Ned was actually zombie or not), a clone of Homer Simpson, and an evil bus-gremlin whom he attempted to adopt.
In "Bart to the Future", Bart sees his own future. Ned, at age 90, is seen blind, revealing he received laser eye surgery, which was great at the beginning, but after the 10-year-point, your eyes fall out.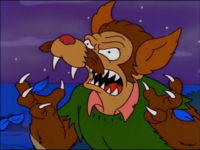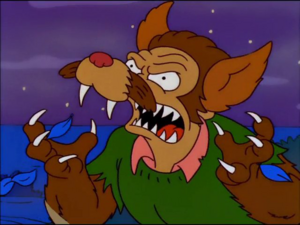 In "Holidays of Future Passed", he is seen married with Maude's ghost.
The Simpsons Road Rage
[
edit
]
In The Simpsons Road Rage Ned Flanders is a driver that you can unlock. While not being played, he is a passenger.
The Simpsons Game
[
edit
]
In The Simpsons Game, Ned is carjacked by Martin Prince in the level "Mob Rules", so he joins Marge's mob to stop the game Grand Theft Scratchy to be sold to kids.
The Simpsons: Tapped Out
[
edit
]
This section is transcluded from The Simpsons: Tapped Out characters/Flanders Family. To edit it, please edit the transcluded page.

Ned
Image
Cost
Unlock method
Unlock message
540
Level 4, Flanders House
The New Evergreen Terrace Pt. 3
Permanent Tasks
Task
Time
Reward
Requires
Quest with the task
Animated?
Condemn Science
45s
3, 1
That Ain't Right
Go Skating
10m
17, 5
Simpsons' Skating Rink
Attend a Convention
30m
40, 10
Convention Center
Shop at the Kwik-E-Mart
60m
70, 17
Kwik-E-Mart
Quicky At The Kwik-E
Pray Away His Sins Of Pride
60m
70, 17
Humble Gingerbread House
Inspect a Dent Shaped Like Jesus
60m
70, 17
Dentz
Check for Dubious Bible Commentary
2h
110, 27
Gospel for Less
Monitor Overuse of Communion Wine
2h
110, 27
Springfield Episcopal Church or
First Church of Springfield
Shop for Communion Wine
2h
175, 40
Hooch City
Mail Care Packages
2h
110, 27
Part and Parcel Postal
Experience a Living Nightmare
3h
135, 35
Flanders' Personal Hell
Make Thinly-Veiled Biblical References
3h
135, 35
Simpson House
Poorly Working Title Pt. 1
Enjoy a Night Without Kids
4h
175, 45
Resort Hotel
Drink and Babysit
4h
175, 45
The Boiled Potato
Spy on Kids
4h
260, 70
Giant Ferris Wheel
Be Condescending
4h
260, 70
Tower of Babel
Rant About Fire and Brimstone
4h
260, 70
Town Hall or
Brown House
Get to the Point Pt. 1
Lay on the Guilt
4h
175, 45
Left-mazon
Left-Mazon Prime Pt. 1
Memorize Commandments
4h
260, 70
The Ten Commandments
Attend Parenting Seminars
4h
260, 70
Universal Panacea
Get Baz the Cutest New Outfit
4h
175, 45
Pet Costumes
Try to Win at Blackjack
4h
175, 45
$ Casino
Stay at the Swelldorado
4h
260, 70
Swelldorado
Overpay for Sex on the Beach
4h
260, 70
Smooches on the Beach
Tend Maude's Statue
4h
260, 70
Praiseland Statue
Do Lunges
4h
175, 45
Restocking the Left-handed Pens
4h
175, 45
The Leftorium
Power Walk
4h
175, 45
Strut Your Stuff
Shop for a New Bible
4h
260, 70
Monstromart
Take Pictures for the HOA
4h
175, 45
Mirrored House
Browse the Mapple Store
5h
200, 50
Mapple Store
Mapple In Motion
Hand Out Creationist Literature
6h
225, 55
Geriatric Park Dome
Dance the Señor Burns
8h
420, 105
Chez Guevara
Protest Commercial Development
8h
275, 70
Dracula-la Land
Sweep up the Cobwebs
8h
275, 70
MAG Office
Go Mountaineering
8h
420, 105
Kwik-E-Mart Central Office
Look for the Rare Figurine
8h
275, 70
Humbleton
Take Sandwiches to the Less Fortunate
8h
275, 70
Springfield Men's Mission
Hold Emergency Bible Studies
8h
275, 70
Flanders House
Level 6
The Greatest Joke Ever Told
Attend Church
12h
420, 100
First Church of Springfield
Passion of the Flanders Pt. 2
Making up for Lost Time
Enjoy a Night at the Theater
12h
420, 100
Springfield Playhouse
Catch a Show
16h
500, 125
Heavenly Showroom
Go Bowling
20h
825, 200
Barney's Bowlarama
Convert Inmates
24h
600, 150
Springfield Penitentiary
Costumes
[
edit
]
Standalone
[
edit
]
Ned's email address is ned.flanders@springface.com.[7]
Ned graduated from Bob Jones University and majored in teaching and casting out demons. He also speaks fluent Aramaic.[7]
Behind the Laughter
[
edit
]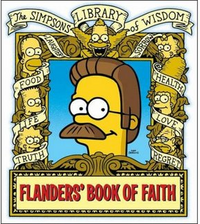 Creation
[
edit
]
The writers found Harry Shearer's voice for Flanders so sweet that they decided to make the character a Christian.
Ned Flanders, who was designed by Rich Moore, first appeared in the season one episode "Simpsons Roasting on an Open Fire". The episode was the series premiere, but not the first episode produced. The first episode in which Flanders and his family were prominent is season two's "Dead Putting Society", which also contained the first appearance of Maude and Rod Flanders. Flanders was named after Flanders St. in Portland, Oregon, the hometown of Simpsons creator Matt Groening. Groening described the inspiration for Flanders as "just a guy who was truly nice, that Homer had no justifiable reason to loathe, but then did". It was not until after the first few episodes that it was decided Flanders would be a faithful Christian. Mike Scully noted that Flanders is "everything Homer would love to be, although he'll never admit it". Flanders had been meant to be just a neighbor that Homer was jealous of, but Harry Shearer used "such a sweet voice" and Flanders was broadened to become a Christian and a sweet guy that someone would prefer to live next to over Homer. Flanders is known for his nonsensical jabbering, and his first use of the word "didly" was in "The Call of the Simpsons".
Development
[
edit
]
Ned Flanders was not religious in his first few appearances and in the first few seasons he was only mildly religious and his primary role was to be so "cloyingly perfect as to annoy and shame the Simpsons", whereas Homer Simpson has always hated Ned Flanders and always tries to undermine him. There has been a consistent effort among the show's writers to make him not just "goody good and an unsympathetic person". In the later seasons, Flanders has become more of a caricature of the Christian right, and his role as an irritating "perfect neighbor" has been lessened.
Ned's store "The Leftorium" first appeared in "When Flanders Failed". It was suggested by George Meyer, who had had a friend who had owned a left-handed specialty store which failed. The episode "Hurricane Neddy" shows Ned's faith being tested and the writers also used the episode as a chance to examine what makes him tick.
In most of Flanders' appearances on the show, he was voiced by Harry Shearer. However, there was one episode where he was voiced by someone other than Harry Shearer. The episode was "Homer to the Max" where he was voiced by Karl Wiedergott, which was deliberately done as a self-referential joke at the time where the voice actors for The Simpsons got low salaries from FOX, and FOX threatened to replace them with replacement voice actors.
"The Adventures of Ned Flanders"
[
edit
]
The Adventures of Ned Flanders was a short that appeared at the end of the episode "The Front". Entitled Love that God, it highlights the Flanders' dedication to religion and perfect family niceness, yet again. Ned nearly scolds Rod and Todd, who are busy praying, after they refuse to get ready for church — only to be told that it is, in fact, a Saturday. Ned laughs at his mistake with a trademark "Okelydokely!" According to commentary on "22 Short Films About Springfield", The Simpsons team wanted to do more "Adventures of Ned Flanders" shorts. Time limitations have prevented them from producing more. Ironically, the reason why "The Adventures of Ned Flanders" was first conceived was because they couldn't expand the episode to fill up the remaining time gap.
Foreign dubs
[
edit
]
Appearances
[
edit
]
References
[
edit
]
| | |
| --- | --- |
| | Wikisimpsons has a collection of images related to Ned Flanders. |
This article is covered by multiple navigation templates. Click "show" to view.