Adventures in Baby-Getting
Wikisimpsons - The Simpsons Wiki
511
"Adventures in Baby-Getting"
"I want another baby!"
―Marge
"An on purpose baby?"
―Homer
"Adventures in Baby-Getting"
Episode Information

"Adventures in Baby-Getting" is the third episode of season 24 of The Simpsons and the five-hundred and eleventh episode overall. It originally aired on October 21, 2012. The episode was written by Bill Odenkirk and directed by Rob Oliver. It guest stars Jeff Gordon as himself.
Synopsis
[
edit
]
"When Homer neglects to fix the dripping faucet outside the house, the amount of moisture in a cavern under the ground makes ground fall away in places. As a result of this, Marge's car falls into a sink hole in the middle of town. She buys the perfect replacement to fit her family of five, but she quickly grows to hate it because, as she tells a shocked Homer, the car would be too small if she wanted to have another baby. Meanwhile, Bart and his friends are determined to find out what secret Lisa is keeping when Bart finds her cryptic messages and follows her sneaking off downtown for covert meetings after school."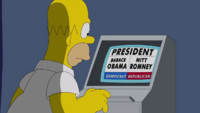 It's election day in Springfield and Homer is on his way to the voting booths at Springfield Elementary, muttering about how he has to choose his leaders: "Isn't that what the supreme court's for?" Homer arrives at the voting booths, where The Rich Texan asks for some photo ID. Homer says that he's lived in Springfield all his life. The Rich Texan replies, saying that stopping all Americans from voting is to protect all Americans. Homer continues, saying that he's a 40-year-old white guy who didn't go to college and gets all his news from monitors at gas stations. The Rich Texan then lets Homer into a voting booth.
In the booth, Homer can't decide to vote for:
"Barack Obama", I don't know. I already got one wife telling me to eat healthy. Plus he promised me death panels and Grampa's still alive!"
"Mitt Romney, I hear he wears magic underpants. I expect the leader of the free world to go commando. Plus his horse totally choked at the Olympics. On the other hand he did invent Obamacare!"
Homer taps "Mitt Romney" and the machine thanks him - before showing Romney's tax returns. Homer is shocked: he got a medical deduction for a personality implant, he has six wives all named Ann, and the government paid him taxes for five years. Before Homer can rush out of the booth to tell the press, he is sucked into a tube. He is outsourced to a factory somewhere in China, where U.S.A. flags are being made. Homer is satisfied because he's got a steady job - until Selma comes out of the tube. Homer "D'oh!"s.
Main plot
[
edit
]
Marge is in the back garden putting a treat for the hummingbirds in a glass held from a tree. Marge puts in Krusty's Sugar-Frosted Cotton-Candy Punch before the hummingbirds arrive. The hummingbirds eat the roses on the side, and because of the smell, an orange hummingbird falls to the ground - knocking out Snowball II instead of falling into her mouth. When Marge unhooks the hose from the faucet, the water from which she put in the glass, water starts dripping. Marge tells Homer that the faucet is dripping, Homer saying that he'll get right on it. It's still dripping in winter and spring, and Homer's neglect to the dripping faucet causes a massive problem for Springfield. The amount of water dripping into the earth has caused a tunnel - leading to a massive cavern underneath the town square. One drop of water travels along the tunnel (passing the Ullman family and a caveman on a dinosaur. The drop of water lands in the cavern filled with water, causing the ground to shake and the water to open passageways and travel through them, further into the earth. Rocks from the top of the cavern then fall to the bottom, covering the holes. Above the ground, Marge is driving the kids to school. Marge is muttering about how Homer keeps on saying that he'll get to it, then saying that when she first got married it only took 6 months to do things. Bart realizes that Marge hasn't done his homework that was due that morning and asks her why. Before Marge can answer, the ground starts caving in. When the ground does cave in, the car falls into the sink hole, while Marge and the kids scream. Bart says "Oh no, Lisa's face! It's the same!", and then laughs. Marge tells the kids to relax, because she's got a sink hole kit in the glove compartment. After taking out the earthquake kit and the tsunami kit, Marge finds the sink hole kit behind the zombie virus kit. In the kit, there is an inflatable staircase. Marge pulls the ring and it inflates. Unfortunately for Bart, who doesn't want to climb it, the staircase reaches the top of the sinkhole. Marge forces Bart to climb the stairs because "no-one stays in the sink hole!" The three are about to go up the stairs when a police car falls into the sink hole. Chief Wiggum gets out, asking what the problem is.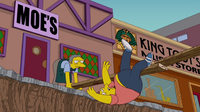 On the news that night, Kent Brockman reports that Springfield is getting that 'sinking feeling', before chuckling and continuing, as the sink hole continues to expand. Comic Book Guy says in an interview that the sink hole is larger than the Sarlacc Pit which swallowed Boba Fett but is smaller than the Geonosis Battle Arena where Jango Fett was beheaded by Mace Windu. Brockman asks "Weren't those two places about the same size?". Comic Book Guy then says "I didn't know this was an ambush!" In an interview with Moe at his tavern, he says that in this town you learn to adjust to things: runaway monorails and NASCAR star Jeff Gordon, who then passes by. Moe says that he bets that no-one will see him again. Barney says that he's gonna call it a day and goes out of the tavern. Outside, where the sink hole has expanded to, there are planks of wood creating a 'pathway' across the sink hole. Lenny and Carl are onlookers to Barney's attempt to cross the 'path'. Moe goes outside, and tells Barney that that plank is for coming in. He lifts the plank from the sidewalk, causing Barney to fall to the bottom of that sink hole. Moe tells him to try and land on the other traitors, who groan in pain at the bottom. On the news, Chief Wiggum asks the people of Springfield to be cool like Lou, who lifts his hat after the camera pans over to him. Continuing, Wiggum says that they will eliminate one eyesore with another by bulldozing the tire-fire into the sink hole. Marge is upset because her car is down there. The tires fall into the sink hole and Mayor Quimby announces that his administration has finally solved a problem - the hole has been filled with the thing it hates the most: stuff. A vehicle comes along and pours the tarmac onto the road, before flattening it and marking on the road markings. Quimby then goes onto the road and places a sign that names the road the Pioneer Route 101 Trail. Marge sighs.
On the bus after school, Milhouse is telling Bart that his dad nearly finished his online degree in sink hole engineering when they filled the sink hole in. Bart asks if the credits are transferable and Milhouse says no. Bart then says that that guy is a bone to pick with the border regions. Bart then spots that his sister is not getting on a bus and she crosses the street. After Milhouse convinces Bart that this situation is major, the two follow her. When Otto spots the three crossing the street, he says that if they're not taking the bus, then neither is he. Ralph announces that he's going to an accident. Bart and Milhouse follow her until when she catches a cab. Milhouse tells Bart that he's worried because she doesn't know how much to tip. As she gets into the cab, a piece of paper falls out of her backpack. After the cab drives off, Bart picks it up and reads what it says: "The five boxing wizards jump quickly". Bart realizes that his sister has become mildly interesting. Milhouse announces that it sounds like a case for the Detect-a-pals. Milhouse tries to call for a cab, but only one comes - and it speeds off past him; Milhouse says that they never stop for blue-heads.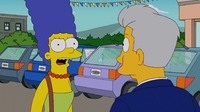 Marge is at the Tissan Auto Dealership looking at a car when an employee named Stan comes up to her and asks her if she and her husband are looking for a new car. Marge tells Stan that she's her to buy one for herself. Stan then changes the price of the car behind him from "$14,995" to "$18,995", before telling Marge that the car, the Tissan Sensibla, is the car for her. In the car, Stan shows the car's various features - such as a make-up mirror which folds out to show five. Marge tells Stan that the car feels a little small, and asks him if the engine is powerful. Stan then tells Marge that "somebody knows her cars". Opening the bonnet, Stan shows Marge that the car comes with an RX12 2-cylinder. Marge says that that's odd, because on the consumer website it says that the RX12 2-cylinder has a dealer's invoice of 14-7. Stan chuckles and says that he will talk to the manager - which backfires because the website says that Stan IS the manager. Stan then says that those websites are taking food out of his children's mouths - which also backfires because Marge remarks that on his Facebook page it says he has no kids. Stan tells Marge that he has two Yorkies which he will be talking to about Marge that night. When the family go for a ride in the car, Homer says that he's got to hand it to Marge - she got the exact amount of car for the family - room for 2 adults, 3 kids and zero Grampas. Marge then hears a rattle, and asks the family if they do too. The rest of the family can't hear anything, before Marge asks what that smell is. Lisa tells her that it's new car smell. Marge says that she doesn't like it, so she turns into the Kwik-E-Mart. A few minutes later, Homer comes out with two hot dogs and makes sure that the smell fills the whole car to cover up the other smell. Homer chucks the hot dogs out of the window once he has taken a bite out of one; then he gets all of the cigarettes out of the pack and smokes all of them. The rest of the family cough. Homer chucks the cigarettes out of the window, but Marge can still smell the smell. In the garage, later, the car won't start. Homer says that he will give it a try, and gets it working. Marge says that it didn't start for her, and tells Homer that she thinks the car's a lemon. Homer goes over to the other end of the car, where there is a lot of steam coming out of the exhaust. Homer faints.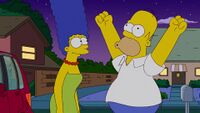 At the dealership the next day, Marge is telling the car mechanic that the wipes wipe backwards and the defroster lines on the back window are too close together. Marge excuses herself to get a cup of coffee. The mechanic tells Homer that the car is fine, and then tells Homer that he's not qualified to judge mental health, before telling Homer that he thinks there must be a psychological reason for why Marge hates the car. Homer moans: "A reason? What could it be?" The mechanic apologizes, because there's no diagnostic computer for the female mind. Homer is impressed: "Wow. An auto mechanic who tells the truth!", before hugging the mechanic. The mechanic says that if Homer wants him to examine Marge overnight, he could lend him a loaner - an '83 Yugo. Homer says 'no thanks'. When Homer and Marge arrive home, Homer asks Marge if there's another reason why she doesn't like the car - a feelings reason. Homer explains that her and the car might have got off on the wrong foot. Marge explains that when things went wrong was when everyone got in - and then says that the back seat is pretty tight for the kids. She then slips out that she doesn't know what will have to be done if they had another baby - because this car is saying 'no more babies'. Homer then tells her that he wants her to explore her "feelings". Marge reveals the reason why she hates the car - she wants another "on purpose" baby. Homer decides to play along to make his wife happy. In his mind, Homer wishes he had fixed the faucet. Marge says that being a mom is who she is, and she's not done being who she is. Homer decides to stall by whistling, so Marge will eventually change her mind. Homer agrees, and Marge tells him that they'll have to "try it tonight". After a brief dumb moment when Homer discovers that "try it" means sex, he "Woo-hoo"s. Marge asks Homer why he takes a 3-second pause before he answers, and Homer says (pausing every couple of seconds) that it is because he is lucky to be with her.
Bart is still baffled about what Lisa's "boxing wizards" message means, so he looks in her room for clues. He dreams of Lisa as Angelica Button who gets beaten up by a wizard. Before he can search for more clues, Bart is interrupted with the arrival of Lisa. Bart leaves the room and then comes back again, asking her what she does after school on Tuesdays and Thursdays. That backfires - Lisa asks Bart the same question. He tells her that he writes stupid stuff on the chalkboard and asks for more things to put on because he's running out of ideas. Bart presses Lisa for the answer to his question, but all he gets is "A gentlemen doesn't ask, and a lady doesn't tell". Bart decides to use that on the chalkboard. Homer and Marge are speaking to Dr. Hibbert about how they are planning on having a baby, when Marge asks if Homer's got some 'working stuntmen in his cannon'. Dr. Hibbert says it was wise to check - all of Homer's sperm are dead. Marge realizes that "that's that". Homer apologizes and tells her that they'll have to learn to love the three children they have. In the treehouse, Bart is telling Milhouse, Nelson and Ralph that Lisa is going somewhere after school two days a week - and all they have is boxing wizards. Bart had gathered the three others together because they were Lisa's ex-boyfriends. Milhouse and Nelson have an argument and Milhouse leaves - falling to the ground outside. Milhouse said he was OK because he landed on a mattress - Abe. While Lisa walks home from school, Bart, Milhouse, Nelson and Ralph watch her to see if they can get more clues. They watch her from the cover of a Playdude issue that has eye holes cut out, a shop window and from outside a building respectively. Ralph and Nelson watch Lisa go into a life which takes her underground. While she does so, another letter drops out of her backpack, this time reading "Sphinx of black quartz, judge my vow". Milhouse points out that whatever it is, she's in over her head. Bart says that they need to save the poor girl, before asking if anyone knows the way home. Nelson tells everyone that they've got bigger problems - Father Mike is approaching them. The four run off. In Moe's, Marge and Homer are upset talking about how they can't have another baby when Lenny and Carl come over. Lenny asks if everything's alright and Homer tells him that it's a private conversation. Marge tells the two the news anyway. Lenny says that's a shame, and Carl says that's why he wraps his privates in tin-foil every day. Moe points out that he could get a sperm sample back from the Shelbyville sperm back, where he sold some of his sperm a few years back. Marge is cross - she didn't know about it. Homer tells her that that's how he got the money for her necklace. Then Marge realizes that they still have a chance. Homer tries to think of a way to tell Marge that he doesn't want another kid, but Homer ends up saying that he hopes it's twins - then imagining he's holding two young Patty and Selmas in his arms.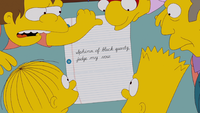 On the way to the Shelbyville Fertility Clinic, Marge tells Homer the names she thought up: for a girl, Alex and for a boy, Xander. Homer realizes he's in this too far because Marge has already picked out names. Homer then spots a sign for a historic route, and asks Marge if they could go that way, as it would create beautiful memories. Marge agrees, and they head off. The route is populated with fancy themed restaurants and hotels, and then Marge spots a Christmas decorations museum and asks if they can stop there. Homer says just for a minute because he wants to go to a lot of other places, one being the Taj Meatball restaurant. Marge mentions that she thinks the statue was Paul Bunyan. Everyone, including Principal Skinner now, are baffled over the second message. Nelson asks why Skinner is here, and Skinner says it's because he's worried about Lisa - or more specifically, her grades. He mentions that if Lisa's grades drop, then the school is not a school - they are a tornado center with voting booths. Skinner points of that there's nothing exceptional, but then he finds the blue reinforcements in the holes on the side of the paper. He says that only one person he's every known uses these - his predecessor Meredith Milgram. The four boys discover this, and Skinner tells them to follow him - and then to be warned, because there's no permission slip for what they're doing. They arrive at Meredith's house and listen to what she's saying through the door: "A quick movement of the enemy will jeopardize six gunboats." Milhouse says that's three more jeopardized gunboats than he expected. Skinner thanks God that they brought the bus driver, before knocking on Meredith's door. Meredith answers the door, questioning Skinner as to why he's here. Skinner tells her that he's taking four children across town to investigate a piece of paper they found on the ground. Meredith asks if he has better things to do. He says no. Meredith mentions that it's the same old Seymour. Lisa comes to the door, saying that she knows why they're here - they can't let her have a secret because it drives them crazy. Lisa says that she's learning cursive, and all the sentences she has wrote (including a third she's written) have every letter of the alphabet in. Otto asks if they teach them "fancy squiggles" in school, and Skinner tells him that they don't because it was outvoted, there's no room in the budget and the teachers have forgotten how to make a capital "Q" - which is two loops and a flourish. Meredith says it's lucky that a few brave students still want to learn. Lisa tells them that she hopes they're happy - because they have been working their way into an after-school class all this time. The four boys scream, while Skinner says "What fun!"
Come sunset, Marge and Homer have finished shopping at the Museum of Christmas Ornaments. Marge can't believe that she spent the whole day shopping there, while Homer can't believe that he tried every flavor of candy cane - white and red. Marge says that they should check into a motel. They go to The Nook of the North motel, which is opposite the museum. In their room, Marge is chatting up Homer in bed, saying that he's lost weight. Homer asks Marge what she said - because he was in the bathroom and the one in bed next to Marge was in fact a stuffed toy in the shape of seal. Homer puts the toy on the floor, saying that he'll take it from there. Later on, Marge tells her husband that it was nice to spend a day together as a couple. Homer says he agrees because there was no kids to ruin it. Marge says that she thought the whole point of the trip was to have another baby. Homer says that he was just being a good husband - pretending to agree with her while secretly undermining her agenda. Marge is shocked and she asks Homer if he really doesn't want another baby, and how long he's felt that way. Homer says that (looking back) it started somewhere around the time before Bart was born. Marge becomes vexed, so she throws Homer out. He ends up staying at The Doghouse. He asks for a room for one, and starts to chew on a dog's chew toy that was in a bowl on the counter. All around the motor lodge, there are many romantic motels, such as The Love Nest, Krusty's Hot Tub and M. Night Shyamalan's Flop House. In the morning, Homer and Marge are leaving Route 33. Marge is still angry with Homer. Homer apologizes, saying that they have a hard enough time handling three kids - emotionally, financially, the boy. Homer says that he didn't know how to tell Marge. She tells him that he could've just yelled across the house like he does everything else. Homer says it's good that they're talking, but Marge says that they're not. Homer picks up his phone, because Marge just dialed him. She explains that she pocket dialed him - with Homer telling her that the pocket wants what it wants. In a cafe, things are still strained between Homer and Marge. Homer remarks that they just leave the maple syrup on their table. Marge tells him to shut up. Marge and Homer spot a family with four kids a couple of booths away from them. One of the kids is called Xander, and his father asks the kids to help their younger baby brother. In his mind, Homer tells himself that there he is - the fat pathetic slob he would be with four kids. Xander's father feeds him some ice-cream, and then plays peek-a-boo with him. In his mind, Homer points out that that dad was there all along. Homer starts to change his mind - "Maybe there's no such thing as 'too many kids'." In her mind, Marge knows that Homer is thinking that he really wants another baby now, so she will change her mind and not want one. Marge tells herself that she won't, because she wants one more than ever. She bangs her mug on the desk, alerting Homer. Arriving at the Shelbyville Fertility Clinic, Homer thinks that he didn't rewind the video the last time he was there. In reception, Homer asks the receptionist if he can take back a donation from 15 years ago - under the name of "Simpson, Homer" or "Thad Supersperm". Marge tells Homer that this is the point where she really has to know what he wants. Homer tells him what he wants - to make another Simpson. A table with four legs is more sturdy than one with three, that cubes are made of cheese, but pyramids are schemes and anything that's half Marge is guaranteed 50% perfect. The two hug. The receptionist tells Homer that it was a nice speech, but the last of his sample was just selected by another couple. Homer asks the receptionist if she's sure that there's no more, because there's always a little 'ketchup left in the bottom'. The receptionist tells them no, but the couple who selected Homer's sample are in the waiting room, so Homer and Marge can talk them into 'something else'.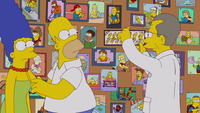 In the waiting room, the couple are looking at Homer's "Thad Supersperm" profile. Homer coughs and the couple look up, becoming freaked out at Homer's expression. Homer says that he would like to buy back his sample. The woman asks if their sample came from him, and her husband immediately hands 'Thad''s sample over. Homer says that he expected a little argument, and the man tells Homer to look in the mirror because it's his argument. While Homer signs a piece of paper, Marge looks at the "brag board", a board on the wall with pictures of all the babies that were born from sperm samples - mostly Homer's. Marge looks at the pictures of the babies that were born from Homer's sample and gasps, then asking him how many samples he sold. Homer asks Marge if she remembers the Corvette he had. Marge says that she thought they only paid $50 a trip. Homer says "Exactly", and tells Marge that they're all set - to make a Thad Supersperm Jnr., saying that with a name like that he could be president. Marge tells Homer that maybe they should wait - there's enough Homer in the world for now. Homer says that he was really looking forward to - and then he cuts off as a doctor puts up a picture of septuplets born from Homer's sperm sample. Homer says that Marge is right - he doesn't wanna bring more kids into a world full of his kids. At the Skytop Drive-In theater, The Itchy & Scratchy Movie is playing in 3D. Homer and Marge arrive at the theater and pay the attendant. The attendant gives them two 3D glasses. Homer parks the car and then goes to the trunk. Inside, the kids are there wearing 3D glasses. They get out and get into their seats. Homer mentions that that would be a lot harder with four kids. Marge says that she always sends the theater manager a check the next day. Homer "D'oh!"s and the two put on their 3D glasses. The movie starts. Itchy comes along and shows Scratchy a picture of a female cat. Scratchy's eyes pop out and Scratchy ties them together and runs off with them. Itchy lets go and Scratchy falls backwards - the 3D effect making it look like Scratchy is right in front of them. Then, the couple with the Homer septuplets drive up next to them. Homer, and the septuplets, all "D'oh!"
Production
[
edit
]
Release
[
edit
]
The episode was originally set to air in the United States on October 21, 2012.[1]
In other languages
[
edit
]
| Language | Name | Translation |
| --- | --- | --- |
| Deutsch | "Homers vergessene Kinder" | Homer's forgotten Children |
| Español | "Aventuras en buscabebés" | Adventures in baby search |
| Español | "Aventuras para tener un bebé" | Adventures to have a baby |
| Français | "Naître ou ne pas naître" | To be born or not to be born |
| Français | "Bisous de famille" | Family kisses |
| Italiano | "Cosa aspettarsi quando si vuole aspettare" | What to expect when you want to expect |
| Português | "Bebê a bordo?" | Baby on Board? |
International airdates
[
edit
]
Gallery
[
edit
]
References
[
edit
]