Diatribe of a Mad Housewife
Wikisimpsons - The Simpsons Wiki
323
"Diatribe of a Mad Housewife"
"Diatribe of a Mad Housewife"
Episode Information

"Diatribe of a Mad Housewife" is the tenth episode of season 15 of The Simpsons and the three-hundred and twenty-third episode overall. It originally aired on January 25, 2004. The episode was written by Robin J. Stein and directed by Mark Kirkland. It guest stars Tom Clancy as himself, Thomas Pynchon as himself, Mary-Kate Olsen as herself and Ashley Olsen as herself.
Synopsis
[
edit
]
"Marge is inspired to write a romance novel, though after Homer hears rumors that Marge is secretly in love with Ned Flanders due to the storyline of the novel, he grows jealous. Meanwhile, Homer buys an ambulance and becomes an ambulance driver."
At Krusty Burger, Homer buys a lot of food. Driving with his food all over him, Homer realizes he doesn't have enough lap space so reclines his seat to make more space to balance food. Homer then bites into a burrito and food splatters all over the windscreen of the car. Unable to see properly, Homer drives into the Power Plant and crashes his car, causing him to get fired by Mr. Burns.
Meanwhile, the rest of the family is at Bookaccino's where Marge sees that romance author Esme Delacroix is holding a reading. After Esme finishes the first chapter of her book, Marge asks her if she had any special training before she wrote. Esme tells Marge that anyone with passion can write a book, giving Marge the inspiration to become an author.
Homer is looking for a new job so he doesn't have to tell Marge that he lost his job. He then comes across Boris' Car Loft where he sees a sign saying that they want a salesman. Homer comes up with a plan to steal the sign and make them pay him to make a new one. However, Boris catches Homer before he does this and offers him a job as a salesman, which Homer takes. His first attempted sale is unsuccessful as the couple trying to buy a car didn't like Homer. Homer then does several other odd jobs around the car lot when he notices an ambulance for sale. Boris tells Homer that they can't sell the ambulance and Homer decides to buy it, quitting his job as a car salesman.
Homer arrives home with his new ambulance and tells the family that he quit his job as a car salesman and is now an ambulance driver. Marge is annoyed at Homer and tells him that she wants to write a book whilst he looks after Bart and Lisa. Homer's first shift as an ambulance driver starts that night though so Marge tells Homer to take them with him. Marge then starts to write her book, getting inspiration from the painting Scene from Moby Dick. She starts to write her novel, The Harpooned Heart. In his ambulance, Homer is driving Comic Book Guy to the hospital. However, he gets lost and can't find his way there.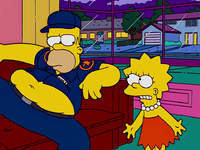 Marge continues to write her story, writing about Temperance Barrow and her husband, Captain Mordecai. After Homer comes home from his shift as an ambulance driver, he demands food and CPR lessons for the kids. Marge, who gets annoyed at this, changes Mordecai's character to be more like Homer. The next day, Marge decides she needs some romance in her novel when Ned Flanders comes over. Inspired by him, Marge creates the character of Cyrus Manley who quickly hits it off with Temperance on his arrival at Nantucket. After finishing her novel, Marge prints it and hands it to Lisa to look through. Lisa realizes that Mordecai is based on Homer and questions Marge about this, but Marge tells her that she'll hand it to Homer to read first to see if he's okay with the character.
Homer attempts to read the novel but quickly gets bored and distracted from it. When Marge asks him if he read it, Homer tells her that he has and that he liked it and all the characters. Encouraged by this, Marge sends the novel to Esme Delacroix who has her assistant summarize it to her and she loves it. She then gets Thomas Pynchon and Tom Clancy to give quotes for the book and gets it published. The whole of Springfield reads the book and everyone realizes that Captain Mordecai is based off Homer and laughs about it behind Homer's back. Homer starts to get teased about the book by people around town and eventually decides that he needs to read the book himself, getting the audio book ready by Mary-Kate and Ashley Olsen.
Homer gets home and confronts Marge about the book. Marge tells Homer that he told her that he read it and liked it. Homer then questions Marge about the relationship between her and Ned, which Marge tells him was her imagination. Homer then goes to confront Ned about it, who thinks that Homer wants to kill him. Homer then chases Ned down and ends up in a situation very similar to the end of the book, where Captain Mordecai kills Cyrus Manley on the edge of a cliff before falling in with him.
Ned gets on his knees and begins to pray when he realizes that Homer isn't trying to kill him. Homer just wants advice on being a better husband. Marge arrives and sees this and Homer tells her that the end of the book was a wakeup call to him. Homer and Marge then decide to write a new book together, Who Really Killed J.F.K. When Homer thought he had figured it out, that Lee Harvey Oswald wanted to steal the Jack Ruby, Marge pointed out that Jack Ruby was a man, not a jewel.
Production
[
edit
]