The Simpsons: A Complete Guide to Our Favorite Family
Wikisimpsons - The Simpsons Wiki
The Simpsons: A Complete Guide to Our Favorite Family
Book Information

The Simpsons: A Complete Guide to Our Favorite Family is a book published in 1997 by HarperCollins. It is the first book in The Simpsons Forever! series. It was edited by Ray Richmond and Antonia Coffman; Matt Groening receives credit as the creator of The Simpsons, the television series upon which the book is based, and for an introduction to the book.
Although the title includes the word "Complete," the book is rather an episode-by-episode history of The Simpsons, as the fictional story that appears on television; a non-fictional, behind-the-scenes history of the television show is almost neglected. As it is printed in 1997, only the first eight seasons that had aired by then are covered. Nevertheless, the book is notable as a "definitive guide." If Groening's foreword is to be believed, the book was nearly titled Encyclopedia Simpsonica.
Features
[
edit
]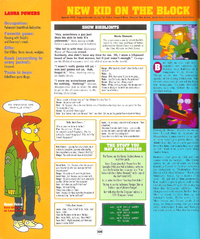 On pages 10–11 are short biographies of each of the five immediate members of the Simpson family, namely Homer, Marge, Bart, Lisa and Maggie. Short biographies of other Simpsons characters are also available as sidebars to each episode's page, starting with Santa's Little Helper for "Simpsons Roasting on an Open Fire" and ending with Willem Dafoe's Commandant from "The Secret War of Lisa Simpson". Each full-length episode receives one-page coverage, or two-page coverage, featuring a synopsis, credits, pictures, and memorable quotes, as well as the episode's blackboard joke. Obscure or hidden jokes are also brought to attention.
The episodes are arranged in chronological order, and at the beginning of each season are two-page special features, such as a list and brief description of the Simpsons shorts, a list of times Homer has cried "D'oh!", and a list of Itchy and Scratchy's cartoons.
Sequels
[
edit
]
Printed in 1997, the book only covers the seasons which had been aired by that time (the first eight). Thus, it is followed by two sequels, The Simpsons Forever!, covering seasons 9 and 10, and The Simpsons Beyond Forever!, covering seasons 11 and 12. These three volumes have in turn been collected and re-published as The Ultimate Simpsons in a Big Ol' Box. This was followed by a third sequel, The Simpsons One Step Beyond Forever!, covering seasons 13 and 14. Another book, Simpsons World the Ultimate Episode Guide: Seasons 1-20, was published in 2010 which has a guide to the seasons 1-20. It features all new guides to episodes in series 15-20.
References on the show
[
edit
]
As an in-joke, the Guide made an actual appearance in the 2003 episode "Today I Am a Clown", where Lisa uses it to remind Homer that Santa's Little Helper was supposedly neutered in a previous episode. However, the episode proves her information false.
Appearances
[
edit
]
All characters that have appeared in the book are listed below: