Gone Abie Gone
Wikisimpsons - The Simpsons Wiki
"Gone Abie Gone"
Episode Information

"Gone Abie Gone" is fourth episode of season 24 of The Simpsons and the five-hundred and twelfth episode overall. It originally aired on November 11, 2012. The episode was written by Joel H. Cohen and directed by Matthew Nastuk. It guest stars Jennifer Tilly as herself, Marvin Hamlisch as himself and Anika Noni Rose as Rita LaFleur.
Synopsis
[
edit
]
"When Grampa escapes from his retirement home, Homer and Marge frantically try to track him down by following clues that reveal secrets in Grampa's past, including that he worked at a local restaurant with composer Marvin Hamlisch and met and fell in love with the restaurant's singer Rita LaFleur. Meanwhile Lisa tries her hand at online poker, getting tips from the experts, including Jennifer Tilly, but is soon gambling with her college fund."
Homer pulls up at the
Gulp 'N' Blow
drive-thru, where, despite remembering Marge's request to eat healthier, he orders some onion rings.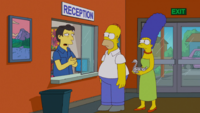 The
cashier
, due to being stressed by a
female waitress
, a
customer
complaining about a
homeless man
who was showering in the restroom, and
Milhouse
's karate's team, accidentally chucks the onion rings out of the order window and they burn Homer, who subsequently visits a
lawyer
with the intention of suing the fast-food chain. The lawyer supports him and Homer ends up winning $5,000 in court.
At Moe's Tavern, Homer tells Lenny, Carl and Barney that he put the money he won in a college fund for Lisa at the bank. Lenny and Carl warn him about how banks aren't as secure as they used to be. Moe overhears the conversation and suggests Homer withdraw the money and put it on FlamingHotPoker.net. Initially reluctant, Homer is eventually won over by the idea when Moe reassures him that he doesn't have to bet the money, the poker website will just keep it safe. "A poker site is now more safer than an American bank," Homer declares, "Has our nation-- built on people suing because their onion rings were too hot-- come to this?"
Back home, Homer transfers Lisa's college fund onto the poker website. Lisa is less than enthusiastic about the idea. Later, Marge, while organizing the family's calendar, remembers that she and Homer forgot to visit Grampa the day before and head off to the Springfield Retirement Castle to apologize.
They arrive at the retirement home and check in at reception. When the receptionist realizes that Homer and Marge are visiting Abraham Simpson, she dashes off to get her manager. The manager appears and informs them that Grampa is missing, much to Homer and Marge's concern.
Homer and Marge search Grampa's bedroom for any clues which could hint as to why he has disappeared. Marge locates Grampa's army foot-locker hidden underneath his bed and begins searching through it. She discovers a drink coaster from Spiro's, a club in downtown Springfield, on which Grampa had written on back, "The place that changed my life..."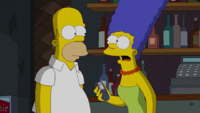 Back at the Simpson home, Lisa is horrified to find Bart gambling with her college fund on the poker site. "Get your hands off my future," she exclaims, as she slams down the laptop screen and pushes Bart away from it. Bart leaves and now alone, Lisa decides to log out of the website. However, she changes her mind when she sees her online avatar has a hand with two queens. She plays the hand, all the other players fold, and she wins $50.
Homer and Marge decide to pay a visit to Spiro's, where various intimidating bikers are drinking and playing pool. The bikers immediately gang up on Homer, after he shows them a photograph of his father and asks if they've seen him, while carelessly mentioning the police. The club's owner, Spiro Papadapaconstantikasgianopolopodopotopolis, intervenes. He recognizes Grampa from the photograph and informs Homer that his father used to work for him years ago.
Mr. Spiro recalls when Spiro's was in its heyday and how Grampa was employed as a busboy, with Marvin Hamlisch as his co-worker. Grampa secretly wrote song lyrics in his handbook while on the job. One night, once the majority of customers had left, Grampa played one of his self-penned songs on the piano, which captured the attention of the beautiful jazz singer, Rita LaFleur.
Mr. Spiro eventually fired both Grampa and Rita and never saw the two of them again. Thinking Rita might have some knowledge of Grandpa's location, Marge searches for the singer on her mobile phone. She comes across a number and calls it. Rita picks up and confirms that she knows an Abraham Simpson. In fact, she more than knows him—she's married to him!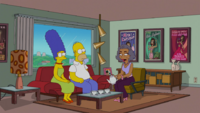 Meanwhile, Lisa, who has just finished studying poker by reading several books and watching Jennifer Tilly's instructional DVD, continues to play virtual poker by gambling with her college fund. She manages to increase her winnings from $5,000 up to a massive total of $360,725.
Homer and Marge pay a visit to Fallen Diva Apartments, where an aging Rita resides, who proceeds to tell them of her and Grampa's love story:
After being fired from Spiro's, Grampa and Rita began a secret romance. It emerges that during this time, Homer was six years old and Mona Simpson had already left - Grampa was on the rebound. Not long after, Grampa asked Rita to marry him. Following their wedding, Rita was booked on a tour around Europe. Reluctantly, Grampa decided not to go on tour with her, deciding taking care of Homer was more important than their romance. Rita then left for Europe, where she got addicted to heroin, and she and Grampa never saw each other again.
Lisa has since amassed a total of $413,762, which is enough money to get the best college education. However, she spots an opportunity to win even more money with her hand of two aces. She bets everything against Sideshow Bob, who is playing from Springfield Penitentiary. Bob reveals his hand and wins. Lisa loses all of the money and breaks down into tears, fearing she has ruined her future.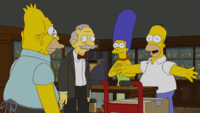 "Aw c'mon Lisa, no gambling story has a happy ending," Bart says, while attempting to "comfort" his weeping sister. After watching her cry for a little while longer, Bart eventually comes clean - he's Sideshow Bob. He pulled a prank on her and was secretly playing under Bob's avatar, which means Lisa still has her college fund. However, he confesses that the website's management discovered they're both under 18, so the winnings were reverted back to the original $5,000. Lisa wants to know why Bart decided to help her, to which he murmurs, "Because I actually like you and felt sorry for you." Lisa is pleasantly surprised.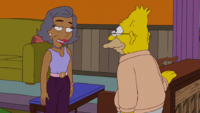 Back at Rita's apartment, she apologizes to Homer and Marge for not being able to help them locate Abe. But before they can leave, she hands them a bottle of Chicory Mist Cologne - Grampa's favorite.
Homer and Marge then visit Vandersniff & Whiffly Purveyors of Fine Nostrilables, which is the only shop in Springfield which stocks Grampa's cologne. Homer shows the owner a photo of his father and asks if he has seen him. The owner calls out to his co-worker in the back office, "Abe, you seen this guy?" Suddenly, Grampa appears in the doorway and explains that he purposefully ran away from the retirement home because he was sick of waiting for his family to visit and has subsequently got a new job and home. Marge promises that they'll visit him more often, much to Grampa's satisfaction. "Well, I can't say all is forgiven," Grampa replies, "But most is forgotten." Homer and Grampa then share a loving hug.
Back at the Retirement Castle, Grampa reminisces about his "honky-tonking" days before placing the Spiro's coaster back into his army foot-locker. Just then, he hears the distant sound of a piano playing the tune he wrote while working at the club. He dashes out of his room to find the source of the music. Rita is sitting at a piano in a nearby room and the two reunite. They embrace while playing the tune together before nodding off. The two begin to snore gently while in each other's arms.
Production
[
edit
]
On 23 August, in a Fox press release, Marvin Hamlisch, Anika Noni Rose and Jennifer Tilly were announced to be guest-starring in the episode.[1]
Music editor Chris Ledesma revealed via his Twitter account that the episode had been written by Joel H. Cohen and was in production under the code PABF16.[2]
Reception
[
edit
]
The episode was watched by 6.86 million viewers and received a 3.2 in the key demographic, making The Simpsons the most-watched show on Fox the night it aired, beating both Family Guy and Bob's Burgers.[3]
"Gone Abie Gone" received mixed reviews from TV critics. The A.V Club awarded the episode a C+ rating and described it as a "thin story with little satiric spark", "not terribly funny" and "tired."[4] The TV Critic.org review offered similar opinion. They discussed how "both plots had potential" but concluded, "Like its own stereotype of the retirement home, The Simspsons is old, tired and out of ideas."[5] However, TV Fanatic were more positive, naming the episode a "surprisingly warm and and amusing installment" and ultimately gave it a 4/5 star rating.[6]
Fan reaction was generally mixed-to-positive. Reviews submitted to NoHomers.net indicated a majority 3/5 fan rating, with many naming the episode "decent" but ultimately "forgettable." Most fans agreed that Lisa's sub-plot was more entertaining than the episode's main-plot concerning Grandpa Simpson's past.[7]
The episode currently holds a 6.6/10 IMDB rating and a 7.9/10 TV.com rating.[8][9]
In other languages
[
edit
]
| Language | Name | Translation |
| --- | --- | --- |
| Español | "Adiós, Abie, Adiós" | Bye Abie Bye |
| Español | "¿Donde estás abuelo?" | Where are you grandfather? |
| Português | "O Desaparecimento de Abie" | The Disappearance of Abie |
International airdates
[
edit
]
Gallery
[
edit
]
References
[
edit
]