Dangers on a Train
Wikisimpsons - The Simpsons Wiki
"We've got something money can't buy - love on a train. And I promise each anniversary will be better and better."
"Dangers on a Train" Homer and Marge: love on a train.
Episode Information

"Dangers on a Train" is the twenty-second and finale episode of season 24 of The Simpsons and the five-hundred and thirtieth episode overall. It originally aired on May 19, 2013. The episode was written by Michael Price and directed by Steven Dean Moore. It guest stars Lisa Lampanelli as Ramona and Seth MacFarlane as Ben.
Synopsis
[
edit
]
"Looking for a cupcake website, Marge mistakenly ends up on an online dating network for married people to arrange affairs. There she encounters Ben, who tries to seduce her based on their mutual love of TV series Upton Rectory, mostly over the phone."
Nearly Nine Years Ago
It's Homer and Marge's first wedding anniversary and the two are taking a stroll through the Springfield Glenne shopping mall. "Lets just enjoy our happiness Homie," Marge says, "Accidental motherhood is the greatest thing that can ever happen to a woman and I think Bart has finally out-grown his misbehavior." The couple look down at the stroller they're pushing along, only to see it empty. Across the courtyard, in the window of a clothing store, a baby Bart lies in the arms of a mannequin sucking on its breast. Homer lets out a yelp and quickly rushes inside and yanks Bart off the mannequin, as various Springfieldians look on. Embarrassed, Homer places Bart back in the stroller, before Ned Flanders offers to look after him. Homer hands Bart over and him and Marge head off to enjoy their anniversary; they have a massage, make out in the changing room of a store, and take a ride on the L'il Lisa train around the mall. "Oh Homie, what a wonderful anniversary," Marge whispers, as she relaxes in her husband's arms. "Yep," Homer replies, "We've got something money can't buy: love on a train. And I promise each anniversary will be better and better."
The Present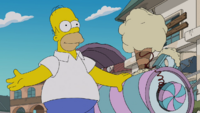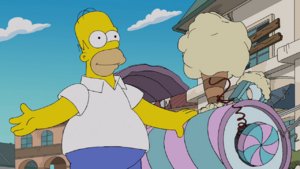 "But somehow our anniversaries didn't get better than that first one on the train," Homer says solemnly, as he walks through the now derelict Springfield Glenne mall with Bart and Lisa. However, Homer announces his plans to recreate his and Marge's magical first anniversary and ending it with a romantic ride on the L'il Lisa. Just then, Homer spots several workmen dismantling the train tracks and stripping apart the train, much to his horror. One of the workmen, Raphael, explains that no one rides the train anymore so it's being replaced with a medical marijuana stand. Homer decides to take the rusted L'il Lisa home with him and re-decorate it so it looks just as it did on his first anniversary with Marge.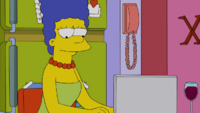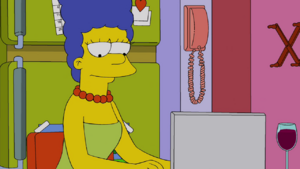 At the Simpson home, Marge is ordering Homer's anniversary gift online. Patty and Selma drop by for a visit and Marge explains that she has purchased a case of Homer's favorite snack cakes, Dolly Madisons. She turns the laptop screen round and shows her sisters the website. Selma explains that Marge is on the wrong website; she's actually on Sassy Madison, a site for married people looking for extramarital relationships. Marge is horrified when pages and pages of local men begin emailing her. Marge quickly types away, telling her sisters that she has a lot of men to let down gently.
Meanwhile, at Moe's, Reverend Lovejoy is reading a prayer from the "Jesus and Mary Train" book, before Homer, Barney, Lenny, Carl and Moe all get to work on fixing up the L'il Lisa train for the anniversary plan. Later, Marge finishes up emailing back all the men who contacted her on Sassy Madison. Homer returns home and, fearing Marge will learn of his plan and thus ruin the surprise, pretends that he has forgotten their anniversary is coming up. Marge is frustrated with Homer, so when she receives another email, from user Ashamed But Interested, she decides to continue the conversation. Just then, the telephone rings and Marge overhears a discussion between Homer and Moe about strippers. Little does she know, Moe and Homer were talking about the paint strippers they hired to help refurbish the L'il Lisa train. Now more angry than frustrated, Marge returns to her laptop and carries on replying to the emails, despite her better judgement.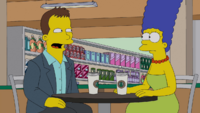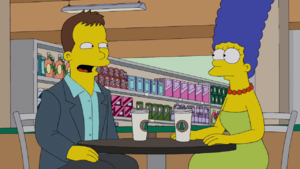 The next morning, Marge, overcome with guilt, attempts to come clean to Homer about her chat with user Ashamed But Interested. But Homer, fearing he'll accidentally give away information regarding their anniversary plans, quickly dashes off before Marge has the chance.
Later that day, Marge decides to go shopping at the store. While there, she receives a message on her myPhone from Ashamed But Interested, and, deciding to put an end to their "relationship", quickly replies back "Not interested." A message alert goes off elsewhere in the store and Marge frantically runs down the aisle looking for an exit. Suddenly, a man, Ben, appears from around the corner. Marge becomes panicked, until she realizes that, through brief small-talk, Ben isn't a creep but actually a normal guy. Watching the two flirt, Maggie suddenly squirts ketchup onto Ben's shirt and throws an apple at his head. Helen Lovejoy watches on suspiciously from behind a watermelon pile, and fearing people will talk, Marge takes Ben to the abandoned Lite 'N' Healthy section of the store to help clean his shirt. The two then decide to go for a coffee, where Marge makes it clear that she is a happily married woman and isn't looking to start an affair. Soon after, the pair get enthralled in a discussion over their favorite TV show, Upton Rectory and when Ben learns that Homer doesn't like the show, which means Marge will be watching the season finale alone, he invites her to live blog it with him. "Leave that sugar for your coffee bub," Marge quickly replies.
Back at the Simpson home, Homer continues his attempts to hide his plans from Marge. With Homer having left for Moe's, she turns on the TV and begins watching Upton Rectory, only to be interrupted by a pillow-fighting Bart and Lisa. Fed up, Marge retreats to her bedroom to continue watching. Ben rings and informs Marge that he can't watch the finale episode because his estranged wife is watching a reality show. Marge comes up with a plan: she webcams with Ben and turns the laptop towards the TV, so they can seemingly watch the episode together. Once the episode has ended, Ben suggests that he and Marge watch an episode together in the same room one day. Panicked, Marge slams down the laptop screen and hides the computer in her bedside drawer, along with a picture of Homer.
The Anniversary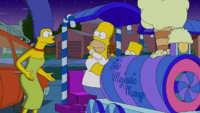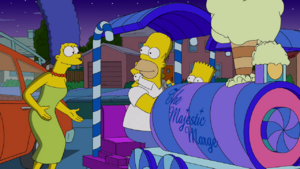 The next morning, Marge awakes to find Homer missing. Suddenly, Bart, Lisa and Maggie burst into the room exclaiming, "Happy Anniversary Mom!" and give her their gift - an empty box with cut-out holes which the tree stick their heads through, adding "Our gift is us, three kids with no money but plenty of love!" Homer emerges from the bathroom and lets out moans of pain. He complains of a bad back and asks Marge if she'll pick up a prescription for him from out of town. Disheartened and disappointed with how the day is going, Marge heads out. It turns out this was Homer's continued attempt to keep his plans secret from Marge, and now, with her out of the house, he is able to get to work on the final stage of his plan. Barney, Moe, Lovejoy, Lenny and Carl appear and begin laying down the L'il Lisa train track around the house.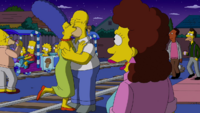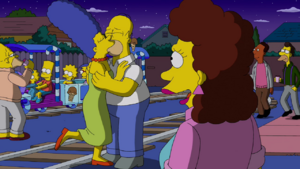 Meanwhile, Marge is driving home with Homer's prescription, but can't stop herself from thinking about Ben. She arrives and parks her car on the driveway, before stepping out with a plastered-on fake smile to cover up her unhappiness. All of a sudden, she hears the sound of a train horn and is blinded by headlights. The L'il Lisa train, now refurbished and renamed The Majestic Marge, appears from around the back of the house; Homer, Bart, Lisa and Maggie all yell out "Happy Anniversary!" Marge is moved by Homer's thoughtfulness and the two embrace. The train chugs along and passes through the back garden, where several Springfielders are waiting. They set off party poppers and celebrate.
"Where is she?" a voice roars, "Where the Hell is Marge Simpson?" Just then, Ben's wife, Ramona, appears, seemingly in a fit of rage. Ben follows behind and explains to Marge that he never thought his wife would confront her. Ramona explains to Homer that Ben and Marge have been watching British TV together and Homer grabs Ben by his collar, pulls back a fist and readies to throw a punch. Marge breaks them up and explains what the secret of marriage is: "No secrets...except good secrets, like this train." Homer puts aside his anger and him and Marge kiss and make up. Watching Homer and Marge express their love makes Ramona reminisce about her and Ben's previously happy marriage and the two reunite. With Ben and Ramona gone, Homer asks what was going on between Marge and Ben and she makes clear that she was trying to buy him snack cakes, which quickly wins Homer over and the two continue embracing.

Production
[
edit
]
Seth MacFarlane sings the song "The Way You Look Tonight". Jackie Mason was to sing one line in the episode but his line was cut from the final episode.[1]
Two couch gags were aired with this episode. One, which was broadcast in Canada only, was created by life-long Simpsons fan, Ray Savaya, after winning The Simpsons Couch Gag Contest. "I've never seen a Canadian couch gag before so I figured I might as well make it as Canadian as possible," Savaya decided. As well as having his idea animated, Savaya also got the chance to meet the cast of the show, Matt Groening, the staff writers and was awarded a signed script.[2] In America and the rest of the world, another couch sequence was shown, created by Cheryl Brown of Oakland, California, in which the Simpson family are dandelions.
Reception
[
edit
]
The episode was watched by an estimated total of 4.52 million viewers and received a 2.1 in the key demographic, ultimately beating two episodes of The Cleveland Show but losing to the Family Guy finale.[3]

Critically, "Dangers on a Train" received generally mixed reviews. The A.V Club gave the episode a C+ rating and concluded, "More standard 2013 Simpsons fare, with another trip to the bottomless well of stories about Marge feeling neglected."[4] TV Fanatic said the episode was "annoyingly repetitive" and summed up, "season 24 comes to close not with a bang, but a very long whimper." However, they did highly praise the Downton Abbey parody, which "perfectly captured the global preoccupation with the PBS show."[5] Meanwhile, BubbleBlabber.com gave the episode a very positive review. They complimented MacFarlane's guest-appearance and ultimately gave the episode a 9/10 rating.[6]
Fan opinion was positive. On The No Homers Club, many fans commented that the episode provided a solid end to the season and was "a pleasant surprise." Also, several reviewers noted the similarities between this episode and season one's "Life on the Fast Lane", but despite this, went on to name "Dangers on a Train" the "best episode of the season."[7]
"Dangers on a Train" was nominated for a 2013 Annie Award for Outstanding Achievement, Writing in an Animated TV/Broadcast Production. However, it lost to Futurama.[8]
Gallery
[
edit
]
International airdates
[
edit
]
References
[
edit
]