Treehouse of Horror XXIV
Wikisimpsons - The Simpsons Wiki
532
"Treehouse of Horror XXIV"
XXIV
"Treehouse of Horror XXIV"
"Wait a second... It's Halloween?"
"Treehouse of Horror XXIV" Title-card for the episode.
Episode Information

"Treehouse of Horror XXIV" is the second episode of season 25 of The Simpsons and the five-hundred and thirty-second episode overall. It is also the twenty-fourth installment in the Treehouse of Horror series and consists of three parts. It originally aired on October 6, 2013. The episode was written by Jeff Westbrook and directed by Rob Oliver.
Synopsis
[
edit
]
"In "Oh The Places You'll D'oh," the first of three spine-tingling stories, Homer rides around Springfield wreaking havoc as The Fat In The Hat in a rhyming Dr. Seuss-ian tale. In "Dead and Shoulders," Bart is beheaded during a kite accident, his head is attached to Lisa's body and they must live together as one. The final terrifying tale, "Freaks no Geeks," features Mr. Burns' traveling circus, The Burnsum and Bailey Circus, which has stopped in Springfieldland in the 1930s. Trapeze artist Marge and Strong Man Homer are performers and things go awry when circus freak Moe starts to make advances towards Marge." [1]
Oh, the Places You'll D'oh!
[
edit
]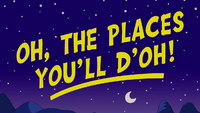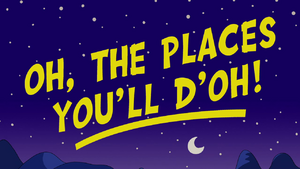 It's Halloween in a rhyming Dr. Seuss-ian Springfield and three young children (Bart, Lisa and Maggie) are home with the mumps, while the rest of the town is trick-or-treating. Their mother (Marge) heads-out to attend a costume party, leaving them home alone with the only candy to eat being one M&M each. The kids quickly become bored, until, suddenly, they hear a knock on the door - it's The Fat In The Hat, who, according to his business card, is "the expert at this and expert at that."

He promises to save Halloween and, after quickly administering anti-mump shots, tells the children to jump on his cycle and he'll take them trick-or-treating. After knocking Grampa, who threatens to fight, unconscious with his gadget-riddled umbrella, the Fat in the Hat and the children head out.

Once in town, the children become unnerved by the Fat in the Hat's anger issues and his highly unusual political views. He ends up robbing Apu, blowing up Mr. Burns' mansion, killing Moe, knocking out Patty and Selma, blowing up the Town Hall, setting free all the animals at the zoo, and leaving a pile of bodies in his trail.

The kids realize they must escape from their psychotic guide and so they hop on a three-humped gumbammel (Barney), then a Krumbull (Krusty) - which ultimately gets beheaded by Sideshow Bob - and then fly back home on the large Bee-Man of Bumble (Bumblebee Man). However, to their dismay, The Fat In The Hat is waiting inside. "I'm staying forever. You're all stuck with that. 'Cause I'm your new daddy, the Fat in the-", before he can finish, Maggie stabs him in the chest with his very own umbrella. "I'm afraid of nothing, not even hellfires. Just please, don't ever let me be played by Mike Myers.", the Fat in the Hat mutters before dying. The children craft the Fat's body into a rug and sit on him eating candy all night until their mother returns. The Fat in the Hat is shown (falsely) to appear in a sequel, entitled "The Fat in the Hat Pledges A Frat" after the segment.
Dead and Shoulders
[
edit
]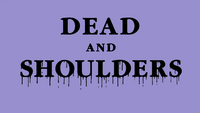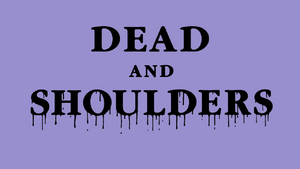 Bart has spent his day flying a kite near the Springfield Airport with Milhouse and with the sun setting, he decides to take a nap. With no-where to tie his kite, he wraps the string around his neck and dozes off. Channel 6's Arnie Pye's weather-report helicopter flies overhead and Bart's kite and the 'copter intertwine. Arnie panics and flies away - the force of which pulls the kite string tight, swiftly chopping Bart's head clean off his shoulders.

Bart awakens in a hospital bed and exclaims, "I'm alive. All patched up. End of story." Not actually, however, as Bart's decapitated head has since surgically been attached to Lisa's body by Dr. Hibbert, who reminds Lisa that she maintains full-control of her body, allowing her to do whatever she wants to Bart's head.

Bart struggles to adjust to life attached to his sister: she bores him by making him sit through her doll tea-parties, he is banned entry to Homer's man-cave because of its "No Girls" rule, and is presented to Lisa's class as a show-and-tell project.

They both attend therapy with Dr. Thurston. She encourages Bart to think of the positive aspects of being attached to Lisa and vice versa. This helps and the two develop a new-found appreciation for one another and brings them closer together.

That night, Bart discovers that, while she is asleep, he has control over Lisa's body. Bart then hatches a plan in order to make sure Lisa stays asleep, which sees him mixing Nappien pills with Lisa's yoghurt.

The following day, at a local saw mill, Bart straps him and Lisa (who is still asleep) down onto a piece of wood and waits until the saw cuts Lisa's head-off, leaving him still attached, and subsequently permanently in-control of her body. Both of them, however, ultimately end up beheaded.

Once again, Bart awakens in hospital, this time, however, attached to his Aunt Selma. While, Lisa is attached to Krusty.
Freaks no Geeks
[
edit
]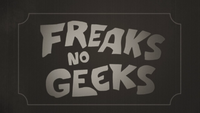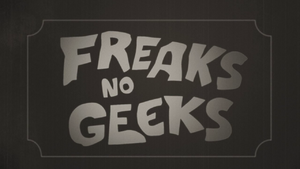 In 1930s Springfieldland, Mr. Burnsum's circus - "The Burnsum and Bailey Circus" - visits town. He presents the performers to the townsfolk: trapeze artist Marguerite (Marge), the Happy Harlequin (Krusty) and Strong-Man Homer. He then subsequently draws back a curtain and showcases the "freaks": the human donkey (Nelson), the Terrifying Call-back (a conjoined Selma and Bart from Dead and Shoulders), Kang and Kodos and "the most hideous creature of all", Moe.

Later that day, back-stage, Marguerite sticks up for the freaks and demands Mr. Burnsum show them some respect. Moe and the freaks approach Marguerite and thank her. She encourages them never to give up hope and gives Moe a gentle kiss on the cheek. Pinheads Lenny and Carl suggest he ask her out, despite her being engaged to Strong-Man Homer, and remind Moe of his emerald ring. Homer overhears the three talking and conceives a plan to rob Moe of his ring - he'll persuade Marguerite to marry Moe, then he'll murder Moe, then Marguerite will inherit the ring, then he'll marry Marguerite and the ring will finally be his.

In her trailer, Homer tells Marguerite of Moe's fast-approaching death and suggests she make his last day of life a happy one by marrying him. He wins her over and she agrees.

Moe and Marguerite are soon wed and when they return to their trailer, Homer sneaks in and slips poison into Moe's wine glass. Marguerite learns of Homer's plan to kill Moe to get his ring and demands he leave her trailer.

On his way back to his own trailer, Homer discovers Mr. Burnsum's body hanging from a tree after being murdered by the freaks. They emerge from the shadows with hammers and knives shouting "One of us! One of us!" They tar and feather him from the neck down, transforming him into the latest freak show presentation - "The World's Strongest Duck."
Production
[
edit
]
It was revealed at Comic-Con 2013 that the episode's couch gag would be directed by Guillermo del Toro and the extended titles would feature homages to horror flicks, including del Toro's own Hellboy and Pan's Labyrinth.[2]
Al Jean announced in an interview that the episode would include "a very violent world resembling Dr. Seuss', and also a parody of the cult movie Freaks."[3]
Reception
[
edit
]
The episode received 6.42 million viewers, making it the most watched show of the night beating American Dad!, Bob's Burgers and Family Guy.[4]
The episode received critical acclaim, with particular praise going to Guillermo del Toro's opening sequence. Den of Geek gave the episode a 4.5/5 star-rating and named the episode "nearly a classic."[5] The A.V Club gave the episode a B rating and noted the third segment as the best, before summing up "Tonight's "Treehouse," the 24th, hits more often than not. It's an above average installment, except for a big ace in the deck named Guillermo del Toro, who lends his imagination to the opening credits sequence and drags the episode up a half grade."[6]
Fan reaction was also positive. On NoHomers, the episode had a 4/5 fan poll rating, with many agreeing that the episode was the best Treehouse of Horror installment in years. Despite the second act, "Dead and Shoulders", being criticized as "lackluster" and "boring", the other two segments were lauded.[7] The episode currently holds a 7.1/10 rating on IMDb and a 6.9 rating on TV.com.[8][9]
The couch gag was nominated for a 2013 Annie Award for Outstanding Achievement for Storyboarding in an Animated Television/Broadcast Production, along with Guillermo del Toro, Guy Davis and Ralph Sosa, who all storyboarded it. However, it lost to Toy Story of Terror! The episode itself was nominated for an Annie Award in "Outstanding Achievement, Production Design in an Animated TV/Broadcast Production", along with Lynna Blankenship, Dima Malanitchev, Debbie Peterson, Charles Ragins and Jefferson R. Weekley but lost to The Legend of Korra.[10][11]
Animators Dima Malanitchev and Charles Ragins won a Primetime Emmy Award for Outstanding Individual Achievement in Animation in the 66th Primetime Creative Arts Emmy Awards for the episode.[12]
International premieres
[
edit
]
| Country | Date | Channel | Note |
| --- | --- | --- | --- |
| Latin America | May 4, 2014; 8:30PM (Argentina Time) | Fox Latin America | |
Gallery
[
edit
]
References
[
edit
]
External links
[
edit
]