The Falcon and the D'ohman
Wikisimpsons - The Simpsons Wiki
487
"The Falcon and the D'ohman"
"I am being held somewhere in the Springfield area. Turn the card."
"The Falcon and the D'ohman"
Episode Information

"The Falcon and the D'ohman" is the first episode of season 23 of The Simpsons and the four-hundred and eighty-seventh episode overall. It originally aired on September 25, 2011. The episode was written by Justin Hurwitz and directed by Matthew Nastuk. It guest stars Kiefer Sutherland as Wayne Slater, Tom Colicchio as himself and Kevin Michael Richardson as SendEx employee.
Synopsis
[
edit
]
"Homer discovers the Power Plant has a new security guard called Wayne. After a struggle, Homer eventually becomes friends with him, but discovers Wayne has a hidden past as a CIA agent. Also, the result of Nedna is revealed."
Comic Book Guy starts the episode by telling the viewers there will be hints in the episode as to the result of Nedna. After the opening sequence, Homer sings a song about arriving at work. He goes to greet his friend Larry, but discovers he has been replaced by a new employee, Wayne Slater. Homer requests a fist bump, but Wayne rejects. He then asks if he can have a beer with Wayne after work, however Wayne still rejects the offer.
Meanwhile at home, Marge is daydreaming about being on a TV show called Master Chef: Extreme Snack Edition. On the show, Marge is a contestant and Tom Colicchio judges her meal. He enjoys it, and says she has won the show. Back in reality, Marge gives Bart and Lisa snacks identical to the one she made on the show. The kids taste it, but they dislike it saying they like routine and not surprises. Homer comes and tells Marge about Wayne.
The next day, after work, Homer is driving home in the rain. He sees Wayne walking, and stops to ask if he would like a ride. The rain turns to hail and the road is closed, so Wayne gives in. Wayne says that he will have a beer with Homer, but otherwise they won't be friends.
In Moe's, Homer is still trying to befriend Wayne. While Wayne is in the bathroom, Snake breaks in on a motorcycle. Wayne comes back to the bar, he sees Snake attacks him, saving the barflies and Moe.
Afterwards, Wayne is having a meal at the Simpsons' house, due to Marge giving anyone who saves her husband's life a free meal. Wayne explains how he learned self-defense, and has a flashback to being in a room with various attackers, the last being a polar bear who strangles him. Disturbed by it, Wayne stands up to leave, but Homer quickly grabs him asking him to stay. He is grabbed and squashed in the same manner as the polar bear, causing Wayne to yell, then escape Homer's grip and run. Flanders then comes to the window.
Wayne opens the door to the power plant, finding himself covered in cameras. Kent Brockman walks up and gives a news report on Wayne about his act in the tavern the night before.
Mr. Burns then presents Wayne with a silver hat as a reward, and begins slowly placing it on Wayne's head, causing Wayne to have a flashback. In the flashback, Wayne attacks the two people holding him, then forces the hat on his boss. In reality, Lenny and Carl are the two holding him and Burns is the boss. When Burns recovers a minute later, he fires Wayne. As Wayne packs, Homer suggests that he stays at their house until he finds a job.
In the night, Wayne is sleeping in Bart's treehouse, but is having a flashback in his sleep. Several couples are shown being kept awake, including Ned and Edna (revealing the fate of Nedna). In the morning after, Wayne briefly discusses his past and why he chose Springfield.
Wayne shows Lisa an interrogation technique to use on Bart. Marge disapproves of it, but asks Wayne to teach her some driving tricks. Marge is shown at the Springfield Mall parking lot, driving over Helen Lovejoy's car and taking the spot that Manjula Nahasapeemapetilon had just left. At the school cafeteria, Dolph grabs Bart demanding his lunch money, but Bart attacks him and Kearney, and threatens to kill Jimbo making run away with mashed potato in his ears.
Later at home, Lisa is playing her saxophone. Wayne comes in and hears the song, causing a flashback to occur. In the flashback, a shooting starts and Wayne takes out his gun. Back in reality, Wayne is pointing his gun at Lisa. Again he becomes frustrated.
In Kiev, Ukraine, a wealthy man named Viktor is on his computer checking e-mails. He finds a video called "Crazy Man Attacks Boss", whose thumbnail shows Wayne attacking Mr. Burns. Viktor recognises Wayne and swears to kill him.
In Springfield, Homer washes his front lawn. Viktor drives up to ask if Homer knows Wayne. Homer states Wayne is gone and that he is not Wayne's friend. However, as the car drives off, Homer says that he is in fact a friend. Two men get out of the back seats and kidnap Homer.
In the Simpsons' house, Kent reports that they have received a video about the kidnapping. It shows Homer tied up, being told to read a script. The kidnappers get annoyed and start attacking him while a card covers the camera. Wayne enters the room at home and recognises the voice on TV. He has a flashback the same as when Lisa played her saxophone, but this time it is extended.
The flashback shows Viktor as one of the shooters. Viktor's wife enters the room and is shocked to see the scene. Wayne punches another man while this happens. The man drops his gun and, when it hits the ground, a bullet flies out. The bullet is shown travelling in slow motion towards Viktor's wife.
Wayne tells Marge he will find Homer, as Homer had eaten several highly-powerful tracking devices by mistake. In Little Ukraine, Wayne finds the building where Homer is being kept. Wayne breaks in, and sees Homer trapped under an ice rink with a tube to breathe. He is being skated around by several gangsters.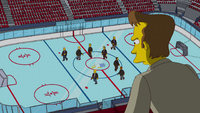 Inside a closet, Wayne loads a t-shirt gun with t-shirts and gasoline, and lights it with a blowtorch kept inside a compartment in his arm. He shoots the gang, and uses the burning corpses to melt the ice. Viktor comes up to them and grabs Wayne's gun, aiming two guns at Homer and Wayne. Homer distracts him with tickling, and Wayne throws ice into Viktor's chin.
Back at home, Wayne is packing up. Marge suggests boarding a train which never stops, but Wayne disapproves of the food. He fists bumps Homer before leaving, and talks to Maggie through rattle code. Wayne walks out of the house, but is stopped by Marge suggesting the DMV as a place to work.
The show is ended by Wayne remembering when he was forced to write a play for Kim Jong-il, and Nedna thanking the viewers.
Promotional images
[
edit
]