Bart's Not Dead
Wikisimpsons - The Simpsons Wiki
"Tell the people what you have witnesses, Bartholomew, and if they doubt you, viciously attack their character!"
Bart's Not Dead
Movie Information

Bart's Not Dead is a Christian biographical film produced about Bart's near-death experience.
History
[
edit
]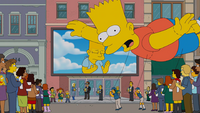 After Homer told Bart that he had to do a dare, Bart accepted a dare to jump off Dead Boy's Ledge. Bart did this and got injured as a result. In hospital, Bart lied to his family, telling them he had a near death experience and saw Heaven. Bart's story got written up and went around until three Christian movie producers, Luke, Mark and Matthew, offered to make his story into a movie. Homer and Bart agreed to this, with Bart pretending to speak to Jesus about it. Bart claimed Jesus told him that Ned Flanders had to help with the film.
Auditions for the film were held, with Emily Deschanel getting the role of Marge Simpson and Gal Gadot getting the role as Lisa Simpson. Barney Gumble also auditioned for the role of Noah, who wasn't in the film at the time. Lenny, Carl and Barney also helped with rewriting the script. Eventually, Bart started to have second thoughts about the lies and wanted to stop the film. The film them premiered at the Aztec Theater in Springfield. After the premiere, Bart finally told the truth to Marge. Lisa then told them that the movie was going to make $100 million. Homer and Bart then announced to everyone that the movie was a lie, which angered many fans.
One of the scenes from the movie had Bart in Heaven talking to Jesus. Jesus told Bart to tell everyone what he had witnessed, and if they doubted him, to viciously attack their character. Bart then woke up in the hospital, where Lisa told him to sing. The family then walked down the hallways singing "One More Chance". They then left the hospital where there was a huge crowd of people waiting for them. A giant Bart balloon is then walked by.
Cast and crew
[
edit
]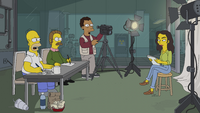 Other titles
[
edit
]
Appearances
[
edit
]