Laddie
Wikisimpsons - The Simpsons Wiki
Laddie
Animal Information

Laddie was a collie owned by Bart.
History
[
edit
]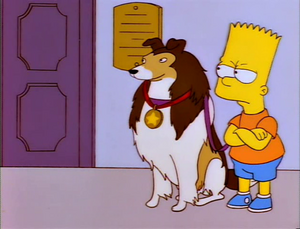 Bart ordered him from a catalogue using a credit card he obtained through forgery. He was designed to be the ultimate dog, able to use a flushing toilet and perform multiple household chores. His charm quickly won the hearts of the whole family. When Bart's credit card went unpaid, the repo man came to take the dog away. Bart lied and said that Santa's Little Helper was the dog he ordered. Santa's Little Helper was taken to the pound instead of Laddie. Eventually, Bart felt guilty because of that and then decided to give him away to the police force and try to recover Santa's Little Helper.[1]
He's one of the dogs to revolt in town.[2]
Talents
[
edit
]
As a welcome gift he gives new owners fruit as he was trained to do it. He is also a guide dog who helps blind men. He also was watering the lawn when the repo men came to get him.
Laddie is a reference to the character from the Lassie film Son of Lassie.
Appearances
[
edit
]
References
[
edit
]
Simpson family
Main family

Homer Simpson
•

Marge Simpson
•

Bart Simpson
•

Lisa Simpson
•

Maggie Simpson

Santa's Little Helper
•

Snowball II
Factfiles from Simpsons World the Ultimate Episode Guide: Seasons 1-20
Season 14
Rock Stars • Audrey McConnell, Third Grade Teacher • Dr. Velimirovic, Plastic Surgeon • Mitch Hartwell, the Reality Channel Producer • Junior (AKA Frank Grimes, Jr.) • Teacher of the Year Award Nominating Committee • Dexter Colt, Private Eye • The Mugger • Larry H. Lawyer, Jr. • Baby Stink-Breath • Booberella • Sara Sloane, Hollywood Movie Star • Cookie Kwan, Red Coat Realtor • Stark Richdale • Declan Desmond • Julio and Grady • Luke Stetson, Junior Wrangler • Suds McDuff, Spokesdog/Mascot for Duff Beer • Marriage Counselor • Jim Proudfoot • Don Castellaneta