Jack Lassen
Wikisimpsons - The Simpsons Wiki
Jack Lassen
Character Information
Gender:

Male ♂

Status:

Alive

Alias(es):
Ignis
Hair:
Brown
Occupation:
Prison guard (formerly school teacher)
Relatives:
Mother: Marion Lassen
Father: Julius Lassen
First appearance:
"Blazed and Confused"
Voiced by:
Willem Dafoe
Jack Lassen is a former school teacher and current prison guard at the Springfield Penitentiary.
Background
[
edit
]
According to Lassen's Wiccapedia article, he was born in Maine to Julius and Marion Lassen. His ancestors moved from Maine during the Civil War in the 1860s. His parents also named him after Jack Kennedy, who they mistook for his brother Bobby.
History
[
edit
]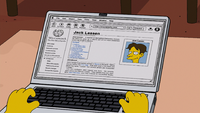 Lassen became a teacher at Springfield Elementary after his name was selected at random by Gary Chalmers at the annual Dance of the Lemons. He was later sent to Principal Skinner's office by Myra who told him he could not smoke before he ate the cigarette and burned the match on his eye. Skinner spoke to Lassen about his prior school experience, including at Shelbyville Prep. After Skinner mentioned Lassen entering the public school system, Lassen said that how he got this scar before cutting a large gash into his face with a pocket knife. Skinner ended the evaluation of Lassen when he discovered he was left-handed. Soon after, Lassen entered the fourth grade classroom and wrote his name on the blackboard.
Nelson made fun of Lassen's name which infuriated him. Lassen also poked fun at Nelson even mentioning his mother, which led Nelson to cry. As this happened Milhouse researched Lassen on Wiccapedia, telling Bart that he served two tours in middle school and also to abort his planned prank on Lassen. Bart refused to do this and began doing his prank on Lassen. After the prank failed, Lassen said that he had a prankster on his hands and decided to cut Bart's hair so it could "be of uniform length". The next day Bart (as El Barto) "defaced" the blackboard but it was "lucky" for him because Lassen could take a joke before punching the blackboard several times. The punches left a hole not only through the blackboard but the wall as well leading to Miss Hoover's second grade class where Lisa was doing a report. This led Lassen to have a word to Bart, stating he did not fool him. Lassen also made Bart touch a Van de Graaff generator, which he increased the power of, which electrocuted him.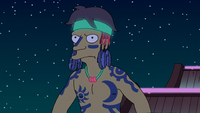 Bart and Milhouse then decided to plot a scheme to get back at Lassen. Bart hid a camera in the teachers' lounge where it was discovered Lassen had spoken to Miss Hoover and the two decided to continue their chat online. Bart made a fake Facelook profile pretending to be Hoover. After more research on Lassen was conducted, it was discovered he was the Ignis for the 2014 Blazing Guy. After managing to go to Blazing Guy, Bart and Milhouse used "fire retardent" on the "guy" so it would not burn. After the "guy" did not burn, Lassen was booed and stripped of his nudity. Lassen soon discovered what Bart and Milhouse did and he chased after Bart with David Silverman's flaming tuba but was stopped by Homer. Lassen was also trapped in a human prison by Blazing Guy attendees.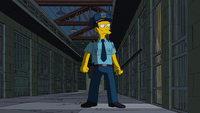 Back in Springfield, Lassen was fired by Chalmers and later became a prison guard at the Springfield Penitentiary where it was discovered that he and Sideshow Bob had a shared hatred for Bart. Lassen suggested the pair team up which intrigued Bob, who also asked who would "gut" Bart which Lassen assumed they'd take turns. After hearing this, Bob said "no deal."
Personality
[
edit
]
Lassen is cruel and nasty, and a bully. He likes to pick on everyone, and hates it when people get their own back on him. He appears to be mentally unstable, breaking things and hitting things when angered. He also scarred himself and burned a lit match on his eyeball, again proving that he's mentally unstable. However, he seems to be very passionate about his hobby, Blazing Guy. When Bart and Milhouse embarrassed him there, he snapped and tried to kill them.
Appearances
[
edit
]