Bart Star
Wikisimpsons - The Simpsons Wiki
"Bart Star"
Episode Information

"Bart Star" is the sixth episode of season 9 of The Simpsons and the one-hundred and eighty-fourth episode overall. It originally aired on November 9, 1997. The episode was written by Donick Cary and directed by Dominic Polcino. It guest stars Joe Namath as himself, Mike Judge as Hank Hill and Roy Firestone as himself.
Synopsis
[
edit
]
"Springfield's youth join a pee-wee football team. With Ned Flanders at the helm and Nelson at quarterback the team is undefeated until Homer strong arms himself into Ned's job and puts all his faith in under qualified Bart as his quarterback."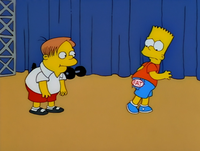 The Simpson family and many residents of Springfield go to a health fair, where there are several stalls. At one, Homer is told by Dr. Hibbert that he has high levels of cholesterol (and gravy), another, where Grampa, Jasper and the Old Jewish man are wearing headphones to try and hear the tone Maude is turning up, so far that the people near the stall have to cover their ears. Marge has a stall about first aid that gains laughter from the crowd, and another where Rainier Wolfcastle is testing the children to see whether they are "Fit or Fat?" Üter is unable to press up, but tries to get out of it by telling Rainier that he loves his McBain movies. Milhouse is tested to see how much fat he has, but since he cannot hold his breath for so long, lets all his fat go. A "Fat" label is slapped onto his bare stomach. Martin and Bart are trying to touch their toes. While doing so, Bart rips his pants, when Martin exclaims that he has the same pants as him. Bart is also labeled "Fat".
Kent Brockman reports on the news how young children are in terrible shape, with a clip of Bart ripping his underpants to go along with it, while Bart and Homer snack on pop tarts. Kent then reports how sports can whip the children into shape, and gives types of sports, including pee-wee football. Homer points out to Bart that pee-wee football will help him get into shape, but Bart fights back by saying that he could get hurt. A discussion about pee-wee football is also going on in the Flanders house, with Ned saying that sports will help Rod and Todd keep away from temptation, with cheers from the two boys. Another discussion is also going on with Milhouse and his mom, with Milhouse saying that he could just have the surgery.
At Sportacus, Marge asks the cashier about protection for Bart's crotch. The cashier then brings up various things onto the counter for a certain part of the body, when Marge exclaims she wants a cup. The cashier then asks Marge to spell "C-U-P", but Marge gets the protection she needs. Bart tries his uniform on, which prompts Bart to ask Milhouse to try and hurt him in that part. He kicks the part a few times, with Bart showing no emotion whatsoever, before Marge shouts to stop that.
On the field, children are trying out for the quarterback. Many don't fit the part, including Ralph who brings a basketball. Nelson is then chosen to be the team's quarterback. Bart is given his part to tackle, before Lisa tries to make a stand, stating that girls can play too. Ned as the coach, points out that there is already four girls on the team. She then argues about the meat-covering of the football, before running off in tears. At the game, the Springfield Wildcats are playing against the Ogdenville Wildcats. While Ned coaches the team into high spirits, Homer keeps yelling at how Ned is the worst coach there has ever been. Marge then points out that Homer's remark is pointless, because the season hasn't begun yet, and there wasn't any coach before Ned, due to the teams recent creation.
Nelson plays excellent in the game, bullying his way into getting the ball, using Bart as a cover to knocking over the other teams members, and winning the team 20 points to Ogdenville's 7 points. The team carry Ned off, while Homer mutters to himself how Homer has been carried out of Moe's like that hundreds of times. Homer is going on and on to Roy Firestone how Ned is a terrible coach over the phone on his show. Roy interrupts him and asks if he actually has a question for Roy's guest, Sandy Koufax. He then proceeds to ask Sandy if he thinks Ned is a big jerk. He rings the show again, before being cut off.
At the next game, once again, Nelson wins the team the game. During cheering, Homer teases Ned by shouting "Flanders! Flanders!" continuously. Ned then loses his temper, and tries to calm himself. But Homer makes Ned to get rage breaking point by throwing a full can of Duff Beer at him. Ned then goes up to Homer, with Homer struggling his way through Ned' questions, until Homer states that half a brain could coach better than Ned. Ned gives up and announces Homer as the new team coach. In the morning after the game, Lisa walks out of her room half-asleep, only to fall down the stairs, being stopped along the way by tyres laid there by Homer. Homer then walks in, saying that Lisa won't make the team with that attitude. Lisa then says that she doesn't want to make the team, with Homer asking Lisa why she ran the obstacle course then.
After telling Bart to run 20 laps around the backyard, Marge reminds Homer about when his dad was never proud of his sport - gymnastics. Homer flashbacks to when he was putting on a show, impressing Marge before his dad shouted abusively at him, distracting him, making him fall onto the ground. Homer then shouts to Bart that he can stop running, before chasing him around the backyard for a hug. At a team practise, Homer cuts a few members of the team, including Martin and Wendell. Homer then proceeds to say that Bart, being the coach's son, will get no special treatment, and he will replace Nelson as the quarterback, much to the team's dismay. Bart argues that Nelson is the quarterback who carries the team, but Homer says that Bart will be the quarterback from now on. Homer then tells the team to run five laps then hit the showers.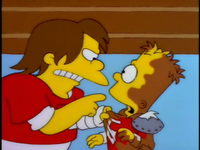 In the car during the drive home, Bart argues how he doesn't know how to be a quarterback. Homer says that he has full faith in Bart, and then says "How about that hug?". He then proceeds to hug Bart. Bart shouts "Dad! The car!", but Lisa has already got control of the wheel. At the game, Ned wishes Homer good luck. Bart plays terrible in the game, panicking when the other team corners him, and forgetting to throw the ball to his team-mates. The opposition wins 59-0. Homer tells Bart he has a great debut, and presents Bart with the game ball. Homer tells the team to congratulate Bart, but everyone instead heckles Bart, with Nelson threatening that if he doesn't win the next game, he's dead, before proceeding to throw him in the mud.
In the evening, Bart is aiming footballs to go through the hole in the tree swing, before one hits him back in the face. Joe Namath then walks through the gate, having broken down in his car outside the house. Namath then agrees to give Bart advice, before his wife has fixed the car and the problem was the vaporlock. Namath walks off, and Bart tells himself to concentrate. He thinks about what Namath and his wife said, before saying to himself, "I'm gone". In her bedroom, Lisa is listening to what Bart is saying - that if he plays, the team-mates will destroy him, and if he doesn't, he will be letting Homer down. Lisa then tells Bart the solution - lying to Homer.
At the next game, Bart turns up with casts all over his body, and a crutch. Bart tells Homer he won't be able to play, much to the team's delight. Homer then asks Nelson how his arm is, and then tells him to take a note over to the referee, saying "We Forfeit". The team groan, with Homer saying that they can't play without Bart - the heart of the team. Bart then says that he sucks, before everyone else agrees with him. Homer tells Bart not to listen to the team, and that he has total faith in him. Bart then takes off his casts, and shouts at Homer that he doesn't get that he doesn't want to play quarterback, and that he quits the team. Homer then shouts to Bart that he can't quit, because he's cut, along with Milhouse, much to his delight.
At dinner, there is tension between Homer and Bart. Marge decides to speak up, before Lisa exclaiming back, and Marge making conversation. Bart asks to be excused, with Homer exclaiming that he now wants to quit dinner too, with Marge telling Homer to stop going on and on about what happened. Homer then tells Marge that he didn't grow Bart up to be a quitter, she did, by quitting every job she ever had, with Marge saying that Bart is doing what he thinks is best. Homer then decides sarcastically that quitting is the best, and rings up Mr. Burns to quit his job. Marge points out that Burns cannot see him winking.
Nelson wins the next game, with Springfield winning 28-3. Homer then hugs Nelson saying that the team's in the championship, which gives Nelson the chance to pickpocket Homer and throw his wallet away. Nelson's father then rides by on his motorbike and tells Nelson to hop on. When Nelson goes, Homer says "Well, Bart it's just you and...", before realizing that Bart quit the team. He then throws the winning juice over himself. At the Kwik-E-Mart, Bart is busy playing an arcade game. Homer then enters, telling Apu that he feels lonely. Homer then asks for Skittlebrau, but Apu points out that it does not exist. Apu serves him a six-pack of beer and Skittles, so Homer can make his own Skittlebrau, and walks over to Bart and apologizes, telling him that he was too busy trying to encourage him without watching his bad performance. Homer asks Bart to forgive him, so Homer will never encourage him again. Bart ignores him, but decides to let the game go to the "Game Over" screen when Homer tells him that he has lots of quarters. Bart says that the game only takes dollar bills, and the two hug.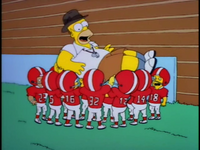 Bart is back to his former position, tackle, at the championship game. Nelson is took down and the score is tied between Springfield and Capital City. Marge asks Grampa whether he's proud of his son coaching in the championship game, but Grampa falls asleep. During a quick team meeting, Chief Wiggum drives onto the pitch in his police car, and shouts through the loudspeaker that Nelson Muntz is going to be arrested. Homer panics, because if Nelson is arrested, Springfield will lose. Bart then saves the day by telling Wiggum that he's Nelson, and while Bart gets taken away in the police car, Nelson wins the championship, by making through the other team, and running a few yards to touchdown. With an uproar from the crowd, Homer is unsuccessfully carried off by the team.
In the police car, Bart asked what the charge is, and lists suggestions including vandalism. Wiggum tells Bart that he knows that the charge is burglary and arson, and that he is going away for a long time. Joe Namath ends the show by talking about poor Bart, vaporlock (the 3rd most cause of cars stalling), and then says goodnight.
| | |
| --- | --- |
| | Wikisimpsons has a collection of images related to "Bart Star". |