Hugo Simpson
Wikisimpsons - The Simpsons Wiki
For the Simpson family relative, see Hugo Simpson I.
| | |
| --- | --- |
| | The contents of this article or section are considered to be non-canon and therefore may not have actually happened or existed. |
"I went mad after they tore us apart, but I'll be sane ... once I sew us back together."
―Hugo Simpson to Bart

Hugo Simpson II is Bart's conjoined twin. Shortly after their birth, they were separated by Dr. Hibbert.
History
[
edit
]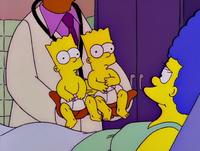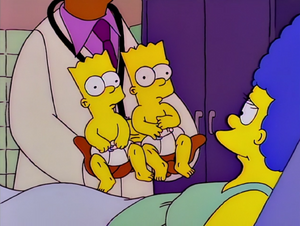 Hugo and Bart were conjoined twins, born with a band of skin connecting them side-to-side. Dr. Hibbert conducted a "soul smear" test which revealed the presence of pure evil in the left twin. He then separated the twins with a paper cutter and sent Bart home to live with the family. Hugo, however, as the "evil twin", was consigned to living in the attic of the Simpson home and once a week was given a bucket of fish heads to eat. Marge and Homer would make mysterious references to these feeding times, with Marge saying things like "Isn't it about time for the ... you know?" and Homer replying, "Yeah, yeah, I'll go feed it" and carrying the bucket of fish heads to the attic. Bart, Lisa, and Maggie discovered Hugo after they heard strange sounds coming from the attic and after Homer spilled the beans about there being four Simpson children. Their curiosity piqued, the kids went exploring in the attic and found Hugo.
Hugo said that he had been doing experimental surgery to practice for eventually reattaching himself to Bart, creating a "Pigeon-Rat" in the process. His plan nearly succeeded when he pretended to escape from the house and everyone but Bart went looking for him. Hugo tied Bart up and was about to sew them back together when Dr. Hibbert stopped him, distracting him with a picture frame and then knocking him out with one punch.
Shortly after that, the family learned that Bart was actually the evil twin. Dr. Hibbert's "soul smear" had indicated the left twin was the evil one, but while Hugo was unconscious, Hibbert noticed that he had a scar on his left side from being separated, while Bart's scar was on his right side—which indicated that Bart, not Hugo, had been the evil left twin all along. Hibbert chalked the error up to carelessness on his part, but figured there was a way to set everything right.
Hibbert's solution was to have the twins switch places. At the next dinner time, Bart was in the attic with fish heads to eat, while Hugo was eating a turkey dinner with the family, committing table manners faux pas such as devouring a drumstick in seconds and eating his napkin.
Video games
[
edit
]
The Simpsons: Hit & Run
[
edit
]
In the video game "The Simpsons: Hit & Run", Hugo is one of the character costumes for Bart.
The Simpsons: Tapped Out
[
edit
]
This section is transcluded from The Simpsons: Tapped Out characters/Treehouse of Horror XXV. To edit it, please edit the transcluded page.

Permanent Tasks
| Task | Time | Reward | Requires | Quest with the task | Animated? |
| --- | --- | --- | --- | --- | --- |
| Sneak an Ice Cream | 30m | 60, 15 | Ice Cream Truck | | |
| Practice Stitching Things Together | 60m | 105, 26 | Simpson House | | |
| Go on a Field Trip | 60m | 105, 26 | Cypress Creek Elementary | | |
| Catch a Movie | 2h | 175, 40 | Big T Theatre | | |
| Eat Fish Heads | 4h | 260, 70 | | The Good Son Pt. 1 | |
| Larp as Commoners | 4h | 260, 70 | Serfsons House | | |
| Learn by Fun | 4h | 260, 70 | Childrarium | | |
| Put Coins on the Rails | 4h | 260, 70 | Springfield Union Station | | |
| Get Fit and Educated | 4h | 260, 70 | Springfield Gymdandee | | |
| Split a Fancy Mac and Cheese | 4h | 260, 70 | Le Petite Appétit | | |
| Play With Interactive Exhibits | 4h | 260, 70 | KidZone Elite | | |
| Attend Parenting Seminars | 4h | 260, 70 | Universal Panacea | | |
| Clean his Room | 8h | 420, 105 | Simpson House | The Good Son Pt. 4 | |
| Attend Wizarding School | 8h | 420, 105 | Magic Academy | | |
| Get Brainfreeze | 8h | 420, 105 | Pinkbeardy Yogurt | | |
| Get Caught in Webs | 8h | 420, 105 | Big Bug House | | |
| Walk the Pigeon Rat | 12h | 600, 150 | | The Good Son Pt. 3 | |
| Nap at the Spooky House | 16h | 750, 200 | Spooky House | | |
| Sleep in Simpson Attic | 24h | 1,000, 225 | Simpson House | The Good Son Pt. 2 | |
Appearances
[
edit
]
| | |
| --- | --- |
| | Wikisimpsons has a collection of images related to Hugo Simpson. |
Simpson family
Main family

Homer Simpson
•

Marge Simpson
•

Bart Simpson
•

Lisa Simpson
•

Maggie Simpson

Santa's Little Helper
•

Snowball II