Fat Tony
Wikisimpsons - The Simpsons Wiki
"I don't get mad, I get stabby."
―Fat Tony
Marion Anthony D'Amico
Character Information
Marion Anthony "Tony" D'Amico, also known as William Williams[2][3] or, more commonly, "Fat Tony", is the Capo of the Springfield Mafia. He has been behind several of Springfield's criminal enterprises. His rackets include illegal gambling, cigarette smuggling, and bootlegging. He has also been seen bribing and making secret deals with Mayor Quimby.
Fat Tony has a son named Michael, who he drives to school. He is a widower and refers to his wife's death as; "She was whacked, by natural causes." Fat Tony and his associates meet in what is known as the Legitimate Businessman's Social Club.
Biography
[
edit
]
An Italian-American mobster in his early forties, "Fat Tony" is the head of the D'Amico Crime Family, the prime family in the Springfield Mafia. His fellow mobsters include Joey, Legs and Louie, and occasionally Johnny Tightlips. Tony's schemes have ranged from supplying rat's milk to the school cafeteria to dabbling in the illegal fireworks racket. His gang also attempts to monopolize various legitimate business. Fat Tony is also a very competent violinist. Fat Tony lives in his mansion, which strongly resembles that of Tony Montana from the movie Scarface, in the upscale residential area of "Springfield Heights", which is also resided by the Jewish entertainer Krusty The Clown and actor Troy McClure. D'Amico has owned several cars such as a black Lincoln Navigator, white Dodge Caravan and an Isotta Fraschini Tipo 8B.
"Business" dealings
[
edit
]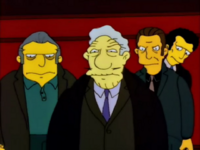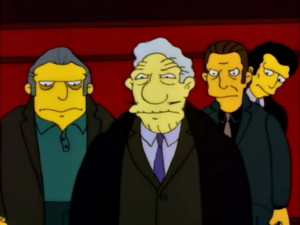 Fat Tony has been behind most, if not all of, Springfield's criminal enterprises. He and his associates meet in what is known as the "Legitimate Businessmen's Social Club." Tony's rackets include the usual organized crime activities such as illegal gambling,[4] cigarette trafficking, and rum running, but he will sometimes branch out into more unusual activities.
Homer once entered a deal with the Springfield Mafia to help Marge's pretzel franchise by driving out rival snack food distributors. Fat Tony demanded 100% of the profits from the business in exchange, only to be stopped by the local Yakuza (brought in by Marge's rivals). The two gangs then started a mob war (which continued off-screen), with Fat Tony and his gangsters displaying very impressive fighting skills, rather than just pulling out their guns as usual.[5] Krusty the Clown pays the Mafia to keep McDonald's and Burger King out of Springfield, so that Krusty Burger can have a monopoly.
He made a product called Squeaky Farms Brand Genuine Animal Milk.
Much of Springfield's municipal government is involved with the Mafia. Chief Wiggum has been seen taking bribes from Fat Tony (although at the same time Chief Wiggum also tries to hunt him down even going as far as to compare Tony as being a cancer to Springfield, and tries to compare himself to the cure for cancer), and Mayor Quimby is more often than not in on the bribing procedures. Once, Fat Tony bribed Mayor Quimby to allow him to deliver counterfeit milk to the schools, and left Quimby under the impression that he intended to use dog's milk or higher. After his bodyguard, Homer Simpson, stumbled upon the milking facility and blurted out that they're actually milking rats, Quimby was outraged. In retaliation for a raid on their rat milk facility, Fat Tony attempted to take out a hit on Mayor Quimby. Tony once put out a contract on Homer after his private security business interfered with the mob's interests. Homer would have been executed gangland-style if not for Maggie coming to the rescue with her rifle.[6] Marge usually has a more peaceful relationship with Fat Tony, even driving his son Michael home from school. She mentions that the Mafia frequently congregates outside her house, and that she often brings them lemonade.[7]
Other ventures
[
edit
]
He hands over the Mafia to his accountant, Dan Gillick because he was on jury duty. Tony tried to guide him, although he rushed through it to get to the window seat before the lady that normally gets it. After Gillick fled, Tony resumed control of the mob, but to curb expenses had to limit the entire Springfield Mafia to just one gun, which he kept.[8]
He may have been hired by Homer Simpson to get back loaned money from Bart Simpson.[9]
He later kidnapped Homer and Bart in a scheme involving the creation of a champion race horse.[10] Fat Tony was unaware that his chosen father was homosexual, and wouldn't mate with the female racehorse. Homer and Bart led the female horse to mate with a different horse, and Fat Tony was none the wiser.
Fat Tony is a widower; he had a wife who was "whacked by natural causes." Tony has a son named Michael, whom he planned to have follow in his footsteps as the leader of the Springfield Mob.[11]
He was once briefly married to Selma Bouvier after they met each other at the DMV. Selma thought that Tony was cheating on her, and called him out on it, but it later turned out that she was the goomar and not the wife.[12]
Non-canon
[
edit
]
| | |
| --- | --- |
| | The contents of this article or section are considered to be non-canon and therefore may not have actually happened or existed. |
The Simpsons Hit & Run
[
edit
]
Although Fat Tony himself does not appear in The Simpsons: Hit & Run, the Legitimate Businessman's Social Club appears along with Louie. It is also shown that Tony owns a business called Fat Tony's Construction, for which a cement mixer can be seen.
After he found out that his new "family member" Nicky was a spy, he suffered a heart attack and died. His cousin Fit Tony, who later became known as Fat Tony, took over from him.[13]
The Simpsons: Tapped Out
[
edit
]
This section is transcluded from The Simpsons: Tapped Out characters/Wise Guys. To edit it, please edit the transcluded page.

Permanent Tasks
Task
Time
Reward
Requires
Quest with the task
Animated?
Go Skating
10m
17, 5
Simpsons' Skating Rink
Take a Legitimate Business Meeting
30m
40, 10
Businessman's Social Club
Running With The Bullies Pt. 15
Play the Violin
60m
70, 17
The Cleaner Pt. 3
Fix Races
2h
110, 27
Springfield Downs
Casino Racino
Springfield Confidential Pt. 2
Spy on Kids
4h
260, 70
Giant Ferris Wheel
Drink and Babysit
4h
175, 45
The Boiled Potato
Enjoy a Night Without Kids
4h
175, 45
Resort Hotel
Try to Win at Blackjack
4h
175, 45
$ Casino
Stay at the Swelldorado
4h
260, 70
Swelldorado
Overpay for Sex on the Beach
4h
260, 70
Smooches on the Beach
Pilfer Shoplifting Section
4h
260, 70
Fortune Megastore
Have a Dinner Special at Luigi's
4h
175, 45
Luigi's
The Italian Job
Running With The Bullies Pt. 10
Hang at the Ha-Ha Spa
4h
260, 70
Klub Krusty Adult Retreat
Attend Parenting Seminars
4h
260, 70
Universal Panacea
Go Fancy Shopping
4h
175, 45
Carnaby Street
Meet with Old Acquaintances
6h
225, 55
Fat Tony's Compound
Dance the Señor Burns
8h
420, 105
Chez Guevara
Collect Construction Kickbacks
8h
275, 70
Town Hall
Springfield Confidential Pt. 3
Relax in the Hot Tub
10h
525, 135
Hot Tub
Get Rid of a Problem
12h
420, 100
Purple House
The Cleaner Pt. 2
Springfield Confidential Pt. 1
Run Smuggling Operation
16h
500, 125
Burns State Prison
Run Organized Crime from Prison
24h
600, 150
Springfield Penitentiary
Puff Justice
Springfield Confidential Pt. 6
Behind the Laughter
[
edit
]
Originally, Tony was going to be voiced by Hank Azaria. However, since Fat Tony wasn't a very good drawing, Matt Groening decided to make a Special Guest Voice do him. Groening chose Joe Mantegna. In one DVD commentary it is stated that Mr. Mantegna is so enamored with the character that he has forbidden to allow anyone else to voice Fat Tony; he even voiced him when the script only called for a couple of grunts ("Sex, Pies and Idiot Scrapes"). However, this didn't stop Phil Hartman filling in for him on one occasion ("A Fish Called Selma").
Inspiration
[
edit
]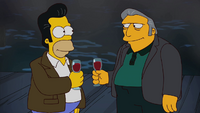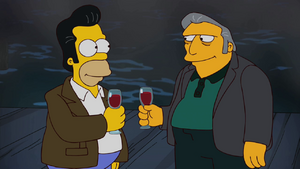 Fat Tony is a pastiche of Mafia characters from movies and dramas, especially the Godfather franchise (and in later seasons The Sopranos). His nickname may be a reference to "Black Tony", the Don of the fictional Stracci family in The Godfather. After 1999, Fat Tony is clearly based on Tony Soprano of The Sopranos. In several episodes, The Sopranos intro theme ("Woke Up This Morning" by Alabama 3) is played in scenes with Fat Tony. Another viable possibility of inspiration is Anthony "Fat Tony" Salerno, a New York mobster who passed away in a Springfield, Missouri hospital.
"Moe Baby Blues" featured several interesting references relating to Fat Tony. To entertain his subordinates, Fat Tony puts an orange slice in his mouth in imitation of Don Corleone from The Godfather. Minutes later, Fat Tony responds to an emotional scene by saying "I haven't cried this much since I paid to see Godfather III (in which Mantegna played the character Joey Zasa, one of the inspirations for Fat Tony). His son's name is a reference to Michael Corleone.
On several occasions, Fat Tony has said something that begins as ominous gang language, only to be proven innocent; one example is "We are going for a ride... By which I mean the carpool" and "Now who's ready to sleep with da fishes?... Because I brought this Finding Nemo comforter!" This also led to some confusion among his fellow mafia members, such as the time when Troy McClure was involved in a scandal involving a sexual attraction to fishes, and he told his fellow gang members that he was "sleeping with the fishes", causing them to misinterpret the meaning to Troy having died when he was actually meaning that McClure was literally sleeping with the fishes. His house also strongly resembles that of Tony Montana in the movie Scarface.
Fat Tony also bears similarities to notorious mobster Al Capone.
Foreign dubs
[
edit
]
Fat Tony being a competent violinist is a reference to the Thompson sub-machine gun (Tommy) which was the mafia's weapon of choice and was nicknamed the "Chicago Violin".
Appearances
[
edit
]
This article or section is incomplete.


Please improve the article, or discuss the issue on the talk page.

References
[
edit
]
| | |
| --- | --- |
| | Wikisimpsons has a collection of images related to Fat Tony. |
This article is covered by multiple navigation templates. Click "show" to view.
Factfiles from Simpsons World the Ultimate Episode Guide: Seasons 1-20
Season 14
Rock Stars • Audrey McConnell, Third Grade Teacher • Dr. Velimirovic, Plastic Surgeon • Mitch Hartwell, the Reality Channel Producer • Junior (AKA Frank Grimes, Jr.) • Teacher of the Year Award Nominating Committee • Dexter Colt, Private Eye • The Mugger • Larry H. Lawyer, Jr. • Baby Stink-Breath • Booberella • Sara Sloane, Hollywood Movie Star • Cookie Kwan, Red Coat Realtor • Stark Richdale • Declan Desmond • Julio and Grady • Luke Stetson, Junior Wrangler • Suds McDuff, Spokesdog/Mascot for Duff Beer • Marriage Counselor • Jim Proudfoot • Don Castellaneta