KJAZZ
Wikisimpsons - The Simpsons Wiki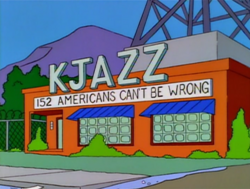 KJAZZ is a jazz radio station on the FM broadcast band. Their range is 23 feet which makes them the most powerful jazz station in the US.
History
[
edit
]
Lisa once visited the studio when she wanted them to play music by Bleeding Gums Murphy, as a tribute to him, but they did not have any of his albums. When Lisa got the album, Sax on the Beach, she gave it to the radio station and they played it. After she left the studio she tried to listen to the song on the radio but she was outside of the stations range. Bleeding Gums Murphy, appearing to Lisa in the clouds, then caused a lightning bolt to strike the studios communications tower. This caused the station to broadcast the music over every frequency band so that everyone in Springfield who was listening to a radio was able to hear Murphy's music.
One of the radio shows is called Moleman in the Morning.
Non-canon
[
edit
]
| | |
| --- | --- |
| | The contents of this article or section are considered to be non-canon and therefore may not have actually happened or existed. |
The Simpsons: Tapped Out
[
edit
]
This section is transcluded from The Simpsons: Tapped Out buildings/Media buildings. To edit it, please edit the transcluded page.

KJAZZ
Image
Cost
Build time
Reward
Sell price
Conformity increase
Availability
Unique?
Dimensions -

D

x

W

150
6s
150
Skinny Palmer (25)
Socialism +20
All This Jazz and Springfield's Got Talent?
Premium
6 x 8
1
Blargsgiving, Northward Bound and The Atom Smasher
Gold Mystery Box
Task
Time
Reward
/h
/h
Begging for Listener Donations
4h
135, 15
33.75
3.75
Appearances
[
edit
]