Lisa Goes Gaga
Wikisimpsons - The Simpsons Wiki
"Someone in Springfield needs my help. Light up the after-bras!"
"Lisa Goes Gaga" Lady Gaga tries to cheer up a depressed Lisa.
Episode Information

"Lisa Goes Gaga" is the twenty-second and finale episode of season 23 of The Simpsons and the five-hundred and eighth episode overall. It originally aired on May 20, 2012. The episode was written by Tim Long and directed by Matthew Schofield. It guest stars Lady Gaga as herself and Kevin Michael Richardson as Lady Gaga Express conductor.
Synopsis
[
edit
]
"Lisa tries to reverse her status as one of the least popular girls in school by ghostwriting positive things about herself on the school blog. When her plan backfires, her social ranking plummets to a new low – until a psychic force tells Lady Gaga that Lisa needs her help. With Gaga's assistance, Lisa and the entire town of Springfield realize that being yourself is better than being like anyone else."
The Lady Gaga Express passes through Springfield and Lady Gaga decides to stop and visit the town after she learns that it has the lowest self-esteem of any place on the planet. Meanwhile, at Springfield Elementary, the Student Choice Awards are taking place. Lisa wins the award for Least Popular Student and falls into a state of depression. At dinner that evening, Milhouse shows Lisa the school's online message board, where there are several posts written about her by a user named "Truth Teller". The posts are all positive, to Lisa's surprise. The next day, Lisa is excited to learn that her fellow classmates now wish to befriend her after reading the message board...until Bart uncovers a notepad from Lisa's backpack full of Truth Teller's messages. Putting two-and-two together, Bart figures out that Lisa is Truth Teller and was ghostwriting the messages herself, in an attempt to reverse her status as the school's least popular student. Lisa's classmates overhear Bart and begin chanting "Lie Smeller" and she runs off in tears. On the Lady Gaga Express, a psychic force alerts Gaga to Lisa's situation and she makes it her mission to try and help.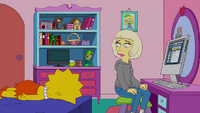 Lady Gaga arrives in Springfield and is greeted by its inhabitants. At the Simpson home, Homer and Marge are trying their best to cheer up Lisa, with little success. Homer spots a news report on the TV about Gaga's arrival and makes plans to go and see her and invites Lisa along. Lisa reluctantly agrees and the family goes to watch Gaga perform. During the concert, Gaga receives another psychic alert and spots Lisa in the crowd. Gaga disappears from the stage and appears next to Lisa "incognito" and subsequently the two agree to head back to the Simpson home to talk. In Lisa's bedroom, Gaga reads the school's message board and all the negative comments that have been written since, as Lisa cries on her bed. Gaga tries to teach Lisa that being your own #1 fan is the best way to live and that being yourself is better than being like anyone else. Lisa remains upset and Gaga vows not to leave until she has restored Lisa's sense of hope.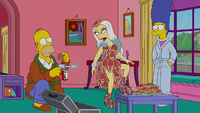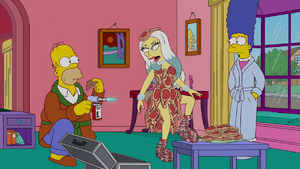 Later that evening, Gaga is conversing at the kitchen table over milk and cookies with Marge about what to do with Lisa. Marge admits that she has no idea how to help her daughter and breaks down into tears. Gaga attempts to comfort her by holding her hand but Marge pulls away. Marge explains that hand-holding won't cheer her up, just as Gaga grabs her and the two make-out. Marge calls out for Homer and the two have sex, with Homer adding, "Wow, this is like the night Hilary won the New Hampshire primary!" The next morning, Marge and Gaga discover that Lisa snuck out the previous night and hasn't returned home. Lisa goes to school, where she continues to be made fun of by her peers. Gaga makes an appearance and tells Lisa that "this pity party is being shut down by the smile police!" Lisa erupts into a fit of anger and tells Gaga that she doesn't want her help, resulting in Gaga running away, leaving only a trail of tiny diamond tears behind.
Lisa is hiding up in Bart's treehouse and Homer calls for her to come down to talk. After Homer's unrelated ramblings about dieting and sudden death, Lisa comes around and realizes how ungrateful she has been. She kisses her father on the cheek and runs off, adding "I've got a train to catch." At the Springfield train-station, Gaga is bidding farewell to her fans, just as the Gaga Express is about to pull away. The train begins to move and Lisa emerges from the crowd and quickly jumps on board. Lisa thanks Gaga and explains that she helped her by allowing her to inappropriately focus 8 years of rage and rejection on her. Lisa then begins reciting all the things she feels good about herself to Gaga, who then tells her that there's only one more thing she needs to do in order to become a "Little Monster" - sing. Gaga and Lisa perform a self-acceptance song to a crowd of Springfieldians. Suddenly, Moe appears and asks if Gaga will help him with his self-esteem issues. "I'm not that good," Gaga replies, and she waves goodbye as her train leaves Springfield.
Production
[
edit
]
During August 2011, it was revealed that Lady Gaga would star as herself in an upcoming episode.[1][2]
Gaga's recording sessions took place on August 22-26th in Los Angeles. Entertainment Weekly interviewed Gaga, expressing that her appearance was "a little nerve wracking" and that she "[doesn't] do voice-overs every day of the week". "Their characters are so awesomely convincing and sincere and wild and funny, [that] I had to remind myself constantly of the sincerity of the humor. That's what I was trying to focus on, not putting on a character too much and really being as sincere as I could with the lines." Despite these initial emotions, Gaga exclaimed that working with the staff of the show was "one of the coolest things that [she] has ever done".[3]
The show producers were impressed with Gaga's ad-libbing skills and her voice-acting range. Matt Groening was also interviewed by the Entertainment Weekly, he stated that "since the very beginning, I've always wanted to have on the most iconic personalities of our time, and she's it". Also, Yeardley Smith was interviewed by Broadway.com, and stated that she "was stunned that she has time in her schedule that she's coming to our studio to record."[4]
Reception
[
edit
]
The episode was watched by an approximated 4.79 million viewers and received a 2.1 rating in the 18–49 key demographic. These ratings ultimately made it the fourth least watched episode of the show to date.[5]
Critically, "Lisa Goes Gaga" evoked mixed-to-positive responses from TV reviewers, with many praising Lady Gaga's appearance, her professional voice-work, yet criticized the general execution of the episode and its writing. The A.V. Club gave the episode a B- and positively compared the episode to the third season episode "Stark Raving Dad", which featured Michael Jackson. Discussing Gaga's guest-appearance, the A.V Club writes, "If Lady Gaga didn't exist, The Simpsons would have had to create her. Had The Simpsons been on its game in the early/mid-2000s, it might have said 'Hey, let's subvert this over-the-top sexuality with a veneer of feminist and queer theory! [...] Lady Gaga already feels like she has both the similar love of media and the willingness to subvert that love as The Simpsons does, but she does that on her own, in her own way." Although annoyed by the episode's concept, the A.V Club summed up, "If you wanted to call it a half-hour commercial for Lady Gaga, you probably wouldn't be wrong. Fortunately for 'Lisa Goes Gaga', the celebrity at its heart is entertaining enough that it being her commercial isn't a complete waste of time. [...] Against my better judgment, I was moderately entertained."[6] TV Equals said, "Lady Gaga helped The Simpsons end its 23rd season on a memorable note." [7] and TV Fanatic added that the writers made good use of Gaga, instead of reducing her role to a small cameo.[8] Lady Gaga's appearance was voted as one of the best musician guest appearances in the history of the series by The Guardian.[9]
However, fans of the show reacted negatively to the episode, with many deeming it "the worst episode of Season 23".[10] It currently holds a 5.4/10 IMDB rating and a 5.7/10 TV.com rating.[11][12] In 2014, the episode was voted the worst episode of the entire series by fans.[13]
Gallery
[
edit
]
References
[
edit
]
External links
[
edit
]