Goo Goo Gai Pan
Wikisimpsons - The Simpsons Wiki
"Fool me once, shame on you. Fool me twice, shame on Wu!"
"Goo Goo Gai Pan"
Episode Information

"Goo Goo Gai Pan" is the twelfth episode of season 16 of The Simpsons and the three-hundred and forty-seventh episode overall. It originally aired on March 13, 2005. The episode was written by Lawrence Talbot and directed by Lance Kramer. It guest stars Robert Wagner as himself and Lucy Liu as Madam Wu.
Synopsis
[
edit
]
"Selma has a severe hot flash while giving Mr. Burns his driving test. Dr. Hibbert explains (with help from a video starring Robert Wagner) that Selma is experiencing the onset of menopause. Selma, decides she wants a baby rather than grow old alone. Adoption is suggested, but the Springfield orphanage is empty. Lisa suggests adopting a baby girl from China. One problem: the Chinese government only allows married couples to adopt. No problem; Selma writes down a name for her husband - Homer's - and "The Simpsons are going to China!" (with Marge acting as Bart and Lisa's nanny) so Selma and Homer can pick up the baby together."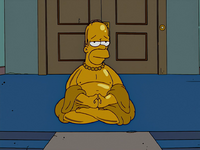 Selma gives Mr. Burns a driving test to renew his license. During the test, Selma starts to experience hot flashes and ends up going to hospital due to these. In the hospital, Dr. Hibbert tells Selma that she's going through menopause and shows her a video, starring Robert Wagner, about it. Selma then realizes that she's lost her chance to have a baby and wants one. She goes to the Springfield Orphanage to adopt, only for the birth father, Cletus, to come along and take his baby back because he misheard what Brandine wanted. Disheartened by this, Selma is told by Lisa that she could adopt a baby from China as they have a lot of babies up for adoption there.
Selma then goes to the Consulate of China where she speaks to Mr. Zhao. Zhao tells Selma that her adoption request is all fine except she hasn't filled in a husband on the form, which she is required to have to adopt. After asking if he knew who Angus MacGyver was, Selma filled in Homer's name, causing a chill to go through Homer. The Simpsons then decide to go to China with Selma to adopt a baby. On the plane, Selma tells Homer that she wants him to pretend to be her husband after Homer takes some medicine and starts to hallucinate, seeing three dragons. The White Dragon offers to take Homer to China on his back in return for peanuts, but Homer only offered him one.
In China, the family goes to meet Madam Wu to adopt a baby. After handing over the money, Wu tells Homer and Selma that she has to make sure they're a happy married couple and they have to wait a few days before they get the baby. Wu then goes around with the family as they explore the sights in China, including a Shaolin temple, Mao Zedong's tomb, the Great Wall of China and a Chinese version of Death of a Salesman. Madam Wu then asks Homer what his job is, and he tells her that he's a Chinese acrobat. At a Krusty Fried Chicken, Madam Wu manages to offend both Lisa and Marge before they all go to the Chinese Acrobatic Theater to see a show. When the lead acrobat is unable to take part in the final stunt of the show, due to being dead, Madam Wu sends Homer to take part, as he had claimed to be an acrobat. Homer gets injured in the stunt and was taken to hospital.
In the hospital, Selma shows off baby Ling, and thanks Homer for helping her to get her. She then leaves Homer and Marge in the hospital for some snuggling. However, Madam Wu sees this as she was spying on the family at the time and takes Ling away from Selma again because she needs to be married to have her. Upset at this, the family comes up with a plan to get Ling back and Homer goes undercover as a Buddha statue into the Beijing Orphanage. He gets Ling back and escapes and meets back up with the family in Tiananmen Square. However, Madam Wu catches up with them in a tank and demands they hand Ling back. Selma has a heart to heart conversation with Madam Wu, who then decides to let Selma keep Ling as she (Wu) was also brought up by a single mother after her father died.
Madam Wu then goes with the family to the dock to say goodbye to them as they head off back home. However, Bart has been replaced by a Chinese spy, which Homer claims is close enough. The three dragons then appear again and the Red Dragon starts to sing. During the end credits, David Silverman teaches the viewer how to draw Bart.
Production
[
edit
]
The episode's writer, Dana Gould, were adopting a child from China at the time the episode was being aired so he went under a pseudonym of Lawrence Talbot in case the episode was seen by the orphanage workers in China and they got offended by the episode. Dana Gould's daughter Lulu was the design of baby Ling. Gould chose the name Lawrence Talbot because that's the alter-ego of the Wolf Man.[1] Tim Long directed Robert Wagner's scenes in the episode.[2] Homer pretending to be Selma's husband is a reference to something Dana Gould saw when adopting a baby, where a lesbian had a fake husband so she could adopt. Gould also mentioned that this was his favorite episode because it's so close to home for him.[1]
During the credits of the episode, David Silverman teaches the viewers how to draw Bart. However, the way he taught you was not actually how he draws Bart in reality. Erick Tran directed the live action Silverman segment.[3]
Reception
[
edit
]
Several of the jokes in the episode were taken poorly by China, with the episode being banned. These include jokes about the Tiananmen Square protests of 1989, Mao Zedong (who Homer calls "a little angel who killed 50 million people") and Homer portraying a Buddha statue.[4]
Robert Canning of IGN said that a majority of the jokes in the episode fall flat. He also felt that the actual storyline would take about 10 minutes if not for all the China filler. However, he did enjoy Robert Wagner's segment and the dragons. He gave the episode a 6.5 rating overall.[5]
"Goo Goo Gai Pan" was nominated for a 2005 Environmental Media Award Turner Award, but it lost to "Prescription for Trouble" from George Lopez.[6]
As of May 2022, the episode has a 7.0 rating on IMDb.[7]
References
[
edit
]