Philip Hefflin
Wikisimpsons - The Simpsons Wiki
Philip Hefflin
Character Information
Gender:

Male ♂

Status:

Alive

Hair:
Grey
Formerly: Brown
Occupation:
Photographer
Artist
Relatives:
Ex-wife: Unnamed
First appearance:
"Mad About the Toy"
Voiced by:
Bryan Batt
Philip Hefflin is a photographer and artist.
History
[
edit
]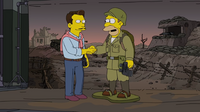 A couple of years after World War II, Abraham Simpson was hired to be the model for toy army figures by Whiz-Bang Toy Company. Philip Hefflin served as the photographer for the photoshoot. During the shoot, Hefflin mistook Abe's friendliness for him coming onto him and kissed Abe, causing Abe to freak out. When they tried to continue the shoot, Abe ran away. After this incident, Philip Hefflin got fired for being gay.
In the present day, Abe remembered about all this and went to Marfa, Texas to apologize to Hefflin. When he got there, Abe found a rainbow colored statue of himself as an army man in the town. He then entered Hefflin's art studio where there were all sorts of paintings of Abe in his army outfit. Abe apologized to Hellfin for what he did to him but Hefflin told him that he saved his life by letting him live his life as he wanted. Hefflin divorced his wife and went to settle in Marfa, Texas. Abe and Philip then decided to finish the photoshoot. After this, Abe kissed Philip before he told him that he was as straight as Gomer Pyle and left, still friends with Philip. Abe later put a photo of him and Philip together up on the wall of his room.[1]
Non-canon
[
edit
]
| | |
| --- | --- |
| | The contents of this article or section are considered to be non-canon and therefore may not have actually happened or existed. |
The Simpsons: Tapped Out
[
edit
]
This section is transcluded from The Simpsons: Tapped Out characters/Abe's In Toyland. To edit it, please edit the transcluded page.

Philip Hefflin
Image
Cost
Unlock method
Unlock message
FREE
Abe's in Toyland
Abe the Toy Soldier Pt. 5
Permanent Tasks
| Task | Time | Reward | Requires | Quest with the task | Animated? |
| --- | --- | --- | --- | --- | --- |
| Go Skating | 10m | 17, 5 | Simpsons' Skating Rink | | |
| Process Photos | 60m | 70, 17 | Kwik-E-Mart | | |
| Overpay for Sex on the Beach | 4h | 260, 70 | Smooches on the Beach | | |
| Stay at the Swelldorado | 4h | 260, 70 | Swelldorado | | |
| Try to Win at Blackjack | 4h | 175, 45 | $ Casino | | |
| Drink and Babysit | 4h | 175, 45 | The Boiled Potato | | |
| Make Abe Art | 4h | 175, 45 | | The Art of Abe Simpson Pt. 2 | |
| Attend Parenting Seminars | 4h | 260, 70 | Universal Panacea | | |
| Dance the Señor Burns | 8h | 420, 105 | Chez Guevara | | |
| Brainstorm New Toy Models | 8h | 275, 70 | Whiz-Bang Toy Company | | |
| Candid Photo Shoot | 12h | 420, 100 | | The Art of Abe Simpson Pt. 1 | |
| Admire His Work | 24h | 600, 150 | Abe's Rainbow Statue | | |
Appearances
[
edit
]
References
[
edit
]