Blinky
Wikisimpsons - The Simpsons Wiki
Blinky
Animal Information

Blinky the Three-Eyed Fish (or simply Blinky) is one of many three-eyed orange fish found in the ponds and lakes of Springfield. Its diet consists of worms in heavy water, and plutonium runoff.[1]
History
[
edit
]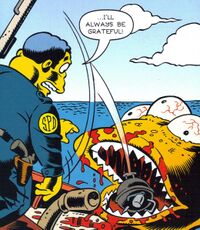 The Blinky species is seen quite often in natural bodies of water in Springfield, and is a product of the nuclear waste of Springfield Nuclear Power Plant. Blinky was caught by Bart at the Old Fishin' Hole and photographer Dave Shutton snapped a picture and put it in The Springfield Shopper. At the same time, Mr. Burns was running for governor, and Blinky became a major topic in his campaign. In a TV ad, Burns defended Blinky, saying he was the next step in the evolutionary ladder and not a horrible mutant, and extolling Blinky as a miracle of nature "with a taste that can't be beat". On the eve of the election, Burns had a comfortable lead over Governor Bailey in the polls. As a publicity stunt intended to secure victory, Mr. Burns had dinner at the Simpson home and Marge served the Blinky fish that Bart had caught earlier. Burns took a bite, found it disgusting and spat it out. Because the meal was being filmed, video of the incident immediately went on the air and Burns ended up losing the election to Governor Bailey, all because of Blinky.[2]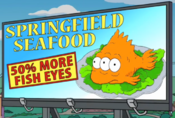 The discovery of this fish made a group of people believe that its third eye was a sign of great spiritual wisdom. This belief gave rise to a small sect who kept looking through the nation for a scaly messiah.
[1]
Multiple three-eyed fish were blinded by drinking the water in their river after Homer Simpson and several rednecks (including Cletus Spuckler) dumped moonshine into the river to avoid being arrested by the police.[3]
Blinky has also appeared on a billboard advertisement, promoting Springfield's seafood ("50% More Fish Eyes").[4]
Blinky was killed by Michael de Graaf Express's waste.[5]
Other versions
[
edit
]
Cow-Headed Fish
Frink-Headed Fish
6-Eyed Fish
8-Eyed Fish
3-Eyed Whale
3-Eyed, Orange Creature from the Black Lagoon
Green Blinky
Three-Clawed Lobster[7]
Two-headed Fish[8]
Non-canon
[
edit
]
| | |
| --- | --- |
| | The contents of this article or section are considered to be non-canon and therefore may not have actually happened or existed. |
One member of the Blinky species was even further mutated by additional exposure to radioactive waste. The fish became gigantic in size (as big as a large shark), hideous in appearance, and extremely aggressive. It was responsible for a series of attacks in the ocean near Springfield, during which several people were killed. The fish was eventually killed by the chief of police and a local scientist, a. la. Jaws.[9]
The Simpsons: Tapped Out
[
edit
]
Blinky Balloon
[
edit
]
This section is transcluded from The Simpsons: Tapped Out decorations/Balloons. To edit it, please edit the transcluded page.

Blinky Balloon
Image
Cost
Reward
Sell price
Conformity increase
Availability
Unique?
Dimensions -

D

x

W

16,500
1,500
Vanity +790
Thanksgiving 2012, 2013, 2014, Gobble, Gobble, Toil and Trouble,
The Most Dangerous Game, This Thanksgiving's Gone to the Birds!, Thanksgiving 2018, All American Auction and Blargsgiving
2 x 2
Blinky Monster
[
edit
]
This section is transcluded from The Simpsons: Tapped Out characters/Treehouse of Horror XXVII. To edit it, please edit the transcluded page.

Permanent Tasks
| Task | Time | Reward | Requires | Quest with the task | Animated? |
| --- | --- | --- | --- | --- | --- |
| Threaten Onlookers | 60m | 105, 26 | Scary Dock | | |
| Go Swimming | 4h | 260, 70 | Scary Dock | | |
| Overpay for Sex on the Beach | 4h | 260, 70 | Smooches on the Beach | | |
| Stay at the Swelldorado | 4h | 260, 70 | Swelldorado | | |
| Try to Win at Blackjack | 4h | 260, 70 | $ Casino | | |
| Drink and Babysit | 4h | 260, 70 | The Boiled Potato | | |
| Attend Parenting Seminars | 4h | 260, 70 | Universal Panacea | | |
| Wait for Prey} | 8h | 420, 105 | Scary Dock | | |
| Dance the Señor Burns | 8h | 420, 105 | Chez Guevara | | |
| Watch Late Night Monster Movies | 12h | 600, 150 | Brown House | | |
| Browse the Frozen Fish Section | 24h | 1,000, 225 | Kwik-E-Mart | | |
Blinky sometimes appears in rivers
Behind the Laughter
[
edit
]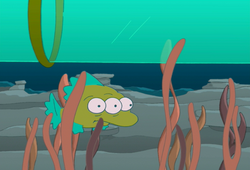 A member of Blinky's "species" has been seen in Futurama, which means that if both shows are in the same universe, the species survives over 1000 years.
Appearances
[
edit
]
References
[
edit
]
| | |
| --- | --- |
| | Wikisimpsons has a collection of images related to Blinky. |
Factfiles from Simpsons World the Ultimate Episode Guide: Seasons 1-20
Season 14
Rock Stars • Audrey McConnell, Third Grade Teacher • Dr. Velimirovic, Plastic Surgeon • Mitch Hartwell, the Reality Channel Producer • Junior (AKA Frank Grimes, Jr.) • Teacher of the Year Award Nominating Committee • Dexter Colt, Private Eye • The Mugger • Larry H. Lawyer, Jr. • Baby Stink-Breath • Booberella • Sara Sloane, Hollywood Movie Star • Cookie Kwan, Red Coat Realtor • Stark Richdale • Declan Desmond • Julio and Grady • Luke Stetson, Junior Wrangler • Suds McDuff, Spokesdog/Mascot for Duff Beer • Marriage Counselor • Jim Proudfoot • Don Castellaneta