Double, Double, Boy in Trouble
Wikisimpsons - The Simpsons Wiki
423
"Double, Double, Boy in Trouble"
"Oh my, God. Simon set me up. And all this time I thought he wanted the life of a stranger he met in the bathroom."
"Double, Double, Boy in Trouble"
Episode Information

"Double, Double, Boy in Trouble" is the third episode of season 20 of The Simpsons and the four-hundred and twenty-third episode overall. It originally aired on October 19, 2008. The episode was written by Bill Odenkirk and directed by Michael Polcino. It guest stars Joe Montana as himself.
Synopsis
[
edit
]
"Bart meets his doppelganger, Simon Woosterfield, a member of the richest family in Springfield and the two decide to switch places. Simon adjusts nicely to his new digs at the Simpson home, while Bart discovers that his new siblings are plotting his death so they can have his inheritance."
At the Kwik-E-Mart, Homer hurries to get the last lottery ticket, but is distracted by Bart dancing on the shelves, then attempting a cannonball onto the floor. While Homer tries to save Bart, Lenny buys the lottery ticket and wins $50,000. A now gleeful Lenny invites a very sullen Homer to a rich, posh party at the expensive Woosterfield Hotel. While going to the party, Bart unintentionally sprays Marge's new dress with Snowball II urine, (which was meant for Rod and Todd Flanders) angering her and Homer. While Homer tells Lenny he is grateful for his success, Bart is in the back, concocting a plan to destroy the party. He opens all the gift bags and releases the Vac-U-Bots, which run wild and cause mayhem, destroying everything. The police catch Bart; Marge, furious, confiscates all of Bart's prized possessions. Bart is furious with his family and heads to the bathroom, where he meets Simon Woosterfield, a rich boy who turns out to be Bart's exact look-alike; they also meet a man who looks like an older version of them whose married to a woman who looks like Milhouse, but he leaves minutes later. Bart learns that Simon dislikes his rich and pompous lifestyle; in order to satisfy them both, the two decide to switch places, Simon going with the Simpsons, and Bart going to the Woosterfields.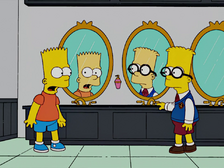 After informing each other on basic information about each other's family, the two part; Bart finds he truly enjoys his new rich home, which appeals to him immediately (particularly Joe Montana, who is hanging around the estate). Simon, meanwhile, isn't used to the Simpsons' simple lifestyle; Lisa, the most inquisitive, begins to suspect that Bart (Simon) isn't who he really is. Simon frequently argues with Homer, but upon going to bed, he soon begins to enjoy Marge's loving attention. Meanwhile, Bart meets Devan and Quenly, his new half-brother and sister. The two of them smugly bully Simon (Bart) every chance they get. The next day, the Woosterfields host a magnificent party for the rich; upon meeting Mr. Burns and Smithers, Bart asks why Devan and Quenly always bully him more than they should. Mr. Burns tells all about his childhood growing up as the youngest of a large wealthy family, and that since his other siblings died under 'suspicous circumstances', he inherited the family money. Bart realizes that the two may very well be plotting his death, in order to inherit the entire Woosterfield fortune. Bart is angered when he realizes Simon set him up.
Lisa quickly figures out that Simon is not Bart, and tries to figure out what they are up to. Simon finally admits to the entire Simpson family that Bart is in real danger; Devan and Quenly had taken him on a ski trip, hoping to kill him there. While trying to rescue Bart, Homer falls down and turns into a giant snowball, rescuing him. Bart is still angry with Simon, but Simon tells him that he will return to his own family; when Bart asks what he'll do to prevent Devan and Quenly's murderous attacks, Simon tells Bart not to worry about it. In truth, the two are already planning to kill one another. Upon returning home, Marge tucks Bart into bed. After mulling it over and Marge tickles his foot making him laughing, Bart decides that "this is the life" and fells happily asleep.