William McKinley
Wikisimpsons - The Simpsons Wiki
William McKinley
Character Information
William McKinley was the 25th President of the United States, serving from 1897-1901. He was assassinated six months into his second term of office and was succeeded by Theodore Roosevelt.
History
[
edit
]
After inheriting Bea Simmons' fortune, Grampa visited Herman's Military Antiques and bought a fez. He then left behind his old hat which Herman took and put on display by the window and billed it as "the hat McKinley was shot in".[1]
When the Simpson family were chosen to be in the reality television show The 1895 Challenge, Homer lamented that in 1895 they would be too late to save Lincoln and too soon to save McKinley.[2]
A picture of McKinley was seen in a book of U.S. Presidents that Superintendent Chalmers showed Bart, before Bart developed an interest in Theodore Roosevelt.[3]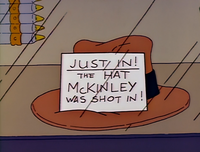 Appearances
[
edit
]
References
[
edit
]
External links
[
edit
]