The Bart Wants What It Wants
Wikisimpsons - The Simpsons Wiki
280
"The Bart Wants What It Wants"
"The Bart Wants What It Wants"
Episode Information

"The Bart Wants What it Wants" is the eleventh episode of season 13 of The Simpsons and the two-hundred and eightieth episode overall. It originally aired on February 17, 2002. The episode was written by John Frink and Don Payne and directed by Michael Polcino. It guest stars Reese Witherspoon as Greta and Wolfgang Puck as himself.
Synopsis
[
edit
]
"Bart develops a crush on Rainier Wolfcastle's daughter Greta. After hastily deciding he's not ready for love, he dumps her, only to change his mind later. But by then Greta only has eyes for one – Milhouse – and a trip to the set of Ranier's latest movie in Canada isn't enough to win her back."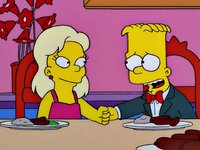 When Homer steals the Olympic Torch, he and the family are on a high speed chase that, after Marge gives the torch back to the Olympic administrators (whose helicopter later crashes), leads them to a fair at Springfield Private School. There Principal Skinner steals things for the elementary school, Lisa wants to stay in that school and Bart saves the daughter of Ranier Wolfcastle, Greta, from a gang of bullies. Greta then develops a crush on Bart and invites him to come over to their house sometime. At the Simpsons House, Greta takes Bart's hand, only for Bart thinking she's just playing. Greta then invites him to her school's dance but Bart and Milhouse hear Skinner talking about his bomb at an open mic comedy night and decides to go there to perform a prank on Skinner and laugh at him, telling Greta he's ill. Bart doesn't realize what his relationship with Greta means until Lisa scolds him for standing her up, so he decides to break up with Greta upon Lisa's advice.
After Bart knows he actually wants to go back with Greta, he finds out she had been dating Milhouse to get back at Bart. This makes Bart to get jealous and tries to win Greta back. He spies them and sees how they enjoy being together. Bart then calls Greta and she tells him her father is going to film a movie in Toronto. He tells his family and they all decide to go to Canada to follow Greta. When they arrive, they visit most of Canada's tourist attractions before they go to the "Paramountie Pictures", the movie studio where Rainer's movie will be filmed. In the movie set, Bart finds Milhouse watching the filming of the movie, they then get angry and start to fight over Greta. They end up in a hockey match in front of Greta. She is forced to choose between Bart or Milhouse but she turns them both down because Bart's relationship with her is already over and Milhouse isn't masculine enough for her, and decides to put off dating for a few years. Bart and Milhouse then reconcile and realize they are two boys in Toronto with a lot of thing to do, so they join Canada's basketball team.
Production
[
edit
]
Reception
[
edit
]
"The Bart Wants What It Wants" was nominated for a 2003 Writers Guild of America award in Animation, but it lost to "Godfellas" from Futurama.[1]
References
[
edit
]