Cyrus Simpson
Wikisimpsons - The Simpsons Wiki
| | |
| --- | --- |
| | The contents of this article or section are considered to be non-canon and therefore may not have actually happened or existed. |
Cyrus Simpson
Character Information

Cyrus Simpson is Abe's older brother.
History
[
edit
]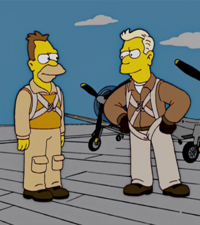 Cyrus Simpson served as a Navy pilot with Abe in World War II. Cyrus told Abe that he wanted to win the war quickly so they could go home and give black people more rights. Cyrus then noticed kamikaze pilots were heading towards them and told Abe to get ready. Cyrus then told Abe that he wasn't worried, as long as he had his good luck charm, which was a musical pocket watch. The pocket watch was then shot out of his hand, but Cyrus revealed that he had a second that he had also stolen from a dead soldier.
The fight took to the skies and Cyrus was being chased by several enemy planes. Abe told his lieutenant, Montgomery Burns, to radio Cyrus and tell him to watch his tail. However, Burns was on the radio to his girlfriend and refused to hang up on her. Cyrus was then shot down shortly before Grampa and Burns also got shot down, with Grampa assuming that Cyrus died.
Decades later, Santa Claus left Cyrus' good luck watch in Grampa's stocking at Christmas. Santa revealed to Grampa that Cyrus survived being shot down, like Grampa had, and that he landed in Tahiti and missed Grampa too. Santa then took Abe to see Cyrus in Tahiti. Cyrus told Grampa that he liked Tahiti too much to leave and that he was too busy with his fifteen wives to contact Grampa. Grampa then said that it sounded like Cyrus had a lot of sex, but Cyrus said that he had wives, not girlfriends.
Behind the Laughter
[
edit
]
Cyrus Simpson is never mentioned any other time, only appearing in a non-canon Christmas episode. Family trees of the Simpson family have also never mentioned him, meaning Cyrus is a non-canon relative.
Appearances
[
edit
]
Simpson family
Main family

Homer Simpson
•

Marge Simpson
•

Bart Simpson
•

Lisa Simpson
•

Maggie Simpson

Santa's Little Helper
•

Snowball II