Yokel Chords
Wikisimpsons - The Simpsons Wiki
"We home-school 'em. I teach the big ones and the big ones teach the little ones. But no one ever taught me, which makes the whole thing just an exercise in futility."
"Yokel Chords"
Episode Information

"Yokel Chords" is the fourteenth episode of season 18 of The Simpsons and the three-hundred and ninety-second episode overall. It originally aired on March 4, 2007. The episode was written by Michael Price and directed by Susie Dietter. It guest stars Meg Ryan as Dr. Swanson, Peter Bogdanovich as a psychologist, Andy Dick as himself, James Patterson as himself and Stephen Sondheim as himself.
Synopsis
[
edit
]
"Lisa teaches the Spuckler children about culture, and soon Krusty hires them to act on The Krusty the Clown Show. They become famous and earn a lot of money, but Cletus spends it on himself."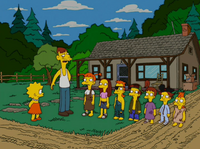 Marge oversleeps, and not having made the children's lunch for the day, Homer makes the lunches instead. However, he gave them inedible food and Bart decides that he needs to scare the other students to get access to their lunches instead. He tells Milhouse and Martin a story about a cannibal cafeteria worker named Dark Stanley, who killed all the students in the cafeteria and put them in his stew when their teasing of his inability to graduate from college had taken its toll on him. At lunchtime, Bart pretends to be killed by Dark Stanley, putting spaghetti on his head, causing all of the students to run screaming out of the school, thinking Dark Stanley was actually there, leaving Bart to take the leftover lunches.
Groundskeeper Willie is sent to fetch all the students back, but he brings seven extra kids who are Cletus's children. Their names are Whitney, Jitney, Dubya, Incest, Crystal Meth, International Harvester, and Birthday. Principal Skinner tells Superintendent Chalmers that the kids have been refused education, because their admittance to the school will bring the average down, losing them federal funding. Lisa overhears this conversation and confronts them about refusing children education. To get Lisa off their packs, Skinner and Chalmers assign Lisa to be their tutor. Lisa starts to tutor the kids but realizes it'll be a bigger task than she first thought.
Meanwhile, Skinner punishes Bart by having him spend five sessions with a qualified psychologist, Dr. Stacey Swanson, as the school psychologist ran out screaming about Dark Stanley. Homer takes Bart to his psychology sessions then goes to The Lonely Dragon next door to get drunk. At first, Bart was opposed to the sessions but Dr. Swanson won him over by letting him play video games and having fun whilst slowly getting Bart to open up about his problems. Meanwhile, Lisa realizes that teaching the Spucklers was a bigger task than she first thought and decides to help the children experience the world.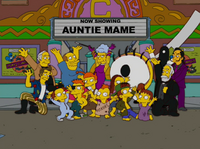 The Spuckler children experience Downtown Springfield and sing "Cultural Things Experience" whilst out. Krusty the Clown overhears the song and signs them up for The Krusty the Clown Show, which annoys Lisa. Krusty gets the kids on stage to perform an act which upsets Lisa as it makes the children look awful. Krusty then brings in Stephen Sondheim to write new songs for the children. Meanwhile, Bart has his last session with Dr. Swanson and doesn't know what to do with himself. He follows Dr. Swanson around, watching her in her office and house, feeling upset that his sessions were over. Eventually, Marge catches him talking to an empty chair and pays for one last session with Dr. Swanson. During this last session, Bart gets over his problems, realizing that he misbehaves so that his parents are angry at him rather than each other, then leaves the office early. Dr. Swanson feels lost without Bart and ends up going to see a psychologist herself.
Krusty signs the Spuckler children up to the Krusty's No-Collar Comedy Tour. Lisa then comes in with Brandine Spuckler to stop them, with Brandine telling Krusty that Cletus was only the father of the kid who can't sing and the kid who can't ad lib. Therefore, he can't use the other children. The Spuckler children thank Lisa for saving them from the world whilst Brandine and Cletus kiss.
Production
[
edit
]
The episode came around because Michael Price had already written "My Fair Laddy", which parodied My Fair Lady, so he wanted to do another musical episode which parodied The Sound of Music. The Dark Stanley story was based on a real thing that happened when Michael Price was a teacher at a school. A legend went around the school about a murderous clown and everyone was scared of the clown. One day, a kid in class shouted that he saw the clown and all the students ran out of the class. The name Stanley came from the janitor that Price's school had when he was in the fifth grade.[1]
The Dark Stanley animation is based on Edward Gorey and the music was from 12 Monkeys, which were both director Susie Dietter's ideas.[2] Michael Price came up with Chalmers' first name "Gary". Price met someone who worked with Stephen Sondheim and gave him Sondheim's address. Price then wrote to Sondheim to ask him to be on the show, then Sondheim was written into the show. Sondheim's parts were filmed in New York. Peter Bogdanovich's role was added at the end, during the coloring for the episode, where they made him to be a parody of his character from The Sopranos.[1]
The song "Cultural Things Experience" was originally a parody of "Do-Re-Mi" but was changed into a parody of "My Favorite Things". It didn't work that well so they changed it. Matt Warburton pitched the line comparing Jim Carrey to Dario Fo and J. Stewart Burns pitched the line about Bart paying someone to make him happy when he becomes an adult.[1]
Reception
[
edit
]
Robert Canning of IGN gave the episode a 6.2 rating, saying that it "seemed to have a lot going for it". He called the first act of the episode "brilliant", and went on to say the Dark Stanley animation was "great and worked well to accentuate Bart's macabre tale". Canning then went on to say that the episode "wasn't so great" as far as musical episodes go, saying that he felt the songs were forced. Overall, Canning thought "there were plenty of great laughs, even if the episode as a whole was a bit choppy".[3]
"Yokel Chords" won a 2007 Annie Award for Music in an Animated Television Production.[4]
As of December 2019, the episode has a 6.8 rating on IMDb[5] and a 7.7 rating on TV.com.[6]
References
[
edit
]
| | |
| --- | --- |
| | Wikisimpsons has a collection of images related to "Yokel Chords". |