Les Simpson
Wikisimpsons - The Simpsons Wiki
For the Quebec version of Les Simpson, see Les Simpson (Quebec).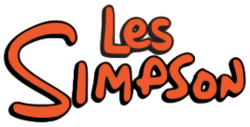 Les Simpson is the name of the France French dub of The Simpsons.
Characters
[
edit
]
All characters speak standard French, with the exception of Apu (who has a Portuguese acccent), Carl (speaks inflected French) and Kirk Van Houten (has a stereotypical Belgian (Brussels) accent due to his surname). Sideshow Bob and Sideshow Mel become Tahiti Bob and Tahiti Mel, respectively. Santa's Little Helper becomes "Petit Papa Noël", the name a French Christmas song meaning "Little Father Christmas".
Translation
[
edit
]
For the duration of the series, animation has remained the same, with English text being subtitled or spoken by a character. The only exception to this was the chalkboard gag, shared by both dubs.
Catchphrases
[
edit
]
As well as translating original catchphrases (see table below), the France version has created some of its own. Homer says "Oh my God!" as "Ouh pinaise!" (based off "oh punaise!", French for "oh darn!"). Homer is unable to pronounce words such as "bibliothèque" (library), instead saying "bilibibiothèque".
| Catchphrase | French version | Translation |
| --- | --- | --- |
| "D'oh!" | "T'oh"1 | |
| "Eat my shorts" | "Va te faire shampouiner" | "Go shampoo yourself" (similar to "go to hell") |
| "Why you little..." | "espèce de sale petit" | "you dirty lil'..." |
1 Philippe Peythieu misread the line "D'oh!" the first time he read it and kept it this way since.[1]
Voice actors
[
edit
]
For some celebrities, official dubbers are brought in, for voice actors for Mulder and Scully in The X-Files voice them in "The Springfield Files".
References
[
edit
]
↑

Matt Groening interview on Late Night with Conan O'Brien, July 2007.