Large Marge
Wikisimpsons - The Simpsons Wiki
"Aaagh! What on earth have you done? My McGuppies became BAZONGAS!!!"
"Large Marge"
Episode Information

"Large Marge" is the fourth episode of season 14 of The Simpsons and the two-hundred and ninety-fifth episode overall. It originally aired on November 24, 2002. The episode was written by Ian Maxtone-Graham and directed by Jim Reardon. It guest stars Adam West as Batman, Burt Ward as Robin and Baha Men performed the songs "Who Left the Milk Out?" and "Who Let Marge's Jugs Out?".
Synopsis
[
edit
]
Lisa and Homer are watching a historical documentary and make a bet on who will win the 1948 U.S. Presidential election. Homer makes the mistake of believing the polls that predicted victory for Governor Dewey, so Lisa wins the bet and she gets to choose the activity for Daddy-Daughter Day. Her activity is taking part a building project for Domiciles for the Destitute alongside former U.S. Presidents Jimmy Carter, Bill Clinton, and George H. W. Bush. While painting, Homer attempts to create a similar alias to Bart's El Barto, but the idea backfires when a Gay Latino man mistakes Homer for a homosexual due to the alias. Homer frantically paints over his graffiti tag, and takes off his wedding ring to keep from getting paint on it (he also admits that he had to make a crude imitation of a wedding ring from aluminum strips and Band-Aids because the real ring was swallowed by a turtle). Lindsay Naegle and Cookie Kwan mistakenly think that Homer is recently divorced and begin flirting with Homer.
Marge, driving by, sees Homer appearing to flirt with the women (but he is actually explaining how she gave birth to Bart). Marge worries that Homer has lost interest in her, so on Manjula's advice she decides to get liposuction. Unfortunately, a mix-up results in Marge getting breast implants, which were intended for one of Mayor Quimby's interns. The doctor says that Marge must wait for 48 hours before the implants can be removed, and Marge is upset with the inconvenient new implants, which prevent Maggie from cuddling with her mother.
Meanwhile, Bart and Milhouse watch an episode of Batman, featuring Krusty as a villain named ClownFace, who captures Batman and Robin by a rapidly spinning carousel of death. Bart and Milhouse like the idea and are inspired to recreate the stunt, with Bart putting Milhouse on a merry-go-round in school. Otto uses the bus to kick-start the merry-go-round, spinning it at an incredible speed. The bolts give way and the merry-go-round goes flying through the air, knocking over the school flag. After the merry-go-round stops, a dizzy Milhouse vomits on the flag, shocking a pair of Iwo Jima veterans who are visiting the school. Bart explains to Principal Skinner that he saw Krusty do the stunt on TV, and in response, Skinner leads a group protesting against Krusty, who is now seen as a very dangerous influence to children. Krusty's show is revamped to exclude all dangerous elements, destroying the show's popularity with children.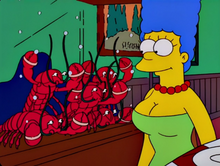 After coming home from her surgery, Marge realizes that her large breasts are making her life difficult, as they get in the way when she tries to do things like open the cupboard and pick up Maggie to comfort her when she falls down. Marge tries to hide her breasts from her family, but Homer and the kids find out Marge's secret after a few short hours. The family go out for dinner to Luigi's so Homer can flaunt the new Marge. Luigi, who has just rejected Ned Flanders and his family, immediately accepts the Simpson family after seeing Marge's breasts, and offers to make her a special pasta instead of the crap from a can he serves to everyone else. Clearly, Marge's new figure attracts male attention, and even the lobsters in Luigi's lobster tank seem to take notice of her. Homer soon starts singing about Marge's breasts, and is joined in a musical number by several other men. Kiekie, a trade show executive, approaches Marge and offers her a modeling job from A.C. Milan. Marge accepts and initially enjoys the experience, but later experiences pain because of her huge breasts. She also finds herself being ogled, pinched and leered at by every man in Springfield.
At the Springfield Shoe Expo, Marge is further humiliated by lustful men while promoting shoehorns. At the same time, Bart makes a plan to help Krusty to win back his popularity, using Milhouse and Stampy the elephant. The plan is for Stampy to appear to threaten Milhouse while Bart calls for help. Then Krusty is to respond and say the word "magumbo" to get Stampy to roll over and leave Milhouse be; then, Krusty can take the credit for rescuing Milhouse and win back his reputation. Unfortunately, things quickly get out of control when Stampy stuffs both Milhouse and Bart in his mouth. Homer tries to save them, but he ends up stuffed into Stampy's mouth too. Also, Krusty fails to say the word, making matters even worse.
The police decide to shoot Stampy, which would kill Homer, Bart and Milhouse. Marge appears on the scene, and after unsuccessfully trying to dissuade the police from shooting, distracts the police by revealing her large breasts to the crowd. Krusty saves the day when he looks at Marge's breasts and accidentally says: "Wow! Look at those magumbos!" remembering the safety word Krusty repeats it and Stampy releases Homer, Bart and Milhouse, and Krusty is hailed as a hero and his image is restored. The next day, The Springfield Shopper proclaims that Krusty saved the day, in a minor article with less than a paragraph long, while the major headline reads "Crazed mom goes topless!", with photos on pages 3 through 28. Marge finally has the implants removed.
Reception
[
edit
]
"Large Marge" received positive reviews from critics and fans who praised the episode for putting Marge in the spotlight and making her a funny character. The episode has a 7.2/10 user rating on IMDB.
In other languages
[
edit
]
| Language | Name | Translation |
| --- | --- | --- |
| Deutsch | "Marge – oben ohne" | Marge - topless |
| Español | "Marge la tetona" | Marge the busty |
| Español | "Las curvas de Marge" | Marge's curves |
| Français | "La Nouvelle Marge" | The New Marge |
| Français | "Y'a de la Marge au balcon" | There's Marge on the balcony |
| Italiano | "Marge diventa large" | Marge becomes large |
Gallery
[
edit
]
| | |
| --- | --- |
| | Wikisimpsons has a collection of images related to "Large Marge". |