And Maggie Makes Three
Wikisimpsons - The Simpsons Wiki
116
"And Maggie Makes Three"
"It was a tumultuous time for our nation. The clear beverage craze gave us all a reason to live. The information superhighway showed the average person what some nerd thinks about Star Trek. And the domestication of the dog continued unabated."
"And Maggie Makes Three"
Episode Information

"And Maggie Makes Three" is the thirteenth episode of Season 6 of The Simpsons and the one-hundred and sixteenth episode overall. It originally aired on January 22, 1995. The episode was written by Jennifer Crittenden and directed by Swinton O. Scott III.
Synopsis
[
edit
]
While looking through the family photo albums, Bart and Lisa comment on the lack of baby pictures of Maggie. While Marge insists on having the weekly family hour without watching TV, Homer recalls Maggie's conception and birth. Homer hated working at the Springfield Nuclear Power Plant, and his dream job was to work at a bowling alley. Homer had been putting a lot of money toward paying down his debts, and finally got a paycheck that allowed him to finally clear the last of his debts. Through careful budgeting, he managed to make his dream of working in the bowling alley come true. It meant less pay, but also less stress, a friendly atmosphere, a job he truly loved, and enabled the family to have just enough money to get by with the four of them. Homer's theory that everything would be fine so long as nothing changed was correct—so far.
Moments afterwards, he celebrated with Marge, concluding the evening with a session of lovemaking, which resulted in Marge becoming pregnant. Knowing that another baby would mean that Homer would have to get a better-paying job, Marge tried to keep it a secret from Homer as long as she could, but Patty and Selma managed to find out. Even though they craftily promised not to tell Homer, they phoned up the two biggest gossips in town who quickly spread the word that Marge was pregnant. Then they threw Marge a "surprise" baby shower after "forgetting" that Homer was due back from work soon. Homer realized that Marge was pregnant when he came home and saw the baby shower.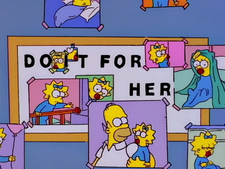 Homer was not happy when he found out about the new baby, and completely unenthusiastic about the impending birth. Because a new baby upset all of his financial planning, Homer was forced to quit his dream job at the bowling alley and go back to the Power Plant to ask for his old job back.
Mr. Burns
smugly allowed him to return, but only after placing a plaque in Homer's workstation that said. "Don't forget: you're here forever," to remind him that he could never quit again (or would likely not get any more promotions). As much as he dreaded the idea of having another child, as soon as Maggie was born, Homer immediately fell in love with her when she touched his thumb.
Back in the present, Bart again asks why Maggie's baby pictures aren't in the photo albums. Homer replies that he keeps them where he needs the most cheering up, and the scene changes to show Homer's station at the nuclear plant, complete with the plaque from Burns. Homer has taken all of Maggie's baby pictures to work, positioning them around the plaque so that it now says, "Do it for her."
Production
[
edit
]
Reception
[
edit
]
In its original American broadcast, "And Maggie Makes Three" finished 47th in the ratings for the week of January 16 to January 22, 1995, with a Nielsen rating of 10.3.