Radioactive Man
Wikisimpsons - The Simpsons Wiki
For other uses, see Radioactive Man (disambiguation).
"Up and Atom!"
―Radioactive Man's catchphrase
Radioactive Man is a comic book superhero who acquired his powers after surviving an atomic bomb explosion. His sidekick is Fallout Boy.
Publication and media history
[
edit
]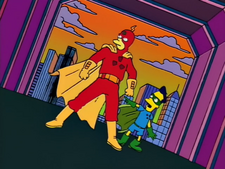 Radioactive Man made his début in Radioactive Man #1 in 1952 and alongside comic books, he starred in a black-and-white serial sponsored by Laramie Cigarettes. The serials featured Dirk Richter as Radioactive Man and Buddy Hodges as Fallout Boy. Richter was later killed in a bordello.[1]
In the sixties and seventies, a TV series based on Radioactive Man was shown, notable for being more camp than previous portrayals. It also starred Dirk Richter. One of the villains in this series was The Scoutmaster. A film based on it was released in 1967.
In the 1980s, Troy McClure starred as Radioactive Man in a film trilogy, consisting of:
Radioactive Man
Radioactive Man II: Bring On The Sequel
Radioactive Man III: Oh God, Not Again
Radioactive Man III starred Krusty the Clown as the main villain Krusto the Evil Clown and original Fallout Boy, Buddy Hodges as Fallout Boy's great grandfather.[2]
A Hollywood studio attempted to film a Radioactive Man movie in Springfield. The movie starred Rainier Wolfcastle as Radioactive Man. The role of Fallout Boy was cast from local children. It went to Milhouse Van Houten. Krusty the Clown was cast as villains Dr. Clownius and Silly Sailor. Wolfcastle was incapable of saying the "Up and Atom!" catchphrase correctly, pronouncing it "Up and at zem," on account of his German accent. The movie was never completed due to budget overruns caused by constant price-gouging by Springfield vendors, and Milhouse snapping from the pressure of the role, and refusing to continue to portray Fallout Boy - former child actor Mickey Rooney attempted to take over the role, but the film was shelved.[3]
Fictional history
[
edit
]
Although it varies slightly in different comics, when millionaire layabout playboy Claude Kane III was caught up in a nuclear explosion, he gained super powers and became Radioactive Man. The explosion lodged a lightning bolt-shaped piece of metal in his head, which helped him survive.
Radioactive Man first met Fallout Boy in issue #9.
In Radioactive Man #72, he marries one of his enemies, Larva Girl. However, this story is just an imaginary tale. Radioactive Man died at the hands of The Fossil Fuel Four, but got rebooted in a new issue.
Comic bibliography
[
edit
]
This article or section is incomplete.


Please improve the article, or discuss the issue on the talk page.

Radioactive Man #1
Radioactive Man #7
Radioactive Man #72
Radioactive Man meets the Kansas City Royals
Radioactive Man vs. Muhammed Ali
Radioactive Man vs. Restless Leg Syndrome
Non-canon
[
edit
]
| | |
| --- | --- |
| | The contents of this article or section are considered to be non-canon and therefore may not have actually happened or existed. |
The Simpsons: Tapped Out
[
edit
]
This section is transcluded from The Simpsons: Tapped Out characters/Superheroes. To edit it, please edit the transcluded page.

Permanent Tasks
Task
Time
Reward
Requires
Quest with the task
Animated?
Pump Iron
60m
105, 26
All Night Gym or
Brown House
Promote Nuclear Power
4h
260, 70
Control Building
Overpay for Sex on the Beach
4h
260, 70
Smooches on the Beach
Stay at the Swelldorado
4h
260, 70
Swelldorado
Try to Win at Blackjack
4h
260, 70
$ Casino
Drink and Babysit
4h
260, 70
The Boiled Potato
Attend Parenting Seminars
4h
260, 70
Universal Panacea
Relax
8h
420, 105
Kane Manor or
Radioactive Man Statue
Dance the Señor Burns
8h
420, 105
Chez Guevara
Attend a Teleconference
12h
600, 150
Superior Squad HQ
Shirk His Responsibilities
16h
750, 200
Beach House
Seek Out Crime
24h
1,000, 225
Behind the Laughter
[
edit
]
There is a Marvel Comics villain who temporarily became a hero named Radioactive Man; he is unrelated to The Simpsons character.
Radioactive Man's origin story is similar to the Hulk's.
Radioactive Man's billionaire secret identity mirrors Batman and Iron Man.
Appearances
[
edit
]
References
[
edit
]
---