Radioactive Man
Wikisimpsons - The Simpsons Wiki
For other uses, see Radioactive Man (disambiguation).
"Up and Atom!"
―Radioactive Man's catchphrase

Radioactive Man is a comic book superhero who acquired his powers after surviving an atomic bomb explosion. His sidekick is Fallout Boy. Radioactive Man is the successor to Radio Man.
Comic history
[
edit
]
Radioactive Man
[
edit
]
When he was on his way to Blather Labs to get his allowance for the week from his father, Claude took a wrong turn and got lost. His car then got stuck so he walked into the nuclear test site, not realizing it was that, to try and find help. He got caught in an explosion from a mega-bomb which Blather Labs had been working on and got superpowers. He continued to Blather Labs where he beat some thugs who had taken Claude's father and Gloria Grand hostage. From this day, he became Radioactive Man.[1]
After Radioactive Man took out several thugs, Claude decided that he needed to set up a secret lair of his own. He found a model lying on the ground and decided to use it as a design for The Containment Dome, which he built on Mount Zenith. Claude also met Rod Runtledge at a radioactivity convention. A tall piece of machinery fell towards them. Claude grabbed Rod and jumped over the rail, Claude holding onto the machine. The machine came to life, and as the ray passed through Claude, it hit Rod. Rod received a pint-sized version of RM's powers, and became Fallout Boy.[2]
After this, Fallout Boy started helping Radioactive Man as his sidekick. Together they took down down enemies such as Magmo,[3] Hypno-Head[4] and Shootin' Irons.[5]
At one point, Madame Eczema, the leader of Eczema, found out Radioactive Man was really Claude Kane III.[6] Radioactive Man faked his death and then came back, with Plasmo pretending to be Claude Kane III, to trick the people into believing they were separate people.[7]
When Larva Girl kidnapped Fallout Boy, she had Radioactive Man go to the planet Remitrom to collect Zirconia-Gems, knowing that the radiation of Remitrom's sun would make him susceptible to the first women he sees back on Earth. Radioactive Man arrived back on Earth and fell in love with Larva Girl, with the two of them getting married. At the wedding, Gloria Grand kissed Radioactive Man, which snapped him out of the spell he was under due to an antidote in her lipstick. Radioactive Man then broke off the wedding and defeated Larva Girl.[8]
Dark Radioactive Man
[
edit
]
Radioactive Man and Fallout Boy answered a distress call from the Superior Squad which took him to Dr. Crab's asteroid base. Here, they found the Superior Squad in stasis chambers. Radioactive Man and Fallout Boy handed themselves over to Dr. Crab so that he didn't kill the other members of the Superior Squad. As they were put into stasis chambers, Dr. Crab also put devices on them that stopped their powers from being used. With the help of Captain Squid, Radioactive Man broke everyone out. However, Dr. Crab's particle blaster and shoots Radioactive Man, also causing the asteroid base to go up in flames. Dr. Crab used the commotion to escape as Radioactive Man died.
Back on Earth, Radioactive Man's funeral was held, with only the Superior Squad, Gloria Grand and Fallout Boy attending. Before Radioactive Man was lowered into the ground, Fallout Boy took the lightning bolt out of his head and handed it over to Gloria Grand. The absence of Radioactive Man led to fighting between the other Superior Squad members over who will lead the team. Dr. Crab then attacked them with his army of Crab-Bots. As the heroes were struggling to fight them, Radioactive Man flew in and saved them. Bug Boy theorized that removing the lightning bolt sparked Radioactive Man back to life. However, Radioactive Man then became evil due to the lightning bolt being removed. As Radioactive Man fought against the Superior Squad, Fallout Boy retrieved the lightning bolt from Gloria and flew back to Radioactive Man. He then jammed it back into Radioactive Man's head, causing him to become good again.[9]
Post-resurrection
[
edit
]
When Bug Boy was trying to remove the shrapnel from Radioactive Man's head, it resulted in Claude Kane III and Radioactive Man getting split apart. Radioactive Man then tossed Claude aside, saying that he didn't need Claude any more. Claude then started seeing Gretchen Grille and decided to get his own life.
During this time, Radioactive Man took over Zenith City as the leader and hired the Bang Gang as his personal bodyguards. He also started using Zenith Mall as his headquarters. However, due to the way Radioactive Man was acting now, Gloria Grand was no longer enamored with him.
Whilst Claude and Gretchen were on a date out of the city, Radioactive Man grabbed Claude and asked him why Claude wasn't trying to merge themselves back together. Claude told Radioactive Man that he was living his own life, like Radioactive Man told him to do. The two of them then spoke about their silly excuses to Gloria about why then had to leave her constantly, which bonded the two of them back together.[10]
At some point, superheroes were banned and outlawed by the government, with only Radioactive Man being allowed to continue operating under the government. Heart of Darkness went to Radioactive Man as he was convinced it was a government plan to form a shadow government that the public didn't know about. This led to them uncovering a plan to get the superheroes out of the way and make them look bad. However, they stopped the plan and the superhero ban got repealed.[11]
The Death of Radioactive Man
[
edit
]
Radioactive Man went to the Zenith City Power Plant where he found The Fossil Fuel Four destroying it. Radioactive Man called his friends Citizen Solar and Wind Lad, but they were unable to help him. The Fossil Fuel Four worked together to kill Radioactive Man.[12]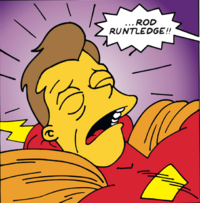 In the future, Rod Runtledge takes up the mantle of Radioactive Man. When Gloria Grand got transported to the future in the space alien's spaceship, Radioactive Man was fighting against the alien's robot when he got distracted by Gloria Grand showing up. The robot then defeated Radioactive Man and Gloria unmasked him to find he was Rod Runtledge. The robot then took Gloria and an elderly Claude Kane III woke Rod up and told him to go after Gloria. Radioactive Man then found the alien's base and confronted him. The alien then told Radioactive Man that he just wanted to go home so Radioactive Man took the alien and Gloria back to his spaceship and sent them off.[13]
When Fallout Boy of the past calls him to ask if Radioactive Man from his time is there, the future Radioactive Man panicked about speaking to his younger self.[5]
In other media
[
edit
]
Radioactive Man: The Movie
[
edit
]
In Radioactive Man: The Movie, Claude Kane III/Radioactive Man was played by Rainier Wolfcastle. Claude Kane III was a layabout playboy who got stuck at a nuclear testing site. The atomic blast turned him into Radioactive Man. After this, Radioactive Man was considered a myth in Zenith City, with even people who saw him not believing he was real. Radioactive Man fought crime alone. At one point, he went to the U.S.S. Serendipity to save people who were being held hostage. He saved them, but Silly Sailor was knocked into the ocean during the rescue.
Radioactive Man then flew back to WZEN Tower where Gloria Grand was falling off a balcony. Radioactive Man saved her life and the two of them flew about for a bit before Radioactive Man took her back to the tower, where she fell asleep, with people thinking she just dreamed her encounter with Radioactive Man.
After Rod Runtledge got trapped under an X-Ray truck, Radioactive Man saved him and found that he had gained superpowers. Radioactive Man took him back to The Containment Dome to run some tests on him and revealed his identity to Rod. The two of them then started fighting crime together, with Rod becoming Fallout Boy. Eventually, Gloria Grand got kidnapped by Silly Sailor. Radioactive Man and Fallout Boy went to rescue her but got their powers taken away. They were then left hanging upside down in a cage. Fallout Boy managed to escape but got taken home by his mother. As Radioactive Man was about to get hit by a wave of sulfuric acid, Fallout Boy came to his rescue and told him that he had his powers back after a few hours. Radioactive Man and Fallout Boy then stop Silly Sailor together.
Radioactive Man and Fallout Boy then go back to WZEN Tower to stop Dr. Swartzwelder broadcasting information harming Radioactive Man's reputation. They reveal that Dr. Swartzwelder is actually Dr. Clownius in disguise. After Dr. Clownius is arrested, Radioactive Man and Fallout Boy go back to fighting crime together.[14]
Radioactive Man Re-Rises
[
edit
]
Radioactive Man Re-Rises is a reboot of the Radioactive Man series. In the film, Radioactive man has to erase his own memory so he doesn't get tortured by his past when he gets born in the future. Radioactive Man's suit is also the only thing keeping him alive, but is also slowly killing him.[15]
Radioactive Woman
[
edit
]
A female reboot of Radioactive Man, called Radioactive Woman was in production, with Patty and Selma Bouvier playing the role of Radioactive Woman, a female version of Radioactive Man. The movie never got finished.[16]
Non-canon
[
edit
]
| | |
| --- | --- |
| | The contents of this article or section are considered to be non-canon and therefore may not have actually happened or existed. |
The Simpsons: Tapped Out
[
edit
]
This section is transcluded from The Simpsons: Tapped Out characters/Superheroes. To edit it, please edit the transcluded page.

Permanent Tasks
Task
Time
Reward
Requires
Quest with the task
Animated?
Go Skating
10m
26, 7
Simpsons' Skating Rink
Pump Iron
60m
105, 26
All Night Gym or
Brown House
Promote Nuclear Power
4h
260, 70
Control Building
Overpay for Sex on the Beach
4h
260, 70
Smooches on the Beach
Stay at the Swelldorado
4h
260, 70
Swelldorado
Try to Win at Blackjack
4h
260, 70
$ Casino
Drink and Babysit
4h
260, 70
The Boiled Potato
Attend Parenting Seminars
4h
260, 70
Universal Panacea
Relax
8h
420, 105
Kane Manor or
Radioactive Man Statue
Epilogue Pt. 2
Dance the Señor Burns
8h
420, 105
Chez Guevara
Attend a Teleconference
12h
600, 150
Superior Squad HQ
Read Online Reviews of His Work
12h
600, 150
The Java Server or
Springfield Library or
Shop
Shirk His Responsibilities
16h
750, 200
Beach House
Seek Out Crime
24h
1,000, 225
Epilogue Pt. 1
Personality
[
edit
]
Radioactive Man can be fairly naive and patriotic, which leads to him believing and trusting everything the government says, whether it's bad or good. He once attacked a peaceful hippie protest outside the White House because they were protesting against the government, which led to Bleeding Heart stopping him.[4] After superheroes got banned by the government, Radioactive Man was the only one allowed to continue operating as he was too gullible and naive to question the government.[11]
Behind the Laughter
[
edit
]
There is a Marvel Comics villain who temporarily became a hero named Radioactive Man; he is unrelated to The Simpsons character.
Radioactive Man's origin story is similar to the Hulk's.
Radioactive Man's billionaire secret identity mirrors Batman and Iron Man.
Appearances
[
edit
]
Episodes:
Adverts:
Simpsons Illustrated:
Simpsons Comics and Stories:
Simpsons Comics:
Bartman:
Radioactive Man:
Bart Simpson's Joke Book:
Treehouse of Horror:
Bart Simpson:
Comic Strips:
Super Spectacular:
Winter Wingding:
Summer Shindig:
Comic Book Guy: The Comic Book:
One-Shot Wonders:
Video Games:
Books:
References
[
edit
]
Factfiles from Simpsons World the Ultimate Episode Guide: Seasons 1-20
Season 14
Rock Stars • Audrey McConnell, Third Grade Teacher • Dr. Velimirovic, Plastic Surgeon • Mitch Hartwell, the Reality Channel Producer • Junior (AKA Frank Grimes, Jr.) • Teacher of the Year Award Nominating Committee • Dexter Colt, Private Eye • The Mugger • Larry H. Lawyer, Jr. • Baby Stink-Breath • Booberella • Sara Sloane, Hollywood Movie Star • Cookie Kwan, Red Coat Realtor • Stark Richdale • Declan Desmond • Julio and Grady • Luke Stetson, Junior Wrangler • Suds McDuff, Spokesdog/Mascot for Duff Beer • Marriage Counselor • Jim Proudfoot • Don Castellaneta