Orville Simpson
Wikisimpsons - The Simpsons Wiki
"Orville" redirects here. For other uses of "Orville", see Orville (disambiguation).
"See, son, that's where we're going ... maybe not today, maybe not tomorra'. But someday."
―Orville J. Simpson
Orville J. Simpson, or Great-Grampa Simpson, was born in the late 1800s in "The Old Country", which could have been in Ireland, Scotland or Canada.
History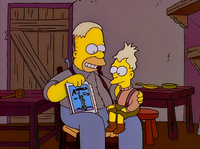 Orville married Yuma Hickman in the early 1900s. The two soon had their first son, Hubert, with Tyrone coming two years later. A few years later, they had their third son, Cyrus. Sometime afterwards, they had their fourth son, Abraham, whom Orville named after his grandfather.
When Abraham was a young boy, Orville, Yuma and their four sons emigrated to America, and moved into the Statue of Liberty. For a few years they lived here, but they were forced to move out when they filled the head with too much garbage. This was at the time they moved to Springfield. At some point, Orville opened up the Professor Simpson's Universal Panacea for Disagreeable Juveniles juvenile school. There, he showed dozens of men how to punish their boys by strangling Abe as an example. However, despite this, his father didn't approve, and strangled him.
Eventually, Tyrone grew up and moved to Dayton, Ohio. In America, Orville and Yuma had another son, and named him Bill. Abraham and Cyrus grew up, with them both becoming navy pilots in WWII. Cyrus crashed his fighter plane in Tahiti, and moved there permanently, later becoming married to 15 women, to whom he is still married. Bill grew up and became a communist. During the war, Orville and Yuma had their final child, and named him Chet. Orville and Yuma later grew old and passed away (however, he was still alive according to Homer.[1] Chet grew up to and started to run an unsuccessful shrimp company.
Orville was seen in Heaven by Bart after getting hit by a car,[2] strangling young Homer, hinting the habit is a family trait. He is present in Grampa's story when Grampa tells the family of his arrival in the U.S.[3] He is the only son of "Old Tut" Simpson and "Happy" Simpson.[4]
Non-canon
| | |
| --- | --- |
| | The contents of this article or section are considered to be non-canon and therefore may not have actually happened or existed. |
The Simpsons: Tapped Out
This section is transcluded from The Simpsons: Tapped Out characters/Abe's in Toyland. To edit it, please edit the transcluded page.

Orville
Image
Cost
Unlock method
Unlock message
FREE
Abe's in Toyland
Claus & Son Pt. 5
Permanent Tasks
| Task | Time | Reward | Requires | Quest with the task | Animated? |
| --- | --- | --- | --- | --- | --- |
| Go Skating | 10m | 17, 5 | Simpsons' Skating Rink | | |
| Enjoy a Sarsaparilla | 60m | 70, 17 | Krusty Burger | | |
| Overpay for Sex on the Beach | 4h | 260, 70 | Smooches on the Beach | | |
| Stay at the Swelldorado | 4h | 260, 70 | Swelldorado | | |
| Try to Win at Blackjack | 4h | 175, 45 | $ Casino | | |
| Drink and Babysit | 4h | 175, 45 | The Boiled Potato | | |
| Demonstrate Proper Parenting | 4h | 175, 45 | | Scholarly Abuse Pt. 3 | |
| Attend Parenting Seminars | 4h | 260, 70 | Universal Panacea | | |
| Dance the Señor Burns | 8h | 420, 105 | Chez Guevara | | |
| Visit Son's Retirement Home | 8h | 275, 70 | Retirement Castle | | |
| Patent New Techniques | 12h | 420, 100 | | Scholarly Abuse Pt. 2 | |
| Visit Grandson's Office | 24h | 600, 150 | Control Building | | |
Appearances
Gallery
References
Simpson family
Main family

Homer Simpson
•

Marge Simpson
•

Bart Simpson
•

Lisa Simpson
•

Maggie Simpson

Santa's Little Helper
•

Snowball II