Spuckler children
Wikisimpsons - The Simpsons Wiki
| | |
| --- | --- |
| | This is a disambiguation page listing articles associated with the same title. If an internal link led you here, you may wish to change it to link directly to the correct page. |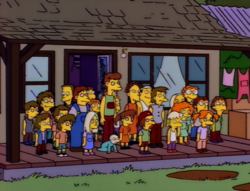 Cletus Spuckler and Brandine Del Roy's children are, sorted by appearance:
After discovering that she had reached menopause, Selma decided to adopt a baby at the Springfield Orphanage. A baby was given to her; however, Cletus, the real father of the baby, appeared and wanted the baby back. He explained that he heard Brandine took the baby to the orphanage, but she actually said she could not stand her rabies, not her babies. So the baby returned to its family.
Cletus and Brandine Spuckler were selling some organic vittles in front of Kwik-E-Mart. The Simpson family wanted to buy something and Cletus told them to put it into the bag. However, Brandine told him there are their children inside of the bag and the three babies were shown. Brandine concluded they are so traumatized, threw them into the wheelbarrow and went with them for a walk.
Before Bart Simpson's and Mary Spuckler's wedding, Brandine gave a baby to Mary as "something new".
No children are mentioned, but one of the tasks/quests is for Cletus to help Brandine give birth to another child. This would be at least the 41st child.