The Rich Texan
Wikisimpsons - The Simpsons Wiki
Richard "Rich" Texan, also known as The Rich Texan, is a rich, selfish, callous, but gregarious, business owner from Springfield. He wears a tan suit with a bolo tie and a white cowboy hat (which he wore on the day Kennedy was shot), and is in his 70s.
History
[
edit
]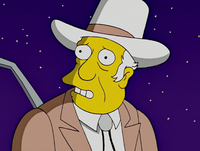 Although he speaks and acts like a Texan, the "Rich Texan" is actually from Connecticut.[2] Mr. Burns once called him "Shady Bird Johnson".[3]
He is an active member of the Springfield Republican Party and speaks with a heavy Texas drawl. Homer once addressed the Rich Texan as "Senator", although this was never mentioned again.[4] He once owned a logging company and once attempted to cut down Springfield's tallest Redwood tree, until his company was destroyed by the gigantic tree after it slid down a hill.[5] One of his fondest dreams is to build the world's first drive-through humidor.[6]
The Rich Texan always carried two revolvers, and he had a common habit of pulling them out and firing them into the air while yelling, "Yee-haw!" whenever he is happy or excited. Shooting on the "Yee", not the "haw", he explained once. He has been to jail at least once when one of his stray bullets hit a Texas Ranger and the police made him switch to blanks, but he noted that "They just don't feel the same".[7] He once held Homer and Moe at gunpoint, while forcing them to walk along with him after being tricked by the two. He once went over the top and lost his mind after doing something generous for Ned.[8]
He revealed that he suffers from pogonophobia (the fear of beards and mustaches), the excuse he gives Homer for parking in a handicap spot; he then promptly shoots at least one man dressed as Santa Claus.[9] He is also obsessive-compulsive and counts 1-2-3-4 before firing his pistols.[10]
The Rich Texan once stated that he enjoys moonlight walks on the beach.[11]
His license plate reads "NO SHAME".[12]
His grandfather fought in the Confederate States military.[13]
The Rich Texan has a gay grandson [14] and a daughter named Paris Texan (who looks and acts like Paris Hilton, and whose name is a play on Paris, Texas).[15]
Non-canon
[
edit
]
| | |
| --- | --- |
| | The contents of this article or section are considered to be non-canon and therefore may not have actually happened or existed. |
The Simpsons: Tapped Out
[
edit
]
This section is transcluded from The Simpsons: Tapped Out characters/Villains. To edit it, please edit the transcluded page.

Permanent Tasks
Task
Time
Reward
Requires
Quest with the task
Animated?
Go Skating
10m
26, 7
Simpsons' Skating Rink
Go to a Tea Party Rally
60m
105, 26
Brown House
The Texan With No Shame Pt. 1
Visit the Track
3h
200, 55
Springfield Downs
The Texan With No Shame Pt. 4
Holster a Big Gun
4h
260, 70
Springfield Downs
Overpay for Sex on the Beach
4h
260, 70
Smooches on the Beach
Stay at the Swelldorado
4h
260, 70
Swelldorado
Try to Win at Blackjack
4h
260, 70
$ Casino
Drink and Babysit
4h
260, 70
The Boiled Potato
Hang at the Ha-Ha Spa
4h
260, 70
Klub Krusty Adult Retreat
Attend Parenting Seminars
4h
260, 70
Universal Panacea
Go Fancy Shopping
4h
260, 70
Carnaby Street
Drive the Sleigh
4h
260, 70
The Rich Texan Sleigh
Visit The Vast Waistband
7h
375, 90
The Vast Waistband
Drink at Moe's
8h
420, 105
Moe's Tavern
Dance the Señor Burns
8h
420, 105
Chez Guevara
Ride the Mechanical Bull
12h
600, 150
The Texan With No Shame Pt. 3
Celebrate, Cowboy Style!
24h
1,000, 225
The Texan With No Shame Pt. 2
The Texan With No Shame Pt. 6
Appearances
[
edit
]
This article or section is incomplete.


Please improve the article, or discuss the issue on the talk page.

References
[
edit
]