Hugh Parkfield
Wikisimpsons - The Simpsons Wiki
| | |
| --- | --- |
| | The contents of this article or section are considered to be non-canon and therefore may not have actually happened or existed. |
"I can't believe how much we have in common. We're both studying the environment, we're both utterly humorless about our vegetarianism, and we both love the Rolling Stones."
―Hugh, talking to Lisa
Hugh St. John Alastair Parkfield
Character Information

Hugh St. John Alastair Parkfield is a British college student who becomes engaged to Lisa 15 years in the future. The story is told by a fortune teller that Lisa visits.
History
[
edit
]
In the year 2010, Lisa was in university. Hugh and Lisa bumped into each other, which annoyed Lisa. Hugh then took the last soy-based snack from the vending machine, took an elevator before Lisa could then checked out the last copy of Ecosystem of the Marsh before Lisa could. This really got on Lisa's nerves and she confronted Hugh because she wanted the book. Hugh and Lisa then read it together, racing to try and beat each page. They then started arguing with each other before making out. Lisa and Hugh then start dating.
Hugh then asked Lisa to go back with him to London to visit his parents. In London, Hugh asked Lisa to marry her, and Lisa said yes. They then fly back to Springfield to start planning the wedding, staying at Homer and Marge's house. When they arrive, Homer and Bart hoist a Union Jack flag to welcome Hugh but it sets on fire. After stamping on it and shoveling manure onto it to put it out, they give it to Hugh, who was sad about the flag. Homer then puts Lisa and Hugh in the new guest room, which he had built himself. Then the floor beneath Hugh gave way and Hugh fell onto the pile of manure beneath it.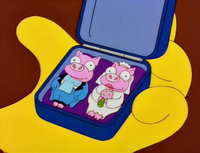 Hugh then had dinner with the Simpsons and got disgusted at their behavior at the table. Homer tried to tell Hugh an American joke, telling Hugh to pull his finger, to which Hugh said that they have that joke in England as well. Homer and Bart then offered to take Hugh out on the town, with Homer trying to get Hugh to pull his finger again. Homer then tried to make Hugh feel more at home by driving on the left, which terrified him.
Homer and Bart took Hugh to Moe's Tavern. At Moe's, Homer asked Hugh to continue the wedding tradition that his father started, wearing a pair of pig cuff links. Hugh hated them but said that he'd wear them anyway. At some point on their night out, they visited a pornographic magazine warehouse and had to hide in a dumpster after the fire alarm went off, resulting in Hugh getting a gash on his forehead.
On the wedding day, Hugh introduced Homer to his parents. When Homer went to visit Lisa's tent, Lisa noticed that he had the cuff links as Hugh had left them on the night stand as he didn't want to wear them. Lisa then took the cuff links to Hugh to get him to wear them. Hugh got annoyed, not wanting to wear the cuff links in front of his parents and their friends, even though he had promised Homer he would. Hugh told Lisa that he was just humoring Homer. Hugh then revealed to Lisa that he planned to take her back to London and not see Lisa's family again, which annoyed Lisa. He then told Lisa that Marge could visit after their children were born but didn't want Homer to visit. Lisa told Hugh she didn't want to cut her family out of her life and Hugh told her that she was "like a flower that grew out of a pot of dirt", which Lisa thought was a horrible thing to say. Hugh then enters the wedding tent and told everyone that the wedding was cancelled.
Personality
[
edit
]
Hugh is well educated and intelligent, but is a bit snooty towards people, especially Lisa's family. Hugh can also seem selfish, making decisions that would affect him and Lisa without consulting Lisa first. Hugh also shows contempt towards Lisa's family, especially Homer. Although, Hugh did care about Lisa, putting up with her family just to attempt to please her.
Mandy Patinkin as Hugh is considered one of the best Simpsons guest spots by Chris Turner in his book Planet Simpson, who says that many of the best Simpsons guest stars have been lesser known celebrities.
Hugh Parkfield is a parody of English actor Hugh Grant.[1]
The scene where Lisa and Hugh fall in love after arguing over a book is similar to Ali MacGraw and Ryan O'Neal in Love Story.
Appearances
[
edit
]
References
[
edit
]