Mensa International
Wikisimpsons - The Simpsons Wiki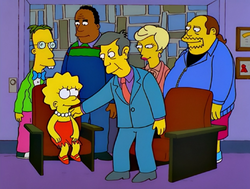 Mensa is an international organization for people whose intelligence is at the 98th percentile or higher, as measured by a standardized, supervised intelligence test. Mensa is formally composed of national groups and the umbrella organization Mensa International.
In Springfield
[
edit
]
They sponsored Martin Prince's Honor Roller.[1]
Lisa Simpson is a member of the Springfield chapter of Mensa. Other members include Dr. Hibbert, Professor Frink, Comic Book Guy, Principal Skinner, and Lindsey Naegle. They met at Gazebo 7. They also briefly gained control of Springfield, but after their experiment failed, they were shown up by Stephen Hawking, whom Homer referred to as Lisa's "robot buddy".[2]
Mr. Burns hired Mensa to decide who would be eligible to come on his doomsday ark.[3]
The Idiots' Revolution
[
edit
]
When the Springfield Mensa members discussed the problems about the lesser intelligent, seemingly "stupid", Springfiedians (also referred to as the "Springfield idiots"), they ran to the Mayor's Office with evidence to prove their case. Mayor Quimby, however, believed they had uncovered his corrupt activities, had all compromising evidence destroyed, and fled town via air (in his view, robbing Chief Wiggum of the chance to arrest him). With the office of Mayor vacant, by law, Mensa Springfield—the town's most learned citizens—were now in charge of Springfield, and intended to reform the town into a utopia.
However, some of their reforms angered the townspeople and threatened to cause a riot, until Stephen Hawking showed up. Professor Hawking sharply criticized the group, comparing their failure to transform the town to his own failure to formulate a unified field theory. He then used his chair's built-in boxing glove to punch Seymour Skinner when Skinner objected to the comparison. The Springfield idiots attacked Gazebo 7 and were about to destroy it (with Lisa inside), and Hawking used his chair's helicopter-like propellor to rescue Lisa, escaping just in time. Mayor Quimby then returned to Springfield to retake full power.
Members
[
edit
]
Etymology
[
edit
]
Mensa (pronounced /ˈmɛnsə/; IPA: [ˈmensa] in Latin) means "table" in Latin as is symbolized in the organization's logo
Appearances
[
edit
]
References
[
edit
]
External links
[
edit
]